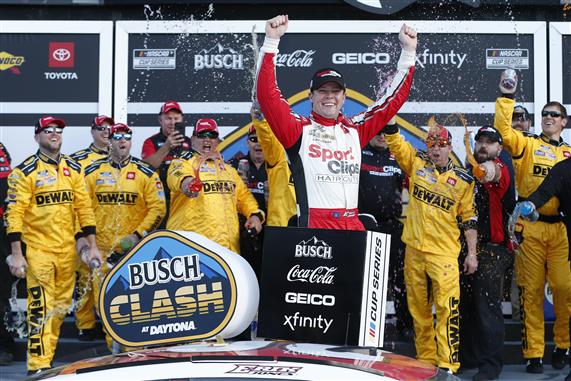 2021 NASCAR Landscape Likely Will Look Very Different after Turbulent Silly Season
Coming just a day after his third win of the year, Brad Keselowski has signed a contract extension with Team Penske. The 2012 Cup Series Champion was the first notable domino to fall into place for the 2020 silly season. This silly season, pushed later by the pandemic, may be the craziest yet. Over 10 notable cars are currently driver-less for the 2021 season, with many stars facing unknown futures. The 2021 Cup Series lineup will begin to slowly take shape over the coming months. At the time of this writing though, there are more questions than answers. Who is replacing Jimmie Johnson in the 48? Who is going to the 42 at Ganassi? Let's take a look at the free agent drivers as August is on us.
Tyler Reddick
The rookie for Richard Childress Racing has impressed many this year. The No. 8 team is on the cusp of making the Playoffs, as Reddick's talent has elevated the entire RCR organization. Though it would greatly benefit RCR to keep Reddick for next year, his name has been linked to other teams. Most notably, Reddick is a possible candidate to take over the famed Hendrick Motorsports 48 that Jimmie Johnson is vacating. In addition, Reddick has also been mentioned as a possible new driver for the Chip Ganassi Racing No. 42 car. The two-time defending Xfinity Series Champion may find a new home after his rookie year, as his raw talent is a hot commodity.
Aric Almirola
Although Aric Almirola's ten-straight top-10s have him solidly in the Playoffs on points, factors outside of his control could determine his fate. His seat in the Stewart-Haas Racing No. 10 Mustang is heavily tied to his sponsor, Smithfield Foods, who have taken quite a hit due to the pandemic. Almirola has been one of the most consistent drivers over the summer months, so his status is one to watch.
Clint Bowyer
Much like his teammate Almirola, Clint Bowyer's status at Stewart-Haas is sponsor-dependent. SHR is at a crossroads, as their Xfinity Series driver Chase Briscoe appears ready to move up into the Cup Series. In addition, Kyle Larson's name has also been tied to the 14 car. Both of these free agents only further fuel rumors of a possible Bowyer retirement. Bowyer was a booth analyst with FOX earlier this year for the iRacing Pro Invitational Series broadcasts, as a television commentary role could be in his future. Bowyer is on the cusp of making the 2020 Playoffs on points, his third-straight postseason appearance.
Erik Jones
The odd man out at Joe Gibbs Racing is facing uncertainty, as Erik Jones may be on the hot seat. With this week's news of the sale of Leavine Family Racing, many automatically put Christopher Bell in the fourth JGR team. Erik's name has been thrust into the silly season discussion, as he's been tied to both the 42 and 48 cars. Jones has been plagued by inconsistency so far in 2020, as he currently sits 19th in points. If Jones and the 20 team have any hope of making the Playoffs, they will likely have to win one of the next six races. However that may still not be enough to keep Jones at JGR.
Matt DiBenedetto
Facing his first-ever Playoff appearance, the 21 car and Matt DiBenedetto are also an uncertain team for 2021. In his first season at Wood Brothers Racing, DiBenedetto has elevated both his own performance and the 21 car's production. The 21 currently sits at 13th in points, 40 points above the cut line. The other name associated with the 21 for 2021 is Penske Xfinity Series driver Austin Cindric. Cindric currently has three wins in 2020 and leads the Xfinity Series standings. After his biggest break yet, DiBenedetto could be out of a ride for a younger talent yet again.
Corey Lajoie
Signed onto only a one-year extension this year, Corey Lajoie could land somewhere better than GoFAS Racing for 2021. So far this year, the 32 team has six top-20 finishes, including an eighth place run in the Daytona 500. Lajoie's name has also been connected to the Hendrick 48, as he gave Rick Hendrick a personal letter asking for the opportunity earlier this year. Lajoie is currently 29th in points, equaling his best-career result from a year ago.
Michael McDowell
Quietly in the midst of his best season to-date, Michael McDowell and Front Row Motorsports have taken a big leap forward in 2020. The 34 team is currently 20th in points, with 13 top-20s. This includes five top-20s in the past seven races in addition to two top-10s. With this increased performance for 2020, expect to see McDowell back at FRM in 2021. McDowell's best result so far in Cup is 26th in points, so he could better that in 2020.
John Hunter Nemechek
Perhaps the most underrated member of this rookie class, John Hunter Nemechek has also helped FRM in their best year yet. The second-generation driver has two top-10s, 10 top-20s, and is currently 25th in points. Nemechek is also in the midst of silly season talks, as he's been tied to the 42, the 48, and other rides. Nemechek has put the No. 38 car on the outside fringe of challenging for a top-20 points position, so it will be interesting to see if FRM tries to retain him for next year.
Ross Chastain
Currently the most consistent driver in the Xfinity Series, Ross Chastain has 15 top-10s in 17 starts in 2020. Though he made six Cup starts earlier this year, his focus has remained on the Xfinity Series title with Kaulig Racing. For 2021 though, expect to see Chastain in the Cup Series in some fashion. Chastain still has a contract with Chip Ganassi Racing, so he may end up in the No. 42 formerly occupied by Kyle Larson. Since Larson's firing, the 42 has been piloted by Matt Kenseth. However, Kenseth will likely not stay for next year. This opens up the 42 for multiple drivers, with Chastain topping this list.
Bubba Wallace
Rumors have been swirling around Bubba Wallace's status for the coming year. His current team at Richard Petty Motorsports have offered him an extension as well as an ownership stake in the No. 43. In addition, sponsor McDonald's has linked him to Chip Ganassi Racing, potentially to the 42 car. Wallace has also been hinted at taking over the Hendrick 48. His increased visibility and stature have provided him options. Wallace is in his best season to-date, currently 22nd in points with three top-10s, 10 top-20s, and an average finish of 20th.
Christopher Bell
Arguably the most hyped up rookie coming into 2020, Christoper Bell's future has taken a drastic turn over the past week. It was announced Tuesday that Leavine Family Racing is selling off all assets for the No. 95 team at the end of the season. This leaves Bell as the latest free agent, though his period in limbo will likely be brief. Bell will likely go to the No. 20 Toyota at Joe Gibbs Racing, replacing Erik Jones.
Since becoming a Toyota Racing Development driver, Bell has 23 wins across Trucks and Xfinity Series competition, including the 2017 Truck title. So far this year, Bell is 23rd in points with one top-five, five top-10s, and an average finish of 20.4. Though Toyota and Joe Gibbs Racing would prefer to keep both Jones and Bell in their organization, the decision may come down to Bell's talent and consistency shown this year.
This silly season is sure to be one of the most chaotic, as drivers and teams are just beginning to shuffle into place. The status of many high profile cars and drivers are still unknown, so we will update the 2021 free agency pool when official. Many drivers are still very much on the hot seat, as the Playoffs get ever closer.
Written by Peter Stratta
Be sure to follow us on Twitter.
Be sure to follow the writer on Twitter.
Photo credit to NASCARMedia