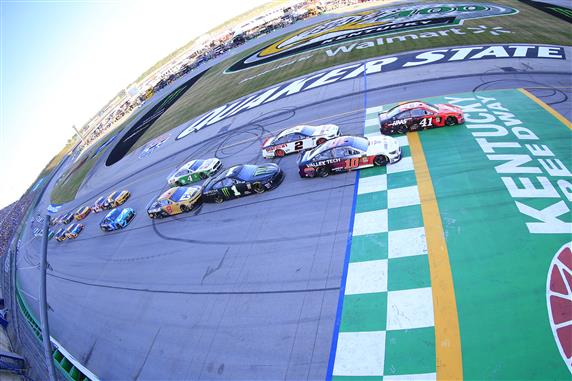 Will a New Driver Win at Kentucky Speedway?
Over nine years of racing at Kentucky Speedway, the Cup Series has seen five different winners at this track. Being one of the newest tracks in the sport, Kentucky has been great for some drivers, yet also kryptonite for others. The drivers who have won at Kentucky are some of the favorites for Sunday, as multi-time winners in the Bluegrass State.
Past Kentucky Speedway Winners
Brad Keselowski
The winningest driver in Kentucky Speedway history, three-time victor Brad Keselowski enters this weekend with momentum. Keselowski finished fourth last week at Indianapolis, his 11th top-10 of 2020. At Kentucky, Keselowski's wins have come in 2012, 2014, and 2016. Aside from the wins, Keselowski has six top-10s, 524 laps led, and a Kentucky average finish of 12.3. Since his last win however, Keselowski has two finishes of 20th or worse. With other drivers racking up Playoff points by earning more wins, Keselowski hopes to join them with a third win of 2020. The 2 enters this weekend with 7-1 odds and starts sixth.
Kyle Busch
The winner of the inaugural Kentucky Speedway race back in 2011, Kyle Busch also scored another win in 2015. In nine starts at Kentucky, Kyle Bush has eight top-10s, 621 laps led, and an average finish of 4.7. Busch's top-10 count, his laps led total, and average finish are all a series-best mark. Busch's only Kentucky race outside of the top-10 was a 12th-place run in 2016.
Though the defending champion is winless this season, that could change this weekend. The 18 will start on the pole after a random draw for Sunday. Busch on the pole for Kentucky could be dangerous for the field, as he has 13-2 winning odds for Sunday.
Martin Truex, Jr.
Martin Truex, Jr. has been money in past races at Kentucky. The only driver with consecutive wins at this track, Truex's two victories came in 2017 and 2018. Although the pair of wins are Truex's only Kentucky top fives, he does have five top-10s here. A wide majority of Truex's 373 laps led at Kentucky came in those two victories, as he has yet to lead since the 2018 win. With an average finish of 11.1 though, Truex heads to Kentucky with the second-shortest odds at 6-1.
Matt Kenseth
After a very strong second place run at Indianapolis, many are wondering if Matt Kenseth can win again. The 2013 Kentucky winner may have long odds at 25-1, but he does have one advantage. Kenseth's Kentucky victory was a rain-delayed day race. This weekend will be the first scheduled day race in Kentucky Speedway history. As a result, track conditions will be vastly different than normal, and Kenseth could have an edge on the competition. Kenseth's stats at Kentucky are solid: six top-10s, 40 laps led, and an average finish of 8.4. Kenseth will have to dig in for the start of the race though, as he will take the green flag in 17th.
Kurt Busch
Defending Kentucky Speedway winner Kurt Busch put on the greatest last-lap battle in the history of this track a season ago. The elder Busch holding off his brother was not only Kurt's first win of 2019, it was also Chevrolet's first win at Kentucky. Could Kurt replicate his winning performance again? He's listed at 20-1 odds, with top-10s in four of the last five Kentucky races. Beyond that, Kurt Busch has six top-10s, 137 laps led, and an average finish of 10.8. Kurt will try to defend his win from the seventh starting position on Sunday.
Favorites for First Kentucky Win
Hottest Drivers of 2020
There are some very noticeable absences from the list of Kentucky Speedway winners. The dynamic duo of 2020, Kevin Harvick and Denny Hamlin, certainly top that list of winless drivers in Sparta. Harvick has done everything but win here, with six top-10s, 128 laps led, and an average finish of 10.8. Amazingly, all of those laps led for Harvick came in 2016. Kentucky is one of only two racetracks where Harvick is winless, expect the 4 to be a favorite to change that stat this weekend. His odds are the shortest at 11-2.
Denny Hamlin has been more inconsistent at Kentucky. In nine starts, the 11 has four top-10s, 81 laps led, and an average finish of 14.9. Hamlin and Harvick have been the two fastest cars for the past several weeks though, so expect both of them to be up front and in contention Sunday.
Two More Past Champions Snake-bit at Kentucky
Another pair of veterans surprisingly without a Kentucky win are Joey Logano and Jimmie Johnson. Logano has a best Kentucky finish of second in 2015, along with six top-10s, 91 laps led, and a 12.8 average finish. The 22 team has been wildly inconsistent since the return however, as Indy was their first top-10 in five races. Logano will likely have to ward off challenges from Harvick, Hamlin, and others though for a win. The 22 is listed at 11-1 for Sunday, but will start in second.
Lastly, Jimmie Johnson will have one more chance to win at Kentucky Speedway. The 48's best Kentucky result of third came all the way back in the inaugural 2011 race. Coming off of missing Indy for COVID-19 though, it could take Johnson a bit to come back up to speed. Kentucky hasn't been kind to seven-time recently though. Johnson has five Kentucky top-10s, with the last one coming in 2015. Since then, the 48 has been plagued with three finishes of 30th or worse. Johnson also has 206 laps led at Kentucky, with an average finish of 17th. Johnson will start his final Kentucky race in 20th.
The 10th annual Quaker State 400 may just lead to a new winner, with Harvick, Hamlin, and others being 0-for-9 at Kentucky Speedway. Be sure to not miss a lap of action on Sunday, as the green flag will fall just after 2:30 pm EST on FS1.
Written by Peter Stratta
Be sure to follow us on YouTube and Twitter.
Be sure to follow the writer on Twitter.
Photo credit to NASCARMedia