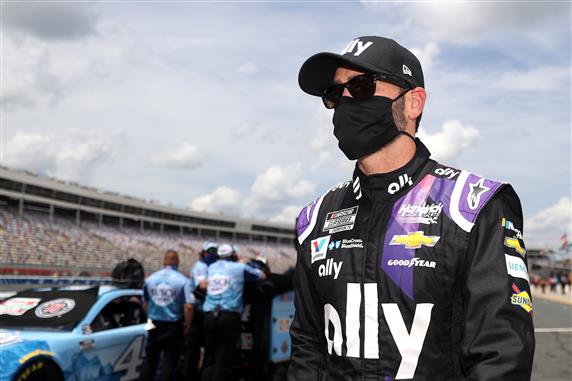 Jimmie Johnson Gets Medical Clearance for Return to NASCAR at Kentucky
Coming only days after testing positive for COVID-19, Jimmie Johnson had two negative tests this week on Monday and Tuesday. After being forced to miss the Brickyard 400, the seven-time champion will return to the No. 48 Ally Camaro this weekend at Kentucky Speedway. Johnson still remains in the top 16 for the Playoff standings, as he is 46 points above the cutoff line.
Johnson's Initial Reaction
"My family is so grateful for the incredible love and support we've received over the last several days," Johnson said. "I especially want to thank Justin Allgaier for stepping in for me at Indy and being a true pro. I'm excited about getting back to business with my team this weekend."
In the wake of Johnson's positive test, four more Hendrick Motorsports crew members were also tested. Thankfully all four of them resulted in negative tests. Hendrick Motorsports has been at the forefront of COVID-19 safety protocols and measures. HMS employees get daily screenings, in addition to working in shifts.
In Johnson's absence, Justin Allgaier drove the No. 48 Ally Chevrolet at the Brickyard 400. However, Allgaier's day came to a very early end. The 48 was involved in the pit road stack up on lap 16, suffering terminal damage.
Johnson missing the Brickyard 400 also broke a streak of 663 consecutive Cup Series starts. This was the fifth-longest streak in NASCAR history and also the longest among active drivers.
Johnson will make his return to racing this weekend at Kentucky Speedway, a track he has yet to win on. In nine starts in the Bluegrass State Johnson has one top five, five top-10s, and an average finish of 17th. The 48 is still very much in Playoff contention for Johnson's final full-time season, as Johnson only lost 17 points at Indianapolis. The Quaker State 400 will go green on Sunday at 2:30 pm EST on FS1.
Johnson will give updates himself on Friday morning, stay tuned for his reaction to his NASCAR return.
Written by Peter Stratta
Be sure to follow us on YouTube and Twitter.
Be sure to follow the writer on Twitter.
Photo credit to NASCARMedia