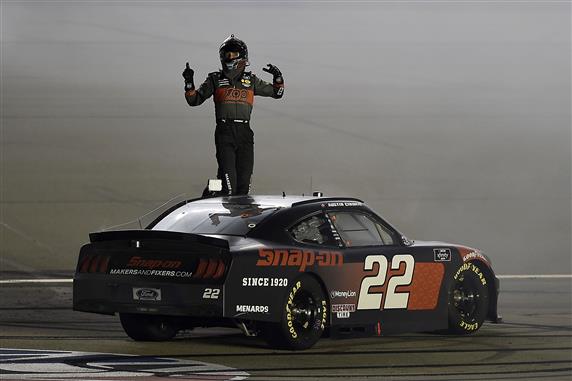 Austin Cindric Captures First Two Wins of 2020
After coming close numerous times this year, Austin Cindric is finally a winner again. The driver of the No. 22 Penske Ford has shown speed all season but just wasn't able to close the job. Austin Cindric can officially put all of that behind him. Cindric completed two nights of dominance at Kentucky Speedway with his first career wins on an oval. It also marked the first time a driver has won on consecutive nights in the same series since 1971. Coming off back-to-back wins, Ford teammate Chase Briscoe also continued his strong season with a pair of top-five finishes.
Early Dominance for Noah Gragson
Noah Gragson drew the pole for Thursday's Shady Rays 200 and showed he was the dominant car early on. But before anybody could get into a groove, a lap one crash halted the action. Jeb Burton's Chevrolet got loose and slid up the track right into the No. 19 of Brandon Jones. This would end Jones' night with a third-straight finish outside the top 35.
Once the racing resumed, Gragson held off Cindric to win Stages one and two. With the exception of four caution laps, Gragson led every lap in the first two Stages. This was the first time in his career he swept Stages in a race.
Wild Final Stage Leads to Exciting Thursday Finish
A Brandon Brown spin brought out the caution with just 46 laps to go. Justin Haley and Jeremy Clements took two tires to take over the top two spots. Unfortunately for Gragson, he was stuck on the inside for the restart. The disadvantage caused him to drop from third to eighth. Cindric, on the other hand, restarted in the preferred outside lane and was able to get the lead from Haley.
Tempers flared multiple times in the closing 30 laps. Brett Moffitt used his finger to show his displeasure with Ross Chastain after the latter forced the former into the wall. 18-year-old Colby Howard also made contact with Anthony Alfredo, cutting Howard's tire and sending him into the wall. Howard made a gesture towards Alfredo's car as it drove by under caution.
A late caution set up a green-white-checkered but Cindric was too strong, holding off the field for his first career oval win. A multi-car wreck including Justin Allgaier forced the race to end under caution. This wreck would also see Ronnie Bassett, Jr. get airborne after heavy wall contact. Algaier would also be transported to a local hospital after a high heart rate, but was cleared to race the next night.
After both Cindric's wins last year came on road courses, his Thursday night win at Kentucky marked his first career win on an oval. Cindric has been close to this elusive victory all season long, as he finally shed his 'road course ringer' label with this clutch win.
Same Song, Different Verse on Friday
On lap 12 of Friday's Alsco 300, Noah Gragson grabbed the lead from Jeremy Clements. He led the remaining 37 laps to win Stage one. The win gave him a series-leading eighth stage win. A costly penalty on pit road however dropped Gragson from the lead to the rear of the field.
It only took 13 laps for Austin Cindric to get around Harrison Burton and set sail. The race essentially ran its course, as Cindric dominated to win Stage two and held an over 12 second lead in the closing laps.
Late Fireworks Create Drama On and Off-Track
It looked as if Brandon Jones was finally going to break his bad luck with a top-five run. That all went down the drain though when he got loose while battling for second and backed into the outside wall. On the ensuing restart, Gragson drove a little too deep into turn three, forcing himself and Harrison Burton into the wall. Gragson recovered to finish seventh while Burton finished 12th. Cindric held off a red-hot Chase Briscoe to win his second-straight race.
After the race, Burton voiced his displeasure with Gragson and pushed him one too many times. Gragson responded with a right hook to the head and the fight was on.
Austin Cindric is the sixth driver to lock up an Xfinity Series Playoff spot by way of a win in 2020. The 21-year-old driver also joined an exclusive list with Xfinity Series wins on consecutive nights. The last driver to earn two NASCAR wins in the same series on consecutive days was Richard Petty back in 1971. Petty's two wins came at Albany-Saratoga Speedway and Islip Speedway in July of that year. Cindric was able to pull off this feat at the same track due to the doubleheader.
The next stop for the Xfinity Series will be Texas Motor Speedway. Half of the 2020 Playoff field is set, as only eight Regular Season races remain. The Playoff bubble battle is a hotly contested one, as Brandon Brown is currently in by 14 points over Myatt Snider. Be sure to tune into NBCSN on Saturday, July 18 at 3:00 p.m. EST for the My Bariatric Solutions 300.
Written by Nicholas Sterling
Be sure to follow us on YouTube and Twitter.
Be sure to follow the writer on Twitter.
Photo credit to NASCARMedia