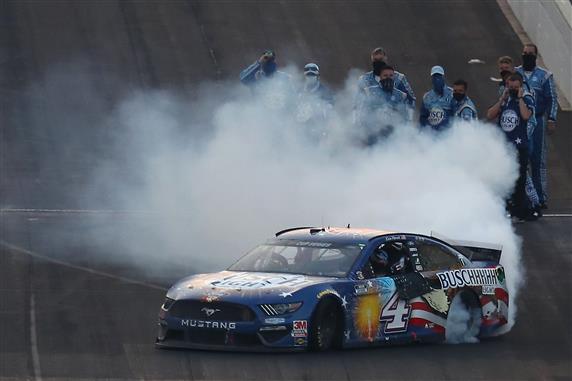 Kevin Harvick Earns Second-Straight Brickyard 400 Win, Third Overall
A late crash by Denny Hamlin in turn one would hand the lead to Kevin Harvick late in the Brickyard 400. After holding off Matt Kenseth in Overtime, Harvick secured his second-consecutive win at Indianapolis. Sunday also marked Harvick's third career Brickyard 400 win, as he also became the third man to earn back-to-back Indy wins.
Scary Moment on Pit Road Under Competition Caution
Joey Logano started from the pole and would lead up until the lap 12 competition caution. As most of the field hit pit road for service, a near-catastrophe happened at pit entry. When Michael McDowell turned into his pit box, there was a stack-up behind him. The ensuing contact sent Martin Truex, Jr., Ricky Stenhouse, Jr., Corey Lajoie, Ryan Preece, Brennan Poole, and Justin Allgaier sideways. Pit road was effectively clogged. Due to heavy contact, many of these drivers would see their days end after not even 20 laps.
This incident was compounded by Poole's No. 15 car swerving into a crew member of Ryan Blaney. Tire changer Zach Price was transported to a local hospital for evaluation. However, he was awake and giving a thumbs up before being loaded in the ambulance.
This competition caution had one final noteworthy exchange. Harvick pitted for tires the lap prior, thus he restarted as the leader on an alternate pit strategy. Though the 4 had clean air and track position, he would not be able to make the end of Stage 1 on fuel.
Caution Sets Up Strategy Play for Stage 1
When racing resumed, Kevin Harvick was clearly the class of the field. The 4 appeared to be cruising to an easy Stage 1 win, until a caution for Ryan Newman. The 6 blew a tire entering turn three and pounded the outside wall. Harvick would lead most of the field to pit road under this yellow, minus a few outliers. William Byron, Erik Jones, and Austin Dillon all stayed on track in an attempt to gain valuable Stage 1 points.
Surprise Stage 1 Winner
The race would restart with five laps to go in Stage 1. The 24, 20, and 3 would all hold serve over the faster cars of Elliott, Harvick, and Hamlin. Each of these three drivers are around the Playoff bubble, so strong results in Stage 1 paid dividends. The Brickyard 400 was Byron's second Stage win of 2020.
Tire Failures Define Stage 2
Chase Elliott would start Stage 2 with the lead. The No. 9 Chevrolet ran away early in the Stage, opening up a gap of over four seconds. Elliott's sizable lead would evaporate though when Erik Jones slammed the turn three wall. The 20 blew a tire on corner entry and went straight into the SAFER Barrier at nearly-full speed. Thankfully Jones escaped the car uninjured, but his day would end with a 33rd-place finish.
This caution would see Elliott lose the lead on pit road to William Byron. Once again, the 24 used an off-strategy call of two tires to gain position. Unfortunately for Byron, his time out front was short-lived. On the lap 83 restart, Byron would suffer a blown left front tire. This would take Byron out of contention, as he finished in 27th.
Move of the Race?
The next restart would also not last a lap, as Ryan Blaney got loose entering turn three and spun. Ahead of the spinning 12 though, Kevin Harvick made one of the most daring passes for the lead in Brickyard 400 history. Entering turn three, the 4 was third behind Austin Dillon and Denny Hamlin. As the top two were door-to-door, Harvick went all the way down to the grass to overtake both of them. Harvick pulled off a pass many had tried (and failed at) before to retake the lead. Harvick would hold on to win Stage 2.
As if Harvick's pass for the lead wasn't impressive enough, on the next restart he would hold off a similar pass. Denny Hamlin was in position to take Harvick and Elliott three-abreast this time. However, Hamlin was not able to hold off the 4. Harvick powered around the outside of Hamlin in turn three to hold the lead. Harvick would hold a gap of mere tenths over Hamlin for much of this late run, until the fuel window opened for the finish.
Fatal Flaw by the 4 Team?
While running just in Harvick's wake, Hamlin hit pit road for the final time on lap 122. Initially, Harvick was also supposed to pit that lap, but he did not get the message in time. As a result, Harvick pitted on lap 123. Due to staying out an extra lap and a slow pit stop, Harvick exited pit road two seconds behind the 11.
Just after the two leader's pit stops, a caution came out for Alex Bowman. The No. 88 also suffered a tire failure in turn one, ending his day. This caution saw most of the lead lap cars pit, except for Hamlin and Harvick. Consequently, the 11 and 4 would line up as the leaders on the restart with just 22 laps to go. Harvick would get loose in turn one on the restart, giving Hamlin a comfortable berth.
Huge Crash For Hamlin
As laps wound down closer to the finish, Hamlin was able to hold off all charges from Harvick. Hamlin appeared to be on his way to his first-career Brickyard 400 win, as the 11 was the faster of the two cars. Hamlin's day came to an abrupt end though with just seven laps left.
As the 11 entered turn one, his right front tire would give way. This sent Hamlin hard into the wall and out of contention. Hamlin would be the fifth driver to suffer a major tire failure of the race. After being less than seven laps away from a Brickyard 400 win, Hamlin would have to settle for a 28th-place result.
Overtime Opportunity For Upset
With Hamlin now out of the race, the leaders for the Overtime restart were Harvick, Matt Kenseth, Aric Almirola, Cole Custer, and Christopher Bell. On the restart, Harvick would get a major push from teammate Custer. The 4 had the 42 cleared by turn one. Harvick would cruise over the final two laps to a victory by seven tenths over Kenseth. Harvick would become only the third driver to score consecutive Brickyard 400 wins, joining Jimmie Johnson and Kyle Busch. In addition, Harvick is only the third driver to earn three Brickyard 400 victories.
Last Lap Crash Between Playoff Contenders
Coming into turn three on the final lap, Matt Dibenedetto dove to the inside of Austin Dillon for a top-10 spot. The 21 would get loose and spin, also collecting Dillon. As a result, both drivers would limp across the line in 18th and 19th. While Dibenedetto is ahead of the Playoff cut line, Dillon is not. Despite a very strong afternoon with good Stage finishes, Dillon is still 17th in points, six markers out of the top 16. A great points day for the RCR 3 team ended terribly.
Top 10 Results from Brickyard 400
Coming in the runner up position would be Matt Kenseth. For Kenseth, this marks his best result of the season and first top-five since his Phoenix 2017 win. Indy also marked Kenseth's best run since the first Darlington race, his second top-10 of 2020. Although Kenseth has never won the Brickyard 400, he now has four second-place finishes. Oddly enough, Kenseth finished second to Harvick all the way back in the 2003 Brickyard 400 as well.
Continuing his hot streak, Aric Almirola finished the Brickyard 400 in third. Almirola now has top-fives in the last five races, a career-best run. All of Almirola's top-fives in 2020 have come in this stretch, as the next races are at his 'best racetracks.' Can Almirola end his nearly two year winless drought soon?
Earning his third Brickyard 400 top-five was Brad Keselowski in fourth. Keselowski and the 2 Penske team continue to build on their 2020 success, as their cars are constantly fast. In the first race weekend at the Roger Penske-owned Indianapolis Motor Speedway, Keselowski in fourth was the best Penske result in the Brickyard 400.
Surprise Finishers in Top-10
Cole Custer would score his career-best result with his first-ever top-five. Custer's performance only shows that all of Stewart-Haas Racing has found speed, as they had three of the top five finishers in the Brickyard 400.
Though not a win, a sixth-place run for Kyle Busch is a step in the right direction. The 18 Skittles Toyota showed top-10 speed for much of the Brickyard 400, as they search for their first win of 2020. Kyle Busch will be gunning for his record third win at Kentucky Speedway next week.
Another strong run for a Front Row Motorsports car sees Michael McDowell finish in seventh. This is McDowell's second top-10 of the year and second in three races. This also marks McDowell's best-ever finish at Indianapolis. McDowell's previous best was 17th, in each of the last two years. This is also McDowell's best result so far in 2020.
Continuing to amaze throughout his rookie season, Tyler Reddick finished the Brickyard 400 in eighth. After a string of poor results at Talladega and Pocono, Indianapolis marked Reddick's fourth top-10 of 2020. With this strong finish, Reddick sits currently at 18th in points, 14 points out of the Playoffs.
Earning another top-10 in the Brickyard 400, Bubba Wallace drove the No. 43 to ninth. Wallace finished third in this race a year ago, and backed that up with another impressive showing. Indianapolis is Wallace's first top-10 since Bristol and his third of 2020.
Polesitter Joey Logano would be 10th at the finish, as he was never able to regain the lead he lost under the first caution. Logano is still 0-for-12 at Indianapolis, but does now have eight top-10s in the last nine races here.
Harvick's Winning Reaction
"I can tell you today I was as excited as I've been of any of the races that we've won," Harvick said. Look, for me, I think you guys have all heard me talk about this, this is like living out your childhood dream, being able to race and win here.
I know how many times we've had fast cars here, come out the other end. Now to have won it back-to-back, three times, is something that's a little bit surreal. I kind of have to just laugh about it, think back to all of those times that you told somebody you were going to go win the Indy 500, race INDYCARS, whatever the case may be. Now you're in a stock car, 20 years into your career, still going strong.
It's a great place to come to. It's a great place to race, something that I look forward to every year."
How to Watch the Next Race
The next stop for the NASCAR Cup Series is Kentucky Speedway, for the 10th annual Quaker State 400. Coverage will be on FS1 on Sunday, July 11 at 2:30 pm EST. In nine past races, only five drivers have ever gone to Victory Lane in the Bluegrass State. Both Hamlin and Harvick are winless in their careers at Kentucky, can one of them or another first-time Kentucky winner pull it off?
Written by Peter Stratta
Be sure to follow us on YouTube and Twitter.
Be sure to follow the writer on Twitter.
Photo credit to NASCARMedia