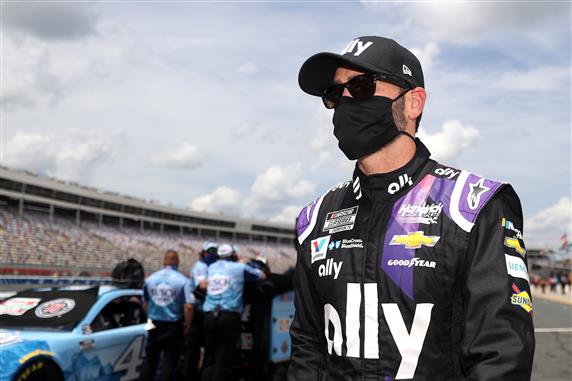 Jimmie Johnson Provides Update on His Condition After Testing Positive for COVID-19
On Friday, 7-time NASCAR Cup Series champion Jimmie Johnson tested positive for COVID-19. The 44 year-old driver is competing in his final full-time NASCAR season. Following his positive test, Johnson alerted each person he's had close contact with. NASCAR Xfinity Series driver Justin Allgaier will pilot the No. 48 Ally Chevrolet in this weekend's Brickyard 400.
Johnson on Finding Out He had COVID-19 and Parenting with the Virus
"First and foremost, thank you to everyone out there sharing our concerns and checking on me and my family," Johnson said. "Just clearly a crazy day yesterday. Chani (Johnson's wife) had some allergy-like symptoms she was dealing with earlier in the week. Being the rule-follower and ever-cautious individual she is, she felt she needed to go to the local hospital here in Colorado and have a test done."
"We waited on her test results, which took a few days, and those came in yesterday morning around 9 o'clock. From that point on we were just dealing with the issues at hand and trying to understand if I was positive. I was lucky to get in and be tested and get a quick result for myself and my children. My kids are negative, Chani and I are positive which is a crazy situation to try and manage in our household right now with self-isolation and also trying to parent."
"Our biggest concern right now is for our children. That's really the tricky hurtle we're trying to sort out right now on top of managing their fears. For a 9 and a 6 year-old, to try and manage the fear right now, they can't come around mom or dad. We've got to feed them and we're concerned about feeding them and passing the virus. We're heartbroken right now to see the fear in their eyes."
Johnson Has Informed Close Personnel of His Positive Test, One Team Member in Quarantine.
"To go back 14 days, clearly I was in Pocono, I've been to Ganassi for a seat fitting, been to Dallara," Johnson said. The California native was scheduled to test an IndyCar for Chip Ganassi Racing at Indianapolis Motor Speedway's road course this upcoming week.
"I've been through all of those steps to notify everybody. The CDC has also contacted myself and Chani. We've done everything we think we can and called everyone we think we could. Yesterday was extremely busy and in some respects, extremely embarrassing to be in this position. You fear that maybe you came in contact with someone that's going to have a more difficult time than we've had. I feel terrible for CGR and any stress I've put on their system. It's been a wild range of emotions in the last 12 or 14 hours but we're doing everything we can on our side to notify anyone and everyone."
One team member of Hendrick Motorsports has been pulled from the team for this weekends competition. Jeff Andrews, vice president of competition at Hendrick Motorsports, says it was the interior mechanic, and was done as a precaution.
"As far as our team specific to Hendrick Motorsports, all of our employees are required to wear PPE," Jeff Andrews said. "Purely out of precaution on our end, the interior mechanic was the one person we could say had physical contact with Jimmie's suit or helmet. We made that decision on our own to pull that individual back this week."
Cliff Daniels Comments on Jimmie and the Plan This Weekend
"First and foremost, at the top of our mind is the health and safety of Jimmie and Chandra," crew chief Cliff Daniels said. "Beyond that, certainly since we've been back racing, it hasn't been business as usual for anyone. This kind of continues our process of trying to do things and go race that's just not normal. I have the upmost faith in our team and in Justin to come in and do a good job. We have a job to do, to go out and perform at the highest level we can. Obviously, Justin has a lot of history in Cup cars and at this speedway, so we have a lot of confidence in him."
Cliff Daniels goes on to say the team had a process in place in case of this situation.
"We've had our own secondary lineup. That includes driver, crew chief, all the way to the crew members that travel to the race track. Jeff Andrews and the folks at Hendrick Motorsports have managed that and made sure that roster was strong."
When Will Johnson Be Back In The Car?
To be reinstated, Jimmie Johnson has to test negative for COVID-19 twice seperated by 24 hours. He also must obtain a doctors approval that he is cleared of the virus. With Jimmie being asymptomatic, it is hard to speculate if he's in the early stages and will soon develop symptoms, or if he's in the late stages and won't show any. That being said, Jimmie could be back as early as next week if he is cleared.
During today's press conference Johnson also stated it's possible he'd like to run a Hendrick Motorsports prepared Cup car in certain races next season. This means Johnson may get another shot at the potential races he'll miss.
We'll continue to follow this story and bring information as provided.
Written by Noah Lewis
Be sure to follow us on YouTube and Twitter.
Be sure to follow the writer on Twitter.
Photo credit to NASCARMedia.