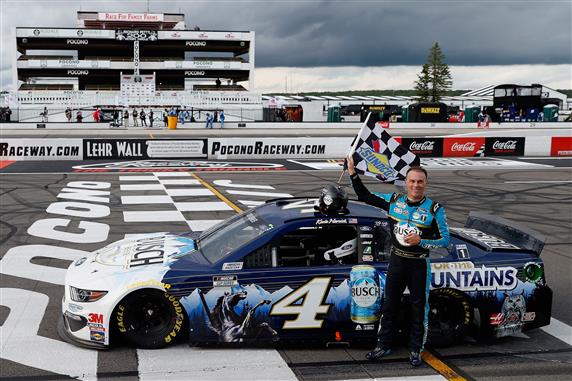 Kevin Harvick Wins Round #1 of the Pocono Doubleheader
Up until today, Kevin Harvick had just three tracks he was winless at in the Cup Series. He's now dropped that number by one with a win at the tricky triangle. The 39th time was the charm for Harvick at Pocono, as the 4 held off a late charge from Denny Hamlin. Pocono also marks Harvick's third win of 2020, tied with Hamlin for the most.
It wasn't pure dominance for the No. 4 car today. The team wasn't much of a lead contender until the final portion of the race. The major turning point for the team was an outstanding call by crew chief Rodney Childers, opting for just two tires with just 36 laps remaining. After defending a late effort from Denny Hamlin, Harvick would score the victory with only 17 laps led on the day.
Harvick's Winning Reaction
"I have to thank everyone at Stewart-Haas Racing for all the great cars they have given me through the years," Harvick said about checking Pocono off the list. "We finished second a bunch of times here. I know that they wanted to win here as bad as everyone else so we could stop answering the questions. The PR guy isn't going to know what to do now. He will have to come up with a new title for the Pocono lead ins.
"I knew when we came out of the pits and they told me how big of a lead we had," Harvick added. "I saw the 11 come out of the pits and he was in second. We knew that the tire gap was going to be a little less. He caught us a little in traffic but I knew I could be pretty patient with the gap we had. Just a great call by Rodney Childers and all the guys up on the pit box for having the right strategy and getting us to victory lane."
Aric Almirola Finds Impressive Momentum; Feels Close to Harvick Speed
When looking at the race overall, it's no secret Aric Almirola had the best car. Driver No. 10 led a race-high 61 laps and seemed to be on the road to victory before the final pit stop. The team elected to take four tires, losing them precious track position that they were unable to get back from teammate Kevin Harvick and competitor Denny Hamlin.
Though Almirola only sits 11th in driver standings, the team has found a streak of momentum. Before Homestead a few weeks ago, they found themselves in a downward trend, finishing worst than 15th for five races in a row. However, it seems a switch has been flipped between Almirola and new crew chief Mike Bugarewicz, who was previously with Clint Bowyer. The team claimed its third straight top-five in dominating fashion. The SHR 10 team is certainly moving in the right direction for the Playoff push.
"I am proud of Buga and these guys," Almirola said post race. "They have been bringing some awesome racecars. I felt like we were tit for tat with the 4 when we were on older tires there and in clean air. I am proud of everybody at Stewart-Haas Racing and Roush Yates Engines and Ford Performance and everybody that helps this program out. We are just trying to keep the momentum going. Three top fives in a row. I am really proud of my race team."
Rest of the Top Five Finishers
Denny Hamlin had a very solid second place finish, just coming up short of Kevin Harvick by nearly 8 tenths of a second. Although Denny wasn't able to seal the deal, he believes he has a winning car for tomorrow.
Christopher Bell had a career-best finish of fourth place today. As that team continues to make laps, Christopher finds more and more speed in his rookie year.
Kyle Busch brings his Camry home in the fifth position. The driver of the No. 18 can't be content with his winless streak in 2020. In fact, he's yet to gain a single Playoff point this season. He looks to turn his season around in tomorrow's second race.
Remainder Of The Top Ten Score Solid Finishes
Martin Truex, Jr. capped off an okay day after finishing in the sixth spot. He didn't make much noise up front but did manage a solid finish.
Clint Bowyer was another driver that found a solid finishing position in seventh. He didn't show nearly as much promise as teammates Kevin Harvick and Aric Almirola, but did bring the car back in one piece for a try at it tomorrow.
Michael McDowell had an amazing day, finishing in the eighth spot for Front Row Motorsports. The team continues to show glimmers of promise with McDowell and teammate John Hunter Nemecheck. This was McDowell's first top-ten on a non-superspeedway since Homestead in 2016. This is also McDowell's third top-15 in the last four races.
Brad Keselowski brings his No. 2 car home in the ninth spot. Keselowski didn't show the speed his Penske teammates Ryan Blaney and Joey Logano had, but did manage to finish higher than both of them.
Chris Buescher rounded out the top-ten in his No. 17 Ford Mustang. A former winner at Pocono, Buescher scored his fourth top-ten of the season with Roush-Fenway Racing. Buescher is now also in the thick of the Playoff bubble at 19th in points.
Where To Watch Tomorrow's Pocono Action
If you're a NASCAR fan, you'll love what's on the racing menu tomorrow. Kicking off at 9:30 am EST, Gander Outdoors Truck Series action takes to Pocono Raceway to kick-off the triple-header event. Next up is the NASCAR Xfinity Series race from Pocono at 12:30 pm EST. Finally to wrap things up, the NASCAR Cup Series will begin round two of the doubleheader weekend at 4 pm EST. All races can be seen or heard on FS1, MRN, and SiriusXM.
Written by Noah Lewis
Be sure to follow us on YouTube and Twitter.
Be sure to follow the writer on Twitter.
Photo credit to NASCARMedia.