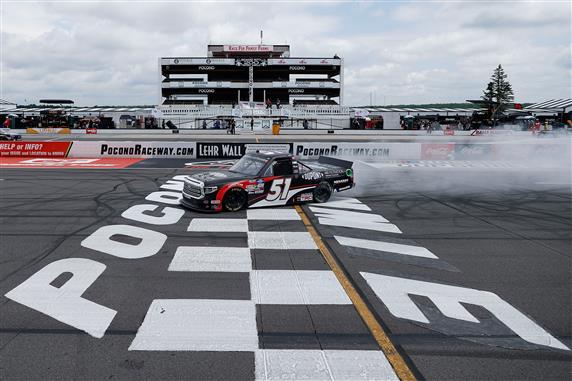 Brandon Jones Scores His First Career Truck Series Win at Pocono
Full-time NASCAR Xfinity Series driver Brandon Jones cashed in his first Truck Series victory at Pocono Raceway. After an intense last lap battle with Sheldon Creed, Jones brought the No. 51 Kyle Busch Motorsports truck to victory lane. The Atlanta, Georgia native has run 46 races in the Truck Series since his first start in 2013.
"When I started racing, my entire life, I saw the 51 late model and said I want to be with Kyle Busch Motorsports one day and win races," Jones said after climbing from his truck. "We finally did it. We've been close in the past. That was a heck of a battle, I know it was fun to watch on TV. It was really fun for me there. All in all, great day. I'm pretty pumped. We have another too, so maybe we can get it done."
Wild From The Start
Lap one, turn one. That's all it took for today's race to see its first yellow flag. Cody Rohrbaugh got loose and washed up the track into reigning champion Matt Crafton. Both drivers backed their trucks into the outside wall and were done for the day. Crafton is now below the Playoff cut line with 10 races remaining until the Truck Series Playoffs.
That may be where the trouble started, but it certainly wasn't where it ended.
Lap 6: Raphael Lessard runs into the grass and slides up, collecting Austin Wayne Self.
Lap 12: Ty Majeski and Grant Enfinger make contact going down the front straightaway. Majeski gets sent sideways and slams the inside wall, ending his day.
Lap 28: Jordan Anderson goes for a spin after contact with the wall, ending Stage 2 under caution.
26 laps to go: Tanner Gray gets loose and washes up into Tate Fogleman, ending the day for Fogleman.
12 laps to go: Christian Eckes seemed to be driving away with win, stretching over a second lead on teammate Brandon Jones. However with just 12 laps remaining, a tire went down on the 18 truck, sending Eckes hard into the inside wall.
6 laps to go: Tim Viens goes for a spin and stalls his truck, bringing out the ninth and final caution. Today's nine yellows matches the record Truck Series high at Pocono.
Sheldon Creed's Battle With Brandon Jones; All But Perfect Day
Sheldon Creed had an all-but-perfect race at Pocono. The California native took the lead quickly and led a race-high 31 laps. After an amazing three-wide power move for the lead with two laps to go, Creed attempted to keep the top spot from Brandon Jones. Accidentally giving Jones the high line, Creed fell to a race finish of third as Austin Hill managed to sneak around him.
"I know exactly where I lost it," Creed said. "I went to go break the draft not realizing how close he was to me off of three and I let him get to the top. That's pretty much where it was over. I should have never let him get to the top. I'll remember that and it's a good lesson to learn."
Written by Noah Lewis
Be sure to follow us on YouTube and Twitter.
Be sure to follow the writer on Twitter.
Photo credit to NASCARMedia.