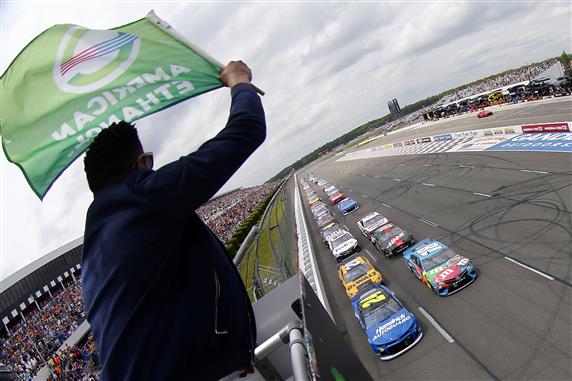 Previewing the Doubleheader at Pocono Raceway
History will be made this weekend as the NASCAR Cup Series will host two races on two consecutive days. The 2.5-mile triangular shaped Pocono Raceway will host the Pocono Organics 325 on Saturday, June 27, and also the Pocono 350 on Sunday, June 28.
Saturday's race will be 130 laps with stage lengths of 25-52-53. The race will begin just after 3:30 p.m. EST on FOX. Aric Almirola was the lucky driver this week as his team drew the pole in the random draw to determine the lineup. Last week's winner, Ryan Blaney, will join him on the front row.
Sunday's race will be 10 laps longer at 140 laps. Stage lengths for that race will be 30-55-55. That race will be on FS1 just after 4:00 p.m. EST. The lineup will be set by an invert of the top-20 finishing order from Saturday's race. The race for 20th today will be yet another story to keep an eye on.
The Joe Gibbs Racing Toyotas of Kyle Busch, Martin Truex, Jr., Denny Hamlin, and Erik Jones are sure to all be factors in both races this weekend. The first three have combined to win the last five races at Pocono Raceway. Jones also has a second-place run at Pocono in the last race there.
Kyle Busch's Pocono Dominance
Busch has finished inside the top-10 in his last seven Pocono races, and has led over 50 laps in five of those seven races. That stretch includes three victories at the track. The driver of the No. 18 car needs a strong run as he has yet to capture a win in 2020, and also sits a surprising ninth in points. Expect Kyle to be a man on a mission this weekend, since he enters Pocono Raceway as a favorite.
Martin Truex Jr. Return to Victory Lane?
Martin Truex, Jr. has two career victories at Pocono Raceway, including one just two seasons ago. He is looking to pick up his second win of 2020. Although he only has the one win, Truex is firmly in the Playoff hunt at seventh in points.
Is Denny Hamlin Back to his Dominate Pocono Ways?
There was a time where Hamlin was unbeatable at Pocono Raceway. He started on the pole in his first two career starts at the track and also won both races in 2006. He finished inside the top six a whopping eight times in his first starts at the track. Hamlin also won the second race at Pocono in 2019, giving him five career wins at the track. That record only trails Jeff Gordon's all-time record of six wins on the tricky triangle.
Erik Jones-the Ultimate Sleeper?
Jones is another top contender at Pocono Raceway. In six career starts at the track, he has finished outside the top eight just once. He definitely needs a strong showing as he sits 17th in points, outside the Playoff picture. Subsequently, Jones currently trails a Playoff position by just one point.
Will anyone be able to challenge the Joe Gibbs Toyotas? Everyone will find out Saturday and Sunday. As with past weeks, this is all weather permitting. Be sure to tune in all weekend long to FOX and also FS1 for all racing coverage.
Written by Nicholas Sterling
Be sure to follow us on YouTube and Twitter.
Be sure to follow the writer on Twitter.
Photo credit to NASCARMedia