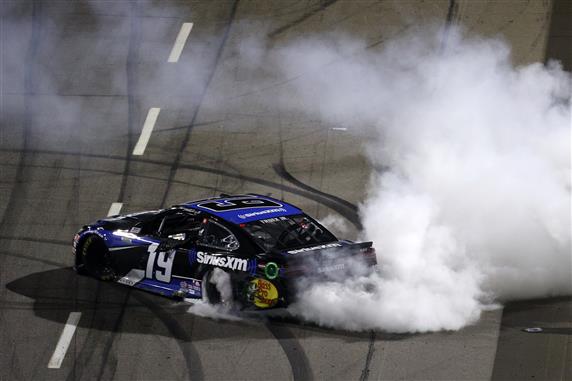 Martin Truex, Jr. Takes Second-Straight Martinsville Win in First Night Race
Is Martin Truex, Jr. the new short track ace? One would certainly think that after his win on Wednesday night. Truex took the checkers for a second-consecutive time at Martinsville. In addition to being the Virginia track's first-ever Wednesday race, it was the first night race at the half-mile. With lights only installed three years ago, Wednesday marked the first time the Cup Series raced under them. As Truex once again turned the paperclip into 'Martin's-ville,' he earned his first win of 2020, also the first victory for new crew chief James Small.
Favorites Fall Back Early
In an odd twist attributed to no practice, many contenders had very slow starts to the race. Polesitter Ryan Blaney would fail to lead a single lap and was a lap down by lap 51. In addition to Blaney, previous Martinsville masters Kyle Busch and Denny Hamlin both had bad starts for the night race. The 18 and 11 were both lapped in the opening run, and would finish 19th and 24th, respectively. With seven Martinsville wins between them, the two teammates had less than memorable outings at the night race.
A late caution would set up an interesting dash to the end of Stage 1. Timmy Hill stalling on pit road triggered a yellow on lap 112. For the ten lap sprint to the Stage conclusion, the front row would be Corey Lajoie and Bubba Wallace. Wallace would hold on for fifth, while Lajoie fell back to 17th.
Stage 1 was largely dominated by 2018 fall Martinsville winner Joey Logano. The 22 took the lead on lap 20 and would hardly look back. Logano would take his third Stage win of 2020 over Clint Bowyer, Jimmie Johnson, Martin Truex, Jr. and Bubba Wallace.
Costly Penalty Under Caution
While coming to pit road on the Stage break, Martin Truex, Jr. incurred a rare penalty. He turned down into the entry lane late, clipping the commitment box with his right side tires. For Martinsville, all four wheels must be below the orange box. This sent the 19 from the lead out of the pits to the tail of the field. Truex would spend much of the night race recovering lost ground from this rare mistake.
Seven-Time Takes Command
Even though Logano started Stage 2 up front, his time in the lead would be short-lived. By lap 200, Jimmie Johnson was all over the 22's bumper for the top spot. On lap 202, the 48 took over to lead his first laps at Martinsville since 2017. Johnson entered the Martinsville night race riding a 105-race winless streak, trying to end it on a track he's won at nine times. Though Johnson would take the Stage 2 win, his car faded afterwards to 10th at the finish. Johnson would lead 70 laps however, a total greater than he led in the first ten races of 2020.
Penske Trio Takes Over
Even though Johnson would restart the final Stage with the lead, he would quickly fall to Ryan Blaney. Blaney made a power move around the outside of the 48 to take position, leaving him in the dust. Right on Blaney's bumper was teammate Logano, who took the lead away on lap 284. Brad Keselowski would march his way up to third to make it a Penske top-three sweep.
Truex To the Top
Blaney would be penalized under a caution pit stop for a crew member going over the wall too soon. This left the 2 and 22 alone to duel for the lead up front with just over 150 laps to go. Chase Elliott and Martin Truex, Jr. would catch the top two to make it a four-way battle for the top spot in lapped traffic. After methodically working his way forward from the penalty, Truex would take the lead on lap 370.
Early Exit for Dillon
With just over 100 laps to go, the night race came to an end for Austin Dillon. Dillon had knocked crush panels out of his car due to a flat tire at the start of the race, and required medical assistance. Dillon was helped from his car and treated with oxygen, as he had been breathing in harmful fumes all race long.
The 3 team already had AJ Allmendinger on standby duties for Martinsville, since Dillon's wife was due to give birth at any minute. With the crush panel damage however, the 3 did not return to the race. Dillon was eventually cleared from the infield medical center after receiving treatment. Martinsville marks the second race in a row where a driver has needed medical help post race. Dillon would leave the night race in 37th.
Cruising for Truex
Even though the arguably-faster car of Ryan Blaney took over second, it was a comfortable lead for Truex to ride until the checkers. MTJ would win the Martinsville night race by nearly five seconds over the 12. For the 19 team, this marks their first win of 2020, first with James Small as crew chief, and second at the Paperclip.
Top 10 Results from Martinsville Night Race
Behind Truex and Blaney the top five were Brad Keselowski, Joey Logano, and Chase Elliott. The remainder of the top ten were Alex Bowman, Matt Dibenedetto, William Byron, Kurt Busch, and Jimmie Johnson. Coming home in a close 11th place was Bubba Wallace, in what he called "the biggest race of my career."
Truex's Winning Reaction
Truex was quick to address his recent success on short tracks in the Cup Series, despite growing up winning on almost exclusively bullrings. "I grew up on short tracks," Truex said. "That's what got me to where I'm at. Pretty much won all short tracks in the Busch Series, then went to the Cup Series and couldn't do anything on 'em. Just been a learning process to figure 'em out.
These tracks are really tough. I think for our team the last five years or so really just continuing to work on the little things that it takes to get around these places, continuing to work on those things. It's been really good for us. Really excited obviously to get our first win of the season."
Not-So-Long Growing Pains with New Crew Chief
Truex went on to describe how special it is to finally win with James Small atop the pit box. "Honestly he's really similar to Cole. I think they'd been together for so long. They go back a long time ago to working together at race teams years ago. Before either one of them were crew chiefs, they were engineers. They've been close for a long time, have similar styles, personalities as well.
I think for me, my relationship with James and the way we interact has been real similar to how I had a relationship with Cole, that's because we all worked together before. That's really made the transition easy for me. It's made me easily have confidence in his abilities and what he can do.
Definitely nice to get his first win because everybody has been asking when it's going to happen. Cole leaving is big shoes to fill, there's no question. He's been doing a really good job, been really making smart decisions. He's prepared and a great leader. Our guys look up to him. I feel like he hasn't missed anything, done an awesome job."
2020 marks the sixth-consecutive winning season for Martin Truex, Jr. The Martinsville night race is also his fourth win in the last six short track races. This win also breaks a tie Truex held with mentor Dale Earnhardt, Jr. at 26 career wins. Truex now stands alone as the 30th-winningest Cup Series driver.
How to Watch the Next Race
Up next for the Cup Series is the Dixie Vodka 400 from Homestead-Miami Speedway. Coverage will be on Sunday, June 14 at 3:30 PM EST on FOX, MRN, and SiriusXM NASCAR Radio Chanel 90. The south Florida venue has been the championship race for the past 18 years, so how will the demeanor change now that it's a regular season race? Homestead will also now be a day race rather than a night race, so the on-track action will be different with higher temps.
Written by Peter Stratta
Be sure to follow us on YouTube and Twitter.
Be sure to follow the writer on Twitter.
Photo credit to NASCARMedia