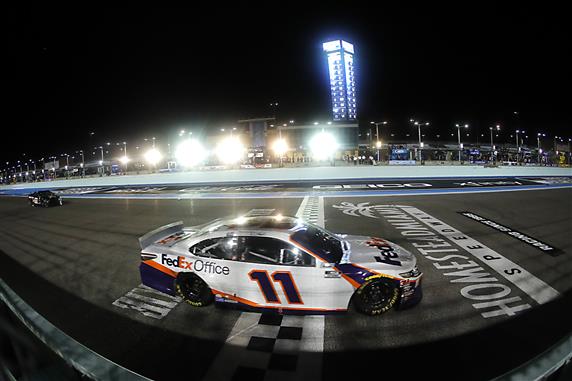 Denny Hamlin Scores 40th Career Win in Dominant Homestead Run
Denny Hamlin is quickly asserting his name among the best ever in NASCAR. After a lights-out performance in Homestead, Hamlin scored his 40th career win in the Cup Series. This stat ties the Virginia native with Hall of Famer Mark Martin for 19th-most all time wins. Hamlin was nearly perfect in Homestead, taking all 3 Stage wins from the pole. Hamlin is also the first man to score three wins in 2020, as the season crosses the one-third mark.
Weather Dampens Stage 1
The opening run of the race was halted multiple times by weather. Though very little rain fell on Homestead-Miami Speedway, lightning in the area forced several 30-minute holds. In total across two separate red flags, Stage 1 was delayed for nearly three hours. The initial delay came after just four green flag laps, while the next stoppage came after lap 33. The early leader was not polesitter Hamlin, but rather Joey Logano. Logano started in second and beat Hamlin on the initial start, leading most of the opening laps.
By the time the lightning was gone, the race resumed on lap 37. The race would stay green until the end of Stage 1, as Denny Hamlin got by Ryan Blaney late in the Stage. Stage 1 at Homestead would be Hamlin's second Stage win of 2020.
Stage 2 Goes By in a Flash
While Stage 1 took several hours to complete its 80-lap distance, Stage 2 was the opposite. The second Stage from Homestead would be competed without any on-track incident. No caution halted Stage 2, so it was complete in less than an hour's time. Even though Hamlin would eventually score the Stage win, he did not get the lead initially. Chase Elliott beat Hamlin on the start thanks to a big push from Alex Bowman.
On lap 91 however, Blaney would take the top spot away from Elliott, as the 12 was stronger after a few laps. Blaney began to quickly pull away, as he had a lead greater than a second by lap 100. Hamlin would only take the lead from Blaney after cycling ahead of the 12 on green flag pit stops. The 11 came in a lap earlier than Blaney and was able to come out with a nearly two second lead. Hamlin would maintain this gap and won Stage 2 by over five seconds.
Homestead would be the fifth race of 2020 where a driver swept both Stages. However, none of those four previous drivers had gone on to win that race. With 100 laps left until the checkers, Hamlin was hoping to change that stat.
First Laps Led by Rookie Contender
Coming into Homestead, many eyes were on rookie Tyler Reddick. After two back-to-back Xfinity wins and championships at Homestead, Reddick entered this race as an underdog contender. The 8 was in the top 10 for much of the night after starting 24th, as he was up to 10th by lap 15. The green flag pit cycle midway through Stage 2 would see Reddick stay out and lead two laps. These are the first laps led in the rookie's career. Reddick would pit from the lead on lap 123, giving the top spot back to Hamlin. Reddick would finish Stage 2 in second.
Signed, Sealed, Delivered for Hamlin in Homestead
When the final Stage went green, Hamlin was gone from Elliott, Reddick, and all others. A quick caution for a Joey Logano spin would not stop Hamlin, as he held the lead after pit stops. Ryan Blaney would catch Hamlin on lap 194, but a dive bomb move by the 12 into turn three would cause Blaney to get loose, ceding the lead and second.
No Love Lost Between Elliott, Logano
Hamlin would make his final pit stop with 50 to go, and Elliott leapfrogged the 11. The 9 was ahead of the 11 by nearly two seconds, but the 11 was storming back to the front. With 30 to go, Elliott had caught up to the lapped car of Joey Logano. Likely as retaliation for the Bristol incident two weeks ago, Logano held Elliott up, racing the 9 hard to prevent from going a second lap down. This allowed Hamlin to erase the gap and take the lead back. After the race, Elliott would say that "I just need to get through lapped traffic better," referencing Logano.
Elliott would get into the turn two wall with five laps to go while trying to stay right on Hamlin's bumper. Elliott fell back but was able to hold on for second, as Hamlin cruised to the win. At the checkers, Hamlin led Elliott by nine tenths.
Top 10 Results from Homestead
Behind the duo of Hamlin and Elliott was a distant Ryan Blaney in third. Homestead marks the sixth top-five of 2020 for Blaney, the most of those who have not won. Tyler Reddick scored his best-career result in fourth, while Aric Almirola rounded out the top five.
Two-time Homestead winner Kyle Busch came across the stripe in sixth, while new father Austin Dillon was in a close seventh place. Christopher Bell made in two rookies in the top eight, while the rest of the top-10 was William Byron and Brad Keselowski.
Hamlin's Winning Reaction
"We've been on a roll these last two years," Hamlin said. "Myself and Chris have a good thing going. It just works. We have the crazy races like we had last week, but then we come back and do something like this."
Hamlin went on to describe what his 40th career win means to him. "I mean, it's a good number. It's a number that I've been looking at for quite a few years. At one point I didn't know if I'd get there. I've adjusted my goals since then. There's a bigger number I'd like to get to.
I still don't think we're at the top of our game with our team yet. I think we're still got some room to get better. I'm pretty happy that we're able to reel off some wins right now given the circumstances.
I don't take for granted that the people that are in front of me are great, all-time great drivers. I never thought I'd be in this position whatsoever. I've just been really, really blessed to be with the same sponsor, the same car and the same team for all of my career.
Win number 40 is special. I can't downplay it. I know how special and how much it means to me. It will take some time for me to understand what it means to me. The accomplishment, it's a big number, a number I never thought I would get to."
Hamlin Tying Elite Company
The 40th career win breaks a tie Hamlin held with Hall of Famer Tim Flock and former teammate Matt Kenseth. Hamlin is now tied with another Hall of Famer, Mark Martin, for 18th on the all-time Cup Series wins list.
Hamlin is now the winningest driver so far in 2020 with three wins, and is also now tied for most wins at Homestead. Tony Stewart, Greg Biffle, and now Denny Hamlin all have three victories at the south Florida track.
How to Watch the Next Race
With the first third of 2020 in the rear view mirror, the next stop for NASCAR is a favorite-Talladega. The Geico 500 will be live this Sunday, June 21 at 3 PM EST on FOX, MRN, and SiriusXM NASCAR Radio Channel 90. With slightly altered rules since Daytona and no practice, there are some questions heading into Sunday. Can Denny Hamlin go back to back after Homestead and win a second-straight Superspeedway race? Will Talladega see an upset winner? Follow along on Sunday to find out.
Written by Peter Stratta
Be sure to follow us on YouTube and Twitter.
Be sure to follow the writer on Twitter.
Photo credit to NASCARMedia