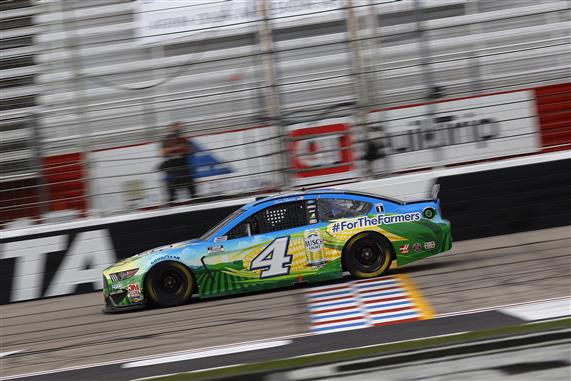 Kevin Harvick Grabs Another Atlanta Win in Dominating Fashion
At the site of his first career win nearly two decades ago, Kevin Harvick put on a clinic. The No. 4 Busch Light Mustang would lead 151 laps en route to Harvick's third Atlanta win. Harvick has been lights-out dominant in Atlanta for several years, but this only marks his second win in that time. Harvick also is now a multi-time winner in 2020, joining Logano, Hamlin, and Keselowski.
Prerace Moment of Silence
In light of recent protests across America for justice, NASCAR held a moment of silence prerace. Under pace laps, the field was parked on the front stretch and all engines were turned off. NASCAR President Steve Phelps then delivered a message to all drivers and viewers before a 30 second vigil. Lastly, a video featuring most of the drivers played on the broadcast.
Hometown Hero Out Front Early
After earning the pole through random draw, Chase Elliott would lead early. The Dawsonville, GA native would hold serve out front until the competition caution on lap 25. Elliott would fall to fourth after pit stops, and failed to regain the lead again. The Napa No. 9 would go on to finish in eighth. Elliott is still looking for his first career win at his home track, a place his father won at five times.
Hendrick Car Runs into Trouble
Not long after the race resumed, Elliott's teammate William Byron found trouble. The 24 cut a tire in turn three and found the outside wall. Byron would nurse it into the pits without issue, but had a penalty. Due to a crew member going over the wall too soon, the 24 would re-enter the race seven laps down, with no shot at a strong result. Byron would come home 33rd after 500 miles in Atlanta.
Past Champions Duel for Stage 1
Although Logano inherited the lead from Elliott, it was not long until Kevin Harvick took command. Harvick would not be free of competition though, as Martin Truex, Jr. was only a second behind him and closing in. Truex, who is known for dominating runs on 1.5 mile tracks, was still searching for his first Atlanta victory. After a round of green flag pit stops, Truex would motor around Harvick for the lead. Despite a late yellow for John Hunter Nemechek's spin, Truex would hold on to take the Stage 1 win. Harvick faltered to fourth on the restart, as Kyle Busch and Clint Bowyer got by the 4.
Promising Day Goes South for Bowyer
After a lightning-fast pit stop by the 14 team, Clint Bowyer would restart Stage 2 as the leader and held off Truex. Bowyer would lead multiple laps in Atlanta for the first time since 2013, as the 14 appeared to be a threat for the win. That would abruptly change however on lap 146.
While leading, Bowyer had a tire go down. He evasively made it to pit road without further issues, handing the lead back to Truex. After a cycle of pit stops, Bowyer would briefly hold the lead again, but he was off-strategy. Bowyer would only recover to finish 20th. Truex would take back over on lap 185, as it seemed the 19 was on his way to an easy Stage-sweep.
Late Lead Change on Pit Road in Stage 2
A late caution would come out again in Stage 2, as John Hunter Nemechek made contact with Michael McDowell, sending the 34 spinning. This yellow would see Kyle Busch take the lead on pit road. With prime track position late in Stage 2, the 18 appeared to be in the catbird seat. Busch had a less-than-stellar restart though, falling all the way to fifth. Meanwhile, Truex was able to retake the led and hold on for the Stage 2 win. Amazingly, Atlanta marked Truex's first two Stage wins of 2020. Atlanta also marked the tenth time that Truex has swept both Stages in a race.
Harvick Takes Command in Final Stage
Although Busch once again took the lead under caution, he would again not be out front for long. Harvick would reassert control with just over 100 laps to go. Outside of a pit stop cycle, Harvick would lead from this point until the checkers. At the finish, Harvick held a lead of 3.5 seconds over Busch.
After taking the checkered flag, Harvick did a Polish Victory Lap with three fingers held up. Harvick has done this after each of his two prior Atlanta wins. This is to honor the life and legacy of Dale Earnhardt, as Harvick's first career win was in Atlanta just three weeks after his passing in 2001 with the RCR 29 team.
Top 10 Results From Atlanta
Behind Harvick was Kyle Busch, as he passed teammate Martin Truex, Jr. late for the runner-up spot. Rounding out the top five were Ryan Blaney and Denny Hamlin. With perhaps the most impressive drive of the day in sixth was Kurt Busch. The elder Busch had to serve a pass through penalty at the start after failing inspection, and rallied from 40th to a top 10 result. Behind Busch were Jimmie Johnson, Chase Elliott, Brad Keselowski, and Joey Logano.
Harvick's Winning Reaction
"For me, this place is pretty special just because of the fact that this is where I got my first win, so for me coming back here, it brings back a lot of memories," Harvick said. "It brings back a lot of things that we didn't really know how to celebrate on that particular day, and I think as you look at being able to go back and win another race here and celebrate the life of Dale Earnhardt, everything that he meant to our sport in the right way, each time we're able to come here is obviously pretty special for me, and to be able to win at Atlanta is a lot of fun for me because it's one of my favorite racetracks.
After having a short-run setup in Charlotte, Harvick clearly had a longer run car for Atlanta. "We got a restart on the bottom and that got my car to take off. I was able to get track position and then once I could get through those first 10 laps, my car was freed up enough to where I could get in a rhythm and really start hitting my marks, and then by about lap 25 I could start driving away."
While Atlanta does put Harvick at 12th on the all-time wins list, it was special for another reason. Harvick was able to win on crew chief Rodney Childers' birthday. "It's been a pretty incredible day for sure," Childers said. "Turned 44 with the 4 car and ended up in Victory Lane, so that's pretty neat. I'm getting old, too. That's not good."
How to Watch the Next Race
Up next for the NASCAR Cup Series is the annual spring trip to Martinsville Speedway. This race will be historic though, as it will be Martinsville's first race under the lights. The wait for this race will not be long, as the green flag will fall on Wednesday night. Coverage of the Blue Emu Maximum Pain Relief 500 will be at 7 PM EST on Wednesday, June 10 on FS1, MRN, and SiriusXM NASCAR radio Channel 90. While fans are still not allowed at the track, Martinsville has the potential to be the race of the year with how much tempers and fenders flare on the half-mile.
Written by Peter Stratta
Be sure to follow us on YouTube and Twitter.
Be sure to follow the writer on Twitter.
Photo credit to NASCARMedia