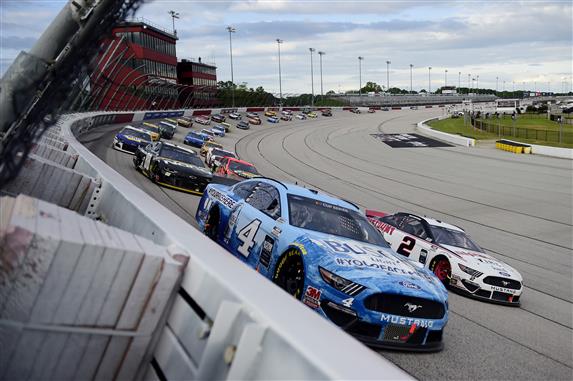 Kevin Harvick Earns 50th Career Win in NASCAR's Return
In the first NASCAR race back since the COVID-19 pandemic, the Cup Series put on a unique show at Darlington. After starting sixth, Kevin Harvick would lead 159 laps en route to his second Darlington win. More importantly though, this win put Harvick in rare company. The Real Heroes 400 was his 50th checkered flag. NASCAR's return race showed promise for many, while others still have work to do.
First Lap Fracas
As the green flag waved for the first time in 71 days, trouble would ensue early. Coming out of turn two, the No. 47 of Ricky Stenhouse, Jr. would spin and hit the inside wall after trying to go four-wide. Stenhouse's day would be over after roughly one-third of a lap, as his Camaro had terminal damage.
Up front meanwhile, polesitter Brad Keselowski would set the pace early. The No. 2 Discount Tire Mustang would lead the opening 44 laps. This stint included holding serve through a lap 30 competition caution. While Keselowski was fast, the Hendrick cars were quickly gaining on him.
Stage 1 Statement From Hendrick
On the heels of a recent contract extension, Alex Bowman would take the lead midway through Stage 1. Bowman's teammates all looked strong early on, as all four Hendrick Camaros ran in the top seven spots. It appeared that the ten week break did not phase the powerhouse team one bit. Chase Elliott was arguably the fastest car at both Las Vegas and Phoenix, Bowman was also dominant at California. Not long after Bowman took the lead, HMS ran 1-2-3 with Jimmie Johnson and William Byron moving forward.
Early Exit on Last Lap of Stage 1
By the closing laps of Stage 1, Bowman's tires were gone. He began to quickly lose his three second lead. The seven-time champion began to close in fast on his younger teammate, finally taking the top spot on lap 81. With less than ten laps left in Stage 1, it appeared as if the retiring legend would take this first Stage in the return race. That would not be the case however, due to an incident involving Chris Buescher.
Exiting turn two on lap 90, Johnson trailed Buescher's No. 17 Mustang. Buescher had to check up, as he got loose. This caused the 48 to over correct, and Johnson went spinning down to the inside wall. With a banged up Ally Camaro, Johnson's day was done. The Stage 1 win in NASCAR's return race would go to William Byron.
Johnson took to Twitter to apologize for the mistake, as he said that "things just went horribly wrong" after the accident. It has now been a span of 100 races since Johnson's most recent victory. Win #83 for the seven-time champion came at Dover in June of 2017.
Hendrick Goes From Hero to Zero
While Stage 1 did fall into William Byron's lap, the 24 team did not fare as well in Stage 2. Under their pit stop between stages, the right rear tire was not fully secured to the car. The loose wheel would become evident on lap 109, as the 24 found the wall in turn three. After running in the top three at one point, two Hendrick cars would finish outside the top 30.
Harvick Takes Control
At the head of the pack, Kevin Harvick had taken the lead on pit road and held serve for much of Stage 2. In NASCAR's return race, the current points leader was trying to earn his first win of the year, and also keep a top-10 streak alive. Harvick is the only driver who finished in the top-10 of every race before the hiatus.
Caution for…an Emu?
As the race began to develop a long green flag run in Stage 2, an odd moment occurred. A banner on the turn four wall for Blue Emu began to come unraveled. As a result, the vinyl adhesive would get stuck on a few cars. NASCAR was quick to throw the caution for this debris, and to remove the banner. The debris affected Denny Hamlin, then John Hunter Nemechek.
Blue Emu has had an up-and-down past few weeks as a sponsor. Back in April after the Bristol iRacing event, they dropped Bubba Wallace after he rage quit the race. One could say they have gained publicity due to these unforeseen circumstances.
Aside from a quick caution for Christopher Bell spinning, Stage 2 would finish with no further issues. In two consecutive races separated by 71 days, Keselowski would win Stage 2. This came after Harvick lost ground on a lap 175 pit stop. Even though the 4 restarted eighth, he would be fourth at the Stage conclusion.
Harvick Retakes Lead in the Pits
When the caution flew again on lap 213, all of the leaders came in for tires. With the coveted first pit stall, Harvick regained lost ground and took the lead back by mere feet over Keselowski. Evidently, this exchange on pit road would be the final lead change of the afternoon, as Harvick was in command for the final 78 laps.
Newman Brings Out Last Yellow
The tenth and final caution of the Real Heroes 400 would come on lap 254, as Ryan Newman spun in turn one. Newman, who was making his first start after the Daytona 500 crash, had a tire issue and looped it before he could pit. This final restart with 39 to go would be quite the showdown between Harvick and Bowman, as the two leaders were door to door for nearly two entire laps. Despite a valiant effort by the 88, Harvick held off the charge and drove on to his 50th career win by over two seconds.
Significance of Harvick's Return Race Victory
As stated before, The Real Heroes 400 from Darlington marked career win #50 for Kevin Harvick. Harvick is only the 14th man in NASCAR history to reach this milestone. He is now tied for 12th-most all time victories.
Harvick broke a tie with his team owner, Tony Stewart, and is now tied with two more legends: Ned Jarrett and Junior Johnson. On being tied with them, Harvick said "When you say those two names, obviously they're a huge part of the guys who helped build this sport. Obviously Hall of Famers. It's just an honor to have your name next to them. It's a little bit surreal I guess you'd say because of the fact you don't really comprehend it. But it would be disrespectful to not give those guys credit for what they do. What a huge honor it is to have my name sitting next to them." 
Harvick on the New Normal
On the new race procedures, Harvick said "The weirdest part of the day for me was getting out of the car and not hearing anybody cheering. When the engines are running, you're kind of in your own little world in the car. I've been around this deal for a long time. This is not like anything I've ever experienced.  I can tell you it's very similar to coming back after 9/11. That day had a hundred thousand fans in the stands, now you have no fans.
The practice and in-the-car part are something we can figure out. The not having any fans in the infield, for me that took some of the enthusiasm of the win away just because of the fact you weren't able to celebrate with the crowd. For me, that was really awkward because I feed off of that stuff, enjoy those types of moments.  For me, didn't really know what to say after the race because it's such a unique situation that we're in.
Top 10 Results from Darlington Return
Behind Harvick and Bowman in the Real Heroes 400 were Kurt Busch, Chase Elliott, Denny Hamlin, Martin Truex, Jr., Tyler Reddick, Erik Jones, John Hunter Nemechek, and Matt Kenseth.
For Reddick and Nemechek, this marks their best-career finishes in each of their rookie efforts. For Kenseth, a top-10 is a win since he had not raced in NASCAR since November 2018, and is with a brand new team.
How to Watch the Next Race
Up next for the NASCAR Cup Series is another race at Darlington, on Wednesday night. Coverage begins on FS1 and SiriusXM NASCAR radio Channel 90 at 7:30 PM EST. Harvick may bring his winning car back, so tune in to see if he pulls off the sweep. The Hendrick cars will also be strong bullets, so it's far from a given win for Harvick.
All things considered, NASCAR's return race at Darlington was a resounding success. A blueprint is now laid out for other sports to follow, and more eyes were on The Lady in Black on Sunday. While fans will not be back at the track for awhile, television coverage of NASCAR has taken a step forward, as we are just getting started on this long season. Be sure to stay tuned for any news and updates throughout the coming weeks.
Written by Peter Stratta
Be sure to follow us on YouTube and Twitter.
Be sure to follow the writer on Twitter.
Photo credit to NASCARMedia