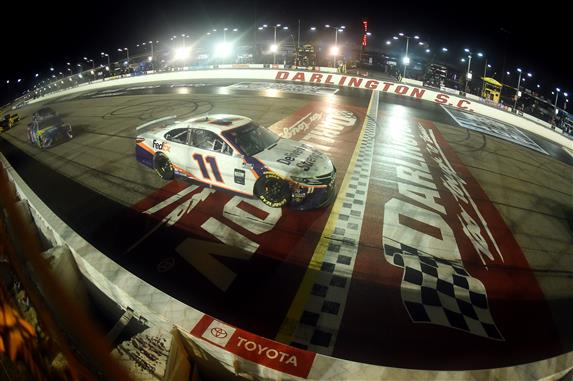 Denny Hamlin Wins a Wild Rain-Shortened Race on a Wednesday in Darlington
Denny Hamlin found himself out front as the rain fell onto Darlington Raceway. NASCAR's Wednesday night showdown started with a delay as many storm cells moved through the area. Eventually, the green flag would be delayed by roughly one hour. Luckily, a window opened and drivers were able to complete all but 20 laps of the Toyota 500.
Hamlin did not have the best car of the night but certainly showed speed. He scored an eighth place finish in Stage 1 and also a seventh place finish in Stage 2.
Tire Gamble Pays Off
The major turning point for Denny Hamlin was the call made by crew chief Chris Gabehart under a late caution. With just 34 laps to go and storms approaching, Gabehart left his driver on the race track in hopes of being upfront when the rains came. This call may have been easier than normal, as the 11 team was out of fresh tires. A restart came with 29 laps to go and Hamlin was able to hang onto the lead as they crashed behind him for second. Minutes later the rain began to fall eventually concluding the race.
"We were really good all day," Hamlin said after the race. "We made really good adjustments between the two races, really worked hard to get our car a little bit better than what it was here on Sunday. Really things just kind of worked out."
"I knew how good our car was," Chris Gabehart said post-race. "I felt like we could hold them off for a few laps if we needed to. Then the last bit of it was we knew rain was in the area, it was going to rain any minute. There were a lot of things that went into it. The bottom line was I felt like we needed the lead there so I just stayed out."
Hamlin Was All Smiles Post-Race
One photo that will go down in history is Denny Hamlin's mask in victory lane. Were you curious about whose idea Denny's mask was?
"It was mine. I texted my guy that helps me out with some social stuff. It covers my face, covers everyone's face. You're kind of like, you really don't get any sense of any emotion. Man, you need to find someone that can paint me a happy face and a sad face. Depends how the race finishes. We only had happy masks today, so I guess it was a sign that we didn't need the sad one."
Many Comers & Goers
Wednesday's Toyota 500 had many comers and goers. A few drivers can be named in particular who had up and down nights.
Clint Bowyer
Bowyer started the race on rails. He quickly grabbed the lead on a restart following the competition caution. As a result, he went on to win Stage 1 and eventually found the same success by winning Stage 2. Unfortunately with 34 to go however, Bowyer flattened the right side of his car and spun, bringing out the 10th and penultimate caution. As a result of the late incident, he would finish 22nd.
Team Hendrick
Hendrick Motorsports drivers had a similar up-and-down day. Actually, this time they flip-flopped their driver finishing order from Sunday.  Alex Bowman finished Stage 1 fourth and Stage 2 eighth but ended the race with an 18th-place finish. Chase Elliott finished Stage 1 seventh and Stage 2 second but finished 38th. William Byron only grabbed points in Stage 2 where he finished sixth but ultimately finished 12th.  Jimmie Johnson didn't receive any stage points but finished a team-best of 8th.
Matt Kenseth
Matt Kenseth's second race of the season didn't go the way his first did. While Kenseth had early success and finished ninth in Stage 1, he cut down a tire late sending him to a 30th place finish.
Tempers Flare At The End
It wouldn't be Darlington if we didn't leave with some hurt feelings. With 28 to go, Denny Hamlin, Chase Elliott, and Kyle Busch were racing for the win. Kyle Busch made an aggressive move to block the charging Kevin Harvick, and clipped Chase Elliott. The contact sent Elliott into the inside wall and knocked him out of the race. As a result, Elliott showed his displeasure by giving Kyle Busch the middle finger after climbing from his car. Busch would go on to finish second.
"Yeah, I mean, I'm certainly going to reach out," Busch said about the incident. "He and I have always had a cordial relationship over the years.
I've known him since he was 12 or 13 years old, been racing with him ever since then, late models, super late models, trucks, Xfinity cars, all that sort of stuff.
Obviously I just made a mistake, misjudged the gap, sent him into the wall. That was entirely unintentional. Yeah, I mean, I'll definitely reach out to him and tell him I'm sorry, tell him I hate it that it happened. All I can do. That doesn't change the outcome of the night. I hate it for him and his guys, yeah."
Because of the late crash, Elliott went from contending for the win to finishing in 38th.
What Does The FOX say?
I'd be remiss if I didn't mention this little guy! Under NASCAR's red flag, a fox found its way to the racing surface. I guess he wanted a taste of the action. Or maybe he wanted to advertise this weekend's Coca Cola 600 on FOX? Either way, I had to include him. It was yet another crazy moment of the Wednesday night thriller.
Top 10 Results From Darlington
Behind Denny Hamlin at the finish was his teammate Kyle Busch. With Toyotas being at a speed deficit earlier in the year, a top two sweep is a step in the right direction.
The rest of the top five were Kevin Harvick, Brad Keselowski, and Erik Jones. These three drivers represented the three most recent Darlington wins coming into Wednesday night.
The remainder of the top-10 went to Joey Logano, Aric Almirola, Jimmie Johnson, Matt Dibenedetto, and Martin Truex, Jr.
How to Watch the Next Race
Want to see some more racing after NASCAR's heated return to Darlington? Tune in this weekend for the Coca-Cola 600. This race is the only currently scheduled race to hold a qualifying session. It is also NASCAR's longest night with 600 miles of intense action. After the on-track fireworks between Busch and Elliott, will there be any repercussions in Charlotte? Coverage begins Sunday at 6 PM ET on FOX, PRN, and Sirius XM NASCAR Radio Channel 90.
Written by Noah Lewis
Be sure to follow us on YouTube and Twitter.
Be sure to follow the writer on Twitter.
Photo credit to NASCARMedia.