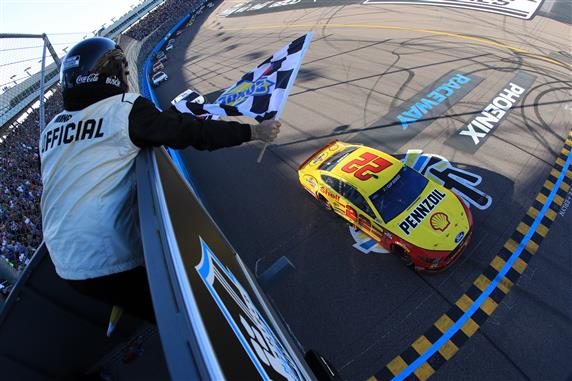 Joey Logano Earns 25th Career Win, Second 2020 Victory at Phoenix
In the first race of 2020 with the new lower downforce rules package, Phoenix Raceway put on a show. After guys such as Brad Keselowski, Kevin Harvick, and Chase Elliott looked strong out front, they all faced setbacks. At the end of the 312 lap event, it was Joey Logano in Victory Lane for the second time in three weeks. This win is the 25th of Logano's career, as well as his second triumph in the desert.
Elliott Dominates From Pole
After putting up the best time in qualifying, Chase Elliott would debut his Unifirst paint scheme with a pole. The No. 9 was the class of the field early on, as Elliott led the opening 60 laps. However, nine-time Phoenix winner Kevin Harvick was within a second of Elliott for much of this run. After catching back up in lapped traffic, the No. 4 would appear to be sniffing the lead, but a caution would change the end of Stage 1.
Contender's Days Come to Premature End on Restart
After the spin by 18th-place Ricky Stenhouse, Jr. put the No. 47 Chevrolet against the turn two wall, the first caution of the day would fly. This would set up a restart with just 11 laps to go in the opening Stage. Also under this first yellow, Harvick would take the lead on pit road. The coming restart would be madness, as a few strong cars immediately found the wall in turn three.
While racing in the middle of a three-wide situation, Denny Hamlin got loose entering the third corner. Hamlin's No. 11 Toyota would clip the No. 2 of Brad Keselowski and also sent Ryan Blaney's 12 hard into the wall. The biggest loser in this altercation was points leader Blaney, who would be done for the day. Meanwhile, Hamlin would be able to continue, yet with a wounded machine. Oddly enough, Keselowski's spin occurred without any wall contact, as the 2 was able to race on competitively.
When Stage 1 went back green with just four laps to go, Harvick easily cleared Elliott and all other challengers by turn two. The Jimmy John's Mustang would take Stage 1 at Phoenix, which amazingly is Harvick's first Stage win on the desert mile. With the lead and a Stage win, Harvick was in prime position to take win number ten at Phoenix.
At the start of Stage 2, Harvick held his lead over Elliott, but this was short-lived. The 9 would motor on by the 4 on lap 92, only with Harvick to take the lead back on lap 103. At this time, Harvick built up his biggest lead of the day. He led Elliott by a gap of nearly a second. Elliott began falling back once he lost the lead, as Keselowski moved into second.
Good and Bad Moment for RCR
At this time a surprise visitor entered the top five, in the form of rookie Tyler Reddick. Reddick started 29th and drove his way well up inside the lead pack by lap 128. While the 8 running so strong was certainly a high point for the RCR team, their other car found trouble. Austin Dillon would bring out a caution on lap 131 after hitting the turn four wall. This incident happened just after the 3 had pitted with a loose wheel. This caution would prove to be a game changer, as the lead once again swapped hands in the pits.
Pit Road Pitfalls for Harvick, Logano
On pit road, Chase Elliott reasserted control, as Kevin Harvick went back to sixth with a slow stop. Also, Joey Logano would be penalized. The 22 crew had an uncontrolled tire send them from a top five position to the tail of the field. Both Ford drivers were less than pleased and would have to dig out of deep holes to regain lost ground.
The restart with just 49 to go in Stage 2 would be an odd one, as third-place Martin Truex, Jr. would pull off a banzai move into turn 3 to briefly take the lead. Truex had started last due to an engine change and had the lead by lap 138. A few laps later though, Elliott drove back by Truex to continue another dominating run. Meanwhile, Harvick had climbed to fourth, while Logano was already back up to 16th.
Bad Luck Strikes Again for Elliott
Elliott appeared to be on his way to another Stage win, until a tire came loose on the No. 9. Elliott would be forced to pit road, losing a lap in the process. This handed the lead to Keselowski, with Harvick in second.
Caution to End Stage 2
With just two laps left in Stage 2, the motor expired on the No. 51 of Garrett Smithley. This premature end to Stage 2 would give the win to Keselowski, and also gave Elliott the free pass.
This Stage break yellow would see an interesting split in strategy, as Keselowski elected to stay on track as the leader. Meanwhile, Truex lined up alongside the 2 with fresh tires. Truex would stumble on this restart, as Reddick took over the second spot. This amazing run by the 8 would hit a slight speed bump when Reddick over-drove the entry to turn three. Reddick would fall back to ninth. With 100 laps to go, Harvick retook second and Elliott was back up to tenth.
Tire Gamble Gone Awry
A lap 215 caution for Quin Houff spinning would again see split pit strategies. All of the leaders came in for service, but some of them only took two tires. Truex, Reddick, Erik Jones and Christopher Bell would be the four gambling with just two fresh tires versus everyone else on four. At the break, Truex got a big jump over Reddick. Logano would also quickly go by Reddick for second. With 88 to go, the 22 took the lead.
The gamble would not pay off for those four teams, as Truex in third was the highest running car on two new tires. Bell would scrape the wall but not bring out a yellow, putting the 95 back to 26th.
Bell would be used as a pick for Harvick to get the lead from Logano with just 61 laps to go. The next time by though, a caution would fly for the stopped Erik Jones. This restart would see Logano get back by the 4, and begin to pull away.
Reddick Caution Hampers Contenders
After running as high as second, Tyler Reddick blew a tire and found the wall on lap 265. The 8 was running in 14th after losing some ground on the previous restart. This caution would see nine drivers stay on track for a position gain. Leading the field would be Keselowski and Elliott. In tenth on fresh tires would be Harvick, as Logano had another slow stop due to a broken jack. With 41 to go, a very strategy-driven race would be on.
Rash of Yellows Keeps Field Bunched Up
Larson would briefly take the lead from the third spot, but Keselowski got back around the 42. Another caution triggered by Chris Buescher would see Keselowski's team gamble even more, as the 2 stayed on-track once again. Meanwhile, everyone else had fresher tires.
The field would not escape turn two on the next restart without further calamity. Martin Truex, Jr. would pound the turn one wall after a bump from Aric Almirola. Truex's day was done with just 30 laps left, as he said "I just got ran over. These restarts are crazy."
When the green flew again, it was the Penske duo of Logano and Keselowski as well as Harvick getting ahead of the pack. Harvick would take second and start to reel in the 22, until a caution with nine laps to go. 14th-place Ross Chastain looped it after contact from William Byron. This would set up a restart with just four laps to go and the 22 and 4 up front.
Despite Phoenix being a wide racetrack, five-wide racing on a restart usually does not end up well. That was the case here, as a synchronized spin by Stenhouse and Nemechek would put this race into Overtime.
On the Overtime restart, Logano would be under attack from both Harvick and Kyle Larson. The 22 was miraculously able to hold off both challengers in turn two, and began to pull away. Logano was barely clear of Harvick at the white flag, and would hold on to score his 25th career win. Logano is also the first repeat winner of 2020, as well as now a two-time winner at Phoenix.
Logano's Reaction to the Win
"We had more things go wrong today with the jack braking which was no one's fault," said Logano. "Some good restarts helped to get ourselves back up there. I knew racing Kevin (Harvick) was going to be hard. I figured I was going to get hit. So I throttled up in the corner so much. I thought he was going to give me the bump‑n‑run, which I expected, I wouldn't blame him for that. I couldn't be prouder of this team. Two wins already in the books and we have to keep this thing rocking."
With two wins just four weeks into the season, Logano and the 22 team are in great position for the Playoffs and a title run. With many Fords excelling on Sunday, one has to pin the blue ovals as possible favorites for Phoenix championship weekend in November.
Top 10 Results From Fan Shield 500
Second Not Enough for Harvick
After leading 67 laps and winning Stage 1, Kevin Harvick left Phoenix in second. Harvick certainly lost his tenth Phoenix win by restarting in a less-preferred position and having to battle through the field. "He just had control of the race," Harvick said of Logano. "After we pitted there, I got stuck behind a couple of cars there, lost five or six spots. He got by and got control of the race. He got to restart where he wanted to. Our Jimmy John's Ford was better, especially when we could put it in front of his. We just didn't get the control of the race back there, and he was able to get by us on that restart where I got hung up."
Harvick is the only driver to open 2020 with four-straight top tens. Though it's not a tenth Phoenix win, Harvick was strong when he did have the lead, as he was able to build up quite a gap. Harvick will hope to continue this momentum in Atlanta, where he is arguably the best active driver.
Busch with Another Breakthrough Performance
Kyle Busch is on the podium for two-straight weeks, as his third-place run in Phoenix follows a runner-up at Auto Club. While Busch did have the freshest tires for the last few restarts, he was unable to get track position. Busch was able to somewhat capitalize with his fresh tires though, as he put "a sixth or seventh place car" in third. After two consecutive top-fives, Busch hopes to collect his third Atlanta win.
Larson Feels Lucky in Fourth
Leading the Chevrolet bow tie brigade, Kyle Larson brought it home in fourth. Larson was hoping for the leaders to get stalled running the top, and to blast by them in the bottom lane, but that never occurred. Larson will take this momentum into Atlanta, where last year he led a race-high 142 laps.
Bowyer Rounds out top Five
In his best result of the year, Clint Bowyer was fifth in his Mobil1 Mustang. Bowyer was blunt in saying that the 14 team has some reevaluating to do for the coming weeks, now that the west coast swing is over. With a new crew chief though, some growing pains are expected for this team.
Kurt Busch with Another Strong Result
Putting both Ganassi cars in the top six, Kurt Busch battled through all race long. At one point the No. 1 Camaro was running 17th, so sixth is a win for how their race went. Busch certainly finished better than he ran for much of the day.
Elliott Left Wanting More in Seventh
After starting on pole and leading 93 laps, Chase Elliott ends Phoenix in seventh. Though this is the 9 team's second-straight top ten, Elliott knew he had a possible race-winning car. "It's just something to build off of," Elliott said. "Stage wins are really important this time of year, so those are what you want." Chase will take his series-leading three Stage wins to his home track of Atlanta, hoping for another strong result.
Almirola Gratified with Eighth
Phoenix proved to be a quietly consistent day for Aric Almirola. After starting sixth, the No. 10 scored points in both Stages en route to an eighth-place finish. Almirola called himself "a fourth to eighth place car," and that's where he was for much of the day. Phoenix was Almirola's second-straight eighth place result.
Custer with Career-Best Result
Although his rookie rival Tyler Reddick ran as high as second, Cole Custer turned heads by finishing ninth. The No. 41 rounds out a very strong day for Stewart-Haas, putting all four of their Mustangs in the top ten. This is Custer's first career top ten in only his seventh start. 2020 could be bright for this rookie based off of this strong finish.
Byron Battles Back for Tenth
Rounding out the top ten was William Byron, who ran worse for much of the day. Byron was involved in the late spin with Ross Chastain, as the 24 suffered slight damage. However, Phoenix is still the high point of Byron's 2020 campaign so far, as the 24 team looks forward to Atlanta.
Championship Standings
With Ryan Blaney being wrecked out early, the points lead now shifts to Kevin Harvick. Blaney is now sixth in points. Harvick leads the standings by just a single point over Joey Logano. With his two wins, Logano is leading the provisional Playoff seeding as well. Chase Elliott, Alex Bowman, and Jimmie Johnson round out the top five in points after four weeks.
How to Watch the Next Race
Up next for the NASCAR Cup Series is the Folds of Honor/QuikTrip 500 from Atlanta Motor Speedway. Coverage will be next Sunday, March 15 at 2 PM EST on FOX, PRN, and SiriusXM NASCAR Radio Channel 90. With one of the oldest track surfaces in the sport, Atlanta should provide an excellent show of tire conservation and experience should pay off.
Written by Peter Stratta
Be sure to follow us on YouTube and Twitter.
Be sure to follow the writer on Twitter.
Photo credit to NASCARMedia