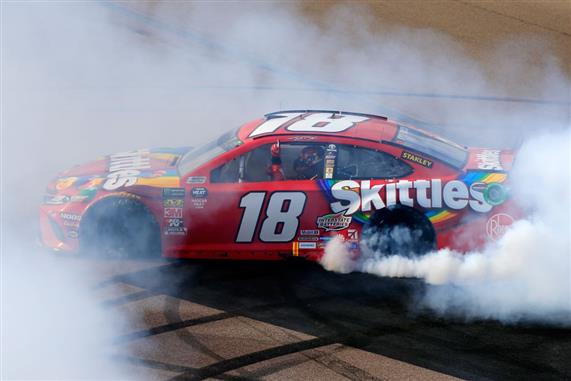 Kyle Busch Hopes His First Win of 2020 Will Come in Phoenix
Defending NASCAR Cup champion Kyle Busch is still looking for his first win of the season. In 2019, his first win came at Phoenix Raceway.  Today Kyle hopes to find the same result after 312 laps.
Though Joe Gibbs Racing was victorious in the Daytona 500, it hasn't been smooth sailing since. In Las Vegas, Kyle Busch was the highest finishing Toyota in 15th place. There was no wild restart or big wreck to blame for JGR's finishing, they just didn't seem to have speed.
In Fontana, things were similar for much of the race. Kyle's teammate Martin Truex, Jr. showed glimpses of speed, but overall the team wasn't up to typical standards. At one point Kyle even radioed, "I feel like I'm the same as everyone else, man. I don't have anything special like last year." Nevertheless, he was able to capture a second-place finish.
"Guys are doing all they can, I know along with everybody at TRD (Toyota Racing Development),'' Busch said after finishing second at Auto Club. "I appreciate all the hard work. We just have to get a little bit better. We finished the end of last year so strong, I don't know what we're missing here. Obviously, it's a little bit of something here and maybe a little bit of something in a few different areas, but overall a good car today.''
Kyle Busch Has Great Stats In The Desert
Joe Gibbs Racing may be off to a slow start, but recent stats show Kyle can change that today. In his last four starts at the Arizona track, the Las Vegas native has two wins and a pair of runner-up finishes. He's also led a total of 491 laps.
In 29 starts at Phoenix, Busch has three wins, 11 top-fives, and 21 top-10s. His average start is 10.5 and average finish is 10.8. He's also only DNF'd once when an engine malfunctioned in 2011.
Tune in for today's FanShield 500 to find out if Kyle Busch can capture his first win of the season. You can catch the action on FOX, MRN, and SiriusXM at 3:30 PM ET.
Written by Noah Lewis
Be sure to follow us on YouTube and Twitter.
Be sure to follow the writer on Twitter.
Photo credit to NASCARMedia.