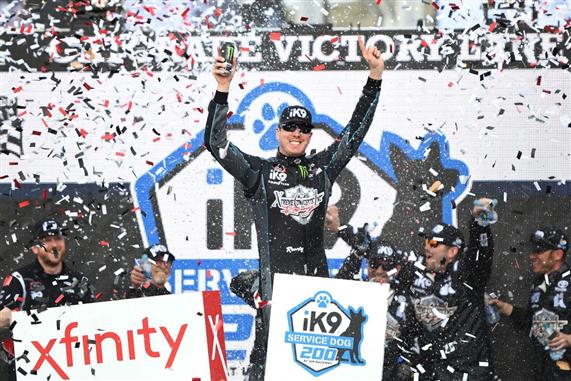 Stacked Xfinity Field for Phoenix Includes Kyle Busch, Brad Keselowski
This Saturday in the desert is sure to be a duel among two current stars. Both Kyle Busch and Brad Keselowski will make their first Xfinity start of 2020 in Phoenix. These two drivers represent an impressive 13 Xfinity wins at Phoenix Raceway. More likely than not, the finish of the LS Tractor 200 will be a battle amongst this dynamic duo. The two of them are heavily favored for the Phoenix win. However, this season to date in the Xfinity Series has seen three different winners in three weeks.
A Look Back on the 2020 Xfinity Series
2020 began with a popular first-time Xfinity Series winner in Daytona. After a banner day for JR Motorsports, Noah Gragson took the No. 9 Chevrolet to Victory Lane. This also marked JRM's third-straight win in the season opening Daytona race.
Race two of the season at Las Vegas was divided amongst two days. After Stage 1's conclusion, rain pushed the remainder of the race to Sunday evening. Though Justin Allgaier looked strong early, it was Chase Briscoe taking the checkers. Briscoe entered 2020 as a title favorite, and due to an early win is already locked into the Playoffs.
After Chevrolet and Ford took the first two races of the season, Auto Club Speedway was dominated by Toyotas. Polesitter Brandon Jones led the way early, sweeping both Stages. Late in the race though Briscoe surged, going for his second-straight win. But lap 118 would see rookie Harrison Burton take charge. Burton's No. 20 Supra would lead all but one remaining lap en route to his first career win. Burton's win also marks three different manufacturers taking victory in the opening three races. In addition, Burton has opened his rookie campaign with three top fives, which is a first in the Xfinity Series.
Shifting gears to this weekend, Keselowski's and Busch's respective stats in the Xfinity Series at Phoenix are unbelievable to say the least. Each of these past champions have single-digit average finishes. As a result, they enter this weekend as overwhelming favorites. While either one of them would likely 'stink up the show,' both of them being in this race could be the next chapter in their storied rivalry. Expect Saturday to be a great battle between these two fiercely competitive drivers.
Bad Brad's Xfinity History at Phoenix
In 20 career Phoenix Xfinity starts, Brad Keselowski has a pair of wins, 11 top fives, 14 top-10s, 225 laps led, and an average finish of 9.7. Keselowski's most recent desert win came in 2018. Unlike Busch, Keselowski does not have a set schedule of Xfinity races for 2020. Phoenix could be his only start, as he only dropped down to this level twice a year ago.
Keselowski will be piloting the Team Penske No. 12 Mustang with sponsorship from XPEL. With Austin Cindric being Penske's full-time Xfinity driver, Keselowski is driving the part-time research and development car. This could be a disadvantage for Keselowski, but he has won Xfinity races before with a part-time team. At Phoenix, Keselowski will also be going for Xfinity win number 40.
Kyle is King of the Desert
Kyle Busch's Phoenix history in Xfinity competition is one of the greatest single-venue records in NASCAR history. In 23 starts at the desert mile, Busch has 11 wins, 16 top fives, 19 top-10s, 2156 laps led, and an average finish of 5.7. Busch won this Phoenix Xfinity race a season ago, and hopes to get two-straight.
Since Joe Gibbs Racing fields three full-time Xfinity teams for 2020, Busch will also be in a part-time car. He will be behind the wheel of the No. 54 Toyota Supra in a partnership with Twix Cookies & Cream. Busch previously ran the 54 car in Xfinity from 2013-2015.
2020 has been a season of great parity so far in the Xfinity Series. While a Cup Series regular will likely win this weekend, it would still be four winners in four weeks. On the off chance an Xfinity regular takes down Keselowski and Busch, it would be perhaps the highlight of that driver's career.
Coverage of the LS Tractor 200 will be live from Phoenix Raceway this Saturday, March 7 at 4 PM EST on FS1, MRN, and SiriusXM NASCAR Radio Channel 90. Be sure to tune in Saturday to see if Brad, Kyle, or another young driver will take the Phoenix Xfinity win.
Written by Peter Stratta
Be sure to follow us on YouTube and Twitter.
Be sure to follow the writer on Twitter.
Photo credit to NASCARMedia