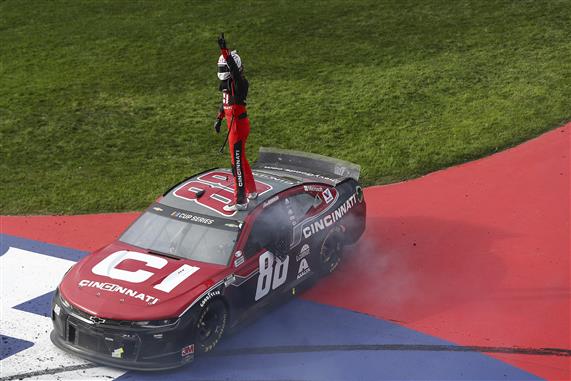 Career-Defining Day Ends in Second Cup Series Win for Alex Bowman at Auto Club
The Hendrick Motorsports resurgence is alive and well in 2020. After a day where all four of their Chevrolets were in the top ten, Alex Bowman got the Auto Club win. The No. 88 would lead 110 laps, putting together his most dominant race to date. With late troubles for Ryan Blaney, Bowman cruised to a winning margin of nearly ten seconds. This Auto Club win puts Bowman into his third Playoffs, and gives his contract year a more solid foundation.
Bowman Breaks Away for Stage 1
Even though he started third and fell back on the initial start, it did not take Alex Bowman long to find the lead. Bowman would get his first taste of the lead on lap 11, after completing a three-wide pass on the inside of Jimmie Johnson and Clint Bowyer. Until his first pit stop on lap 29, Bowman's lead grew to more than two seconds. In this first run, Ryan Blaney also raced his way up to second. Prior to the late caution last week, Blaney was being run down by Bowman for the Vegas win. It was evident early on that these two would battle once again for the Auto Club win.
Larson Gets Shoved into Wall, Promising Run Ends Early
Not long after the first cycle of green flag pit stops, Kyle Larson faced adversity while running strong. Larson was mixing it up with several of the Joe Gibbs Racing Toyotas for position in the top ten. Going into turn one on lap 36, the No. 11 of Denny Hamlin was in line behind Larson. Hamlin had a big run and made heavy contact with Larson. This sent Larson straight into the outside wall, resulting in heavy damage on the No. 42. Larson would be forced to pit road to change right side tires. After battling back the rest of the race, the past Auto Club winner only mustered a 21st-place run.
Aside from the Larson incident, Stage 1 was run in its entirety without issue. The lap 60 Stage break would be the first caution of the day, as Alex Bowman had a large gap over Blaney and the field. Jimmie Johnson would round out Stage 1 in third. Sunday was appearing to be a promising day for the No. 48, as the hometown hero was honored prerace and his family also waved the green flag.
Intense Racing Kicks Off Stage 2
Under the Stage break caution, Kurt Busch made a costly mistake. The No. 1 Monster Energy Chevrolet missed his pit box, and had to come down again for service. This exchange would give the lead to Jimmie Johnson for the start of Stage 2. When the green flag flew, Johnson led his first laps under green at Auto Club since his 2016 win. The 48 holding serve on the restart was met with a roar from the crowd, as southern California happily cheered on their local champion. Johnson would swap the lead back and forth with points leader Ryan Blaney several times.
Early Retirement for Rookie, Troubles for Polesitter
Lap 80 would see the lone retirement of the Auto Club 400, as Christopher Bell lost a cylinder in his engine. The No. 95 Toyota would limp into pit road and behind the wall, not bringing out a yellow.
The caution flag would fly roughly ten laps later when the polesitter had a tire failure. Entering turn one, the left front tire on Clint Bowyer's No. 14 Mustang went flat, causing only the second caution of the day. Amazingly, this quick yellow would be the only on-track incident all day long to trigger a caution.
Up front meanwhile, the No. 12 of Blaney was on cruise control for a Stage 2 win. Blaney would only lose the lead during green flag pit stops. The Body Armor Kobe Bryant tribute scheme would take the Stage 2 win at Auto Club by more than three seconds over Bowman. Once again, Jimmie Johnson would end the Stage in third. Unbeknownst at the time, the Stage 2 conclusion would be the final caution flag of the Auto Club 400.
Truex Climbs Forward
When the green flag flew for the final stage on lap 128, it was a dogfight up front between Blaney and Bowman. Waiting in the wings though was the No. 19 of Martin Truex, Jr. Truex had to start the race from last due to three pre-qualifying inspection failures. As a result of this, the 19 was passing cars all day long. The Bass Pro Shops Camry would finally take the lead on lap 130, looking for his second Auto Club win in three years.
Bowman would not be phased though, and he finally disposed of Truex for good just three laps later. Bowman had the race in hand and built up another impressive lead. The 88 would only cede the top spot when Bowman hit pit road for the final time with 40 laps to go.
Trouble for Truex on Pit Road
When Truex came in for his final pit stop on lap 160, the 19's shot at the win evaporated. The 19 crew had a lengthy pit stop due to a tire changer's arm cramping up while taking off lug nuts. The left rear wheel took a few extra seconds to get replaced, costing Truex valuable time. After Truex sped away, his tire changer would have to take a trip to the infield care center to treat his injured hand and arm. Despite a car fast enough to race from 38th to the lead, MTJ would have to leave Auto Club in 14th, far from the win he expected.
The final cycle of pit stops would end with 35 laps to go, as Brad Keselowski came in for service. This left Bowman unchallenged up front, with a gap of over three seconds. Blaney was catching the 88 at times over the closing laps, but the 12's luck would take a turn for the worse.
Late Tire Issue for Contender
With just three laps to go, the 12 of Blaney was falling even further back with a tire coming apart. The Mustang would be forced to pit road, ending a shot at a lead lap finish. This exchange put Kyle Busch into second, but over ten seconds behind Bowman. Alex Bowman would have an easy ride to his second career victory, and first Auto Club win.
Bowman's Reaction to the Win
"Greg (Ives) and the guys are just on point," Bowman stated post-race. "We've unloaded the last two weeks and I don't think we have had to make a change to the race car from the way it came off the truck. That makes my job a lot easier. I'm just so proud of this team. Everyone at Hendrick Motorsports. Hendrick horsepower under the hood. The whole shop back home. They work their butts off. We've put a lot of effort in this new car and it is obviously working out really well."
Alex Bowman and the Hendrick Motorsports 88 team were without a doubt the class of the field all weekend long. The coming weeks and months may lead to unprecedented success for the four-car team, as all of their Chevrolets have shown great speed the past two weeks. For Bowman, the rest of the Regular Season is also new territory, as he is now likely locked into the Playoffs after only week three.
Top 10 Results from Auto Club 400
Second Was a Win for Kyle Busch
Though a runner up result was far better than Kyle Busch ran all day, the defending Auto Club winner was not happy post race. "We have a lot of work to do," Busch bluntly stated. "Just didn't have the speed overall today for some reason." Auto Club marks Busch's first top five finish of the year, as the current champion hopes to regain his past domination.
Kurt Busch Rebounds to Third
Just a few tenths off of his younger brother at the end was Kurt Busch in third. The elder Busch was more than pleased with how his car handled all day, as he feels the 1 team is making gains in the right areas.
"We did really good to balance our Monster Energy Chevy on short run speed, and long run speed," said Busch. "Being able to maneuver on re-starts is something that I've been harping on. Making sure we get better when we're in dirty air. And to come away with a third place finish, that gains a lot of points back for us and I feel really good about the way the car handled this weekend. So, whatever we can do to baseline this, is what we've got to do moving forward."
Redemption in Fourth for Chase Elliott
After losing a race last week where he dominated, Chase Elliott ended a relatively-quiet Auto Club in fourth. While it's not the Auto Club win his teammate in the 88 earned, Elliott still got his best result of 2020. The 9 team hopes this momentum will carry them into the coming weeks.
Brad Keselowski Breaks Through for Top Five
After being in the back half of the top ten for much of the race, Brad Keselowski came home in the fifth position. After a Las Vegas race that saw the No. 2 trail their Penske teammates, Keselowski led The Captain's fleet in Auto Club. Keselowski hopes that his first top five of 2020 is a sign of brighter times ahead for the veteran with a new crew chief. Keselowski in particular will be a point of interest all season long, as silly season rumors already swirl around the 2012 champion.
Denny Hamlin Steals Sixth
After an amazing last-lap charge by Jimmie Johnson, Denny Hamlin just edged out the No. 48 for sixth at the checkers. Hamlin's result comes after an off day for the No. 11 that saw the Daytona 500 champion hardly in the top-10. As one of few drivers with multiple top-10s in 2020, Hamlin hopes his consistency will pay off.
Jimmie Johnson's Final Home Stand Ends in Seventh
After being a top contender for the second-consecutive week, Jimmie Johnson finished is final Auto Club race in seventh. While seventh is a strong showing for 7-time, he No. 48 was battling a tight handling over the last run and lost a few positions. With back-to-back top-10s, Johnson feels that the 48 team "is going in the right direction. I know in my heart what I am capable of and what this team is capable of. It's just taken a little bit to get the right people in the right places, and rebuild and get this Ally Chevy exactly where it needs to be."
Another note on Johnson is that he completed every lap possible over the course of his career at Auto Club. In 26 starts at his home track, Johnson earned six wins, 18 top-10s, 990 laps led, and raced all 5906 laps contested.
Aric Almirola Ends Solid Race in Eighth
A strong race all around for Aric Almirola ends with driver No. 10 in eighth. While all of Stewart-Haas Racing had a bit of an off day at Auto Club, the 10 leads the way for the Mustang team at the finish. Almirola now sits tenth in points, as he aims for his third-straight Playoff appearance.
Kevin Harvick Ends Nonchalant Day in Ninth
An unusually-quiet day for Kevin Harvick sees the Mobil1 Mustang take the checkers in ninth. Harvick called his car junk throughout the day, as the 4 team was unable to give Harvick an adequately balanced car. Track position on pit road is the reason why the 4 was anywhere near the front at the finish.
Erik Jones Joyous with Tenth
Marking three JGR Toyotas in the top ten was Erik Jones in tenth. Jones had a tough day for much of the 400 miles in Auto Club, and attributed his late rally to long-run speed. "It was a step in the right direction," Jones said. "I don't think any of us really had race-winning speed. I think Kyle (Busch) got some good track position on that restart and was able to maintain.  We got shuffled back and kind of had to come back from 15th. I don't know, I think we're off. We didn't have anything for the 88 (Alex Bowman) or anything like that. We have to get faster, but I think we learned a lot. Just have more to get.  Don't know how to get there, but we have more to get."
Championship Points Standings
After three weeks of the Regular Season, Ryan Blaney is still atop the points by 11 markers now over Joey Logano. With a Playoff spot now locked up, Alex Bowman takes over third. Harvick and Johnson round out the top five in the standings, as the 48 is only 16 markers behind Blaney.
How to Watch the Next Race
Race four of the 2020 NASCAR Cup Series season will be the Fan Shield 500 from Phoenix Raceway. Coverage will be on Sunday, March 8 at 3:30 PM EST on FOX, MRN, and SiriusXM NASCAR Radio Channel 90. Phoenix has been a JGR playground as of late, but will a new team rise up at the new championship-race venue? Will anything from this weekend be a preview for November? Stay tuned into all of our channels this weekend for full race updates.
Written by Peter Stratta
Be sure to follow us on YouTube and Twitter.
Be sure to follow the writer on Twitter.
Photo credit to NASCARMedia