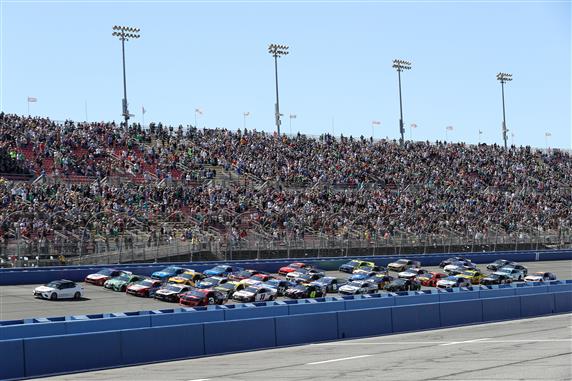 Can a California Driver Win Again at Auto Club Speedway?
Over the course of the 30-year history of Auto Club Speedway, drivers from the Golden State have dominated at the two-mile oval. The inaugural race in 1997 went to Vallejo's Jeff Gordon; driver No. 24 would collect two more Fontana wins. This weekend, six other California drivers will hope to repeat Gordon's success. California natives in Sunday's field include Jimmie Johnson, Kevin Harvick, Kyle Larson, Matt Dibenedetto, Cole Custer, and Tyler Reddick. For three of these six drivers, they are looking to repeat past wins at Auto Club. While being a  California driver seems to hold an advantage to winning the Auto Club 400, each of these men will have tough mountains ahead of them Sunday.
Jimmie Johnson
Eighteen years ago, the Hendrick Motorsports No. 48 Chevrolet would pull into victory lane for the first time at Auto Club. Since that day in 2002, Jimmie Johnson has scored a record six victories at the southern California track. The El Cajon native grew up just a few hours away from Fontana, and hopes to go out on top in his final appearance at his home track. Johnson's wife and daughters will be the honorary starters this weekend, so 7-time has added reasons to make this Sunday even more memorable.
Johnson's last California win came in 2016. In 25 career starts at Auto Club, JJ has six wins, 13 top fives, 17 top-10s, 980 laps led, and an average finish of 7.6. However, Johnson only has four top-10s in his last eight Auto Club races. After scoring his first top five since July last week in Vegas, the 48 team rolls into California with some momentum. Can arguably the greatest California driver in history have a walk-off moment at home? Odds makers list the No. 48 at 25-1 for the win.
Kevin Harvick
The Bakersfield native's lone Auto Club win to date helped earn him the nickname 'The Closer.' In 2011, Kevin Harvick took the high road by Jimmie Johnson in the final corners to earn his first California win. Since then, Harvick has four top fives at the California track. Though he has just the lone win, the 2014 champ has seven top fives, 12 top-10s, and 237 laps led in SoCal across 26 starts. A large majority of those laps led occurred in the 2016 Auto Club 400, a race Harvick lost to Johnson. Harvick has been seemingly snake bitten at Auto Club in recent years, but he has a great shot at changing his luck this weekend. Harvick enters Auto Club as the prerace favorite, with 4-1 winning odds. After gambling on a short-run setup and losing in Vegas, Harvick hopes to be happier at home.
Kyle Larson
The most recent California driver to tame Auto Club, Kyle Larson's victory came in 2017. That day, the Ganassi No. 42 started on the pole, and led a race-high 110 laps en route to Larson's second career win. Larson has not led a single lap at Auto Club outside of the 2017 win though, but did finish runner up in 2018.
Larson has quite literally tasted the highs of victory and the lows of defeat at Auto Club. The Elk Grove native endured one of the hardest hits in recent memory in this race in 2016. The 42 was turned coming out of turn two, and hit the inside wall at nearly full speed. Larson would rectify this poor showing a year later with the lights-out performance.
Larson should be a strong contender this weekend. He is high on the odds sheet with 8-1 chances for winning, and has back-to-back top-10s to open 2020. The 42 was not superbly strong in either Daytona or Las Vegas though. Larson expects to be a standout at the California track.
Matt Dibenedetto
The man who tied his career-best finish last week in Vegas also has momentum entering his home state. Grass Valley native Matt Dibenedetto could likely earn his best Auto Club result this weekend. Driver No. 21's best prior finish in Fontana over five starts is 18th last season. Penske cars are historically strong at this two-mile venue, so the corporate teammate in the 21 car could be lightning-fast as well. Dibenedetto comes into California with 80-1 odds to win.
Cole Custer
Over just three Xfinity Series starts at Auto Club, Cole Custer has results of 35th, sixth, and the win last year. Custer's win a season ago was certainly an upset, as he beat out Kyle Busch. That only kick-started a whirlwind weekend for Custer, as he found out at Sunday breakfast that he would be on standby for Austin Dillon. Custer did not have to drive in relief of Dillon last year though. He will be making his first laps on-track in a Cup car this weekend.
300-1 odds to win is steep for the rookie from Ladera Ranch, but the No. 41 Mustang could still have a strong showing this weekend. Over the past six Auto Club races, the 41 car has four top-15 results. However, Custer is still very much in the infancy of his Cup Series career, so a learning curve is expected.
Tyler Reddick
The final California driver entered in Sunday's race is the rookie from Corning, Tyler Reddick. The two-time defending Xfinity Series champion has 100-1 odds to take the RCR No. 8 to Auto Club victory lane, a feat he has yet to achieve in any series. Much like Custer, Reddick has no Cup starts at Auto Club, so this weekend will be primarily focused on learning the new track. In Xfinity competition, Reddick has two top-10s in two starts at Auto Club, including a fourth-place effort last year from the pole.
While a win may be asking a lot from Reddick this weekend, RCR cars are usually strong at Auto Club. A season ago, Reddick's teammate Austin Dillon was the polesitter, and finished tenth. With Reddick's immaculate talent, a top-15 or better run is not out of the question for this rookie.
The list of active California drivers in the Cup Series is a true microcosm of the sport; veterans with multiple championships are pitted against rookies with limited starts. Whoever wishes to win the Auto Club 400 this Sunday will likely have to take down one of if not multiple California drivers. Tune into FOX at 3:30 PM EST to see if a Golden State native will be California dreaming in victory lane again.
Written by Peter Stratta
Be sure to follow us on YouTube and Twitter.
Be sure to follow the writer on Twitter.
Photo credit to NASCARMedia