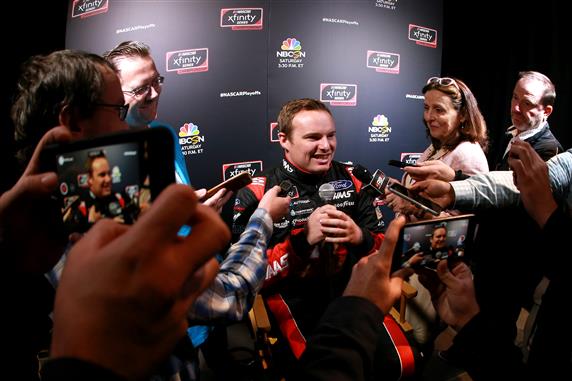 Silly Season Shakeup in Week Leading into Homestead
In the closing days of the 2019 NASCAR season, lots of seats are now occupied for 2020. Silly season is in full force, so let's take a look at each of the drivers who have new homes for next season after this week. Some driver's futures are also still in limbo heading into Ford Championship Weekend at Homestead-Miami Speedway. The week leading into each series' season-finale offered an unusual amount of silly season shakeup.
Cole Custer
Stewart-Haas Racing's #41 Mustang will have a new driver for 2020. News of Cole Custer replacing Daniel Suarez broke just before Championship 4 Media Day on Thursday. Custer, 21, is one of the Xfinity Series 'Big 3,' and is one of their Championship 4 going for the 2019 title. Each of the Xfinity 'Big 3' from 2019 will join the Cup Series as rookies for 2020, as Custer will race against Tyler Reddick and Christopher Bell for Rookie of the Year. Custer has seven wins already in 2019, including besting Kyle Busch and Joey Logano. The 2020 Cup Series rookie class will be one of the most stacked in years, as they all come in with loads of success. The Rookie of the Year battle in the premier series next year will be a season-long story we will eagerly watch.
John Hunter Nemechek
Ever since Matt Tifft's seizure sidelined him for Martinsville, substitute drivers have had to pilot the #36 Ford. Matt Crafton drove the Front Row Motorsports car at Martinsville, but in the three races since it has been in the hands of John Hunter Nemechek. With this week's news that FRM and Tifft have parted ways, many rumors have the younger Nemechek slated to take over the 36 for 2020. While this news is not yet confirmed, an announcement will be coming soon. Nemechek would join an already-elite rookie class, and only further the silly season shakeup.
Daniel Hemric
After losing his seat at Richard Childress Racing to rookie and 2-time Xfinity Series champion Tyler Reddick, Daniel Hemric will be taking a step down. The Kannapolis, NC native will join JR Motorsports for 21 Xfinity Series races in 2020. Hemric will share driving duties of the JRM #8 Camaro with Jeb Burton (11 races) and team owner Dale Earnhardt, Jr. (1 race). In two past seasons of Xfinity competition, Hemric made the Homestead Championship 4 both times. While Hemric is not currently going to contend for the driver's championship, he will have a great shot at scoring his first NASCAR national series win.
Daniel Suarez
After months of negotiations to return to the Stewart-Haas Racing #41 Mustang, Daniel Suarez shared unfortunate news via social media this week. Due to a lack of sponsorship, Suarez will leave SHR after just 1 season where he narrowly missed the Playoffs. Suarez's 2020 plans are still in limbo, as the Mexico-born driver looks for a third Cup Series opportunity.
While Suarez did win the 2016 Xfinity Series championship, his Cup Series success has been more fleeting. In 107 career Cup starts, Suarez has eight top 5s, 32 top 10s, and an average finish of 17.1. Suarez's best result in a Cup race was 2nd at Pocono in July, 2018, while racing for Joe Gibbs. Stay tuned to our site for any updates regarding Suarez's status, whether in Cup or Xfinity competition for 2020.
Tyler Ankrum
Shifting down to the Truck Series, the 2019 Rookie of the Year will have a shot at even more success in 2020. Tyler Ankrum will move from DGR-Crosley to powerhouse GMS Racing. Ankrum will join the stacked lineup of Brett Moffitt, Sheldon Creed, and part-timer Sam Mayer. In  his rookie campaign, Ankrum won at Kentucky in July, made the Playoffs, and contended for a Championship 4 spot. With a year of experience under his belt, the sky is the limit for Ankrum in 2020.
Christian Eckes
Perhaps the team most affected by a silly season shakeup is Kyle Busch Motorsports. With the departure of both Todd Gilliland and Harrison Burton, KBM will have two new full-time racers in their trucks. One of their new additions will be 2019 ARCA champion Christian Eckes. With 12 prior Truck Series starts, the 20-year-old Eckes has seven top 10s. Earlier this weekend, Eckes helped KBM win the 2019 Owner's Championship by wheeling the #51 truck to a third place result at Homestead.
Eckes also won this year's ARCA title despite missing a race with food poisoning. It appears that Eckes will be the latest Toyota development driver to race at KBM. This distinguished list of racers includes Erik Jones, William Byron, and Christopher Bell. In the flagship #18 Toyota Tundra, Eckes should help return KBM to the title stage.
Raphael Lessard
The other new addition to the KBM stable is French-Canadian Raphael Lessard. At just 18-years-old, Lessard will be a very green talent to join the Trucks full-time. The Quebec native is the 2016 CARS Super Late Model Tour champion. He also has five Truck starts from 2019. With very little experience, Lessard will have a learning curve before returning the #4 to victory lane. Both KBM drivers will compete against each other for Rookie of the Year honors in the Truck Series next year.
While the 2019 racing season is in its final week, the silly season is far from over. A lot of people and teams have yet to fall into place. As 2020 Daytona Speedweeks looms in the not-so-distant future, that will change. Be sure to stay tuned to TSJ101Sports and TSJ_NASCAR on Twitter for all updates to this continuing silly season shakeup.
Written by Peter Stratta
Be sure to follow us on Youtube and Twitter.
Be sure to follow the writer on Twitter.
Photo credit to NASCARMedia