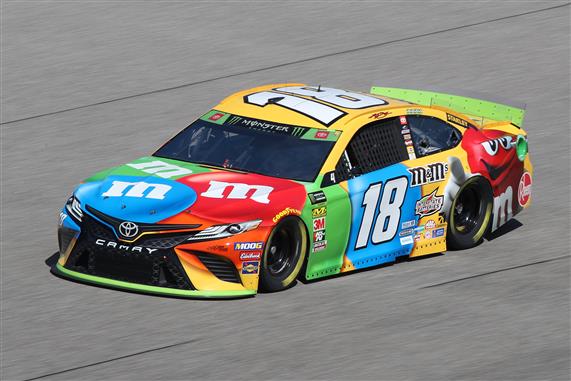 Kyle Busch Looks to Earn Second NASCAR Cup Series Championship
This Sunday at the Homestead-Miami Speedway the final page of the 2019 Monster Energy NASCAR Cup Series season will be written. At 3:00 P.M. EST the green flag will fall to begin the final round of NASCAR's Playoffs. Four drivers who battled all season for this moment will lay it all on the line to come out on top as the champion. This year's final four drivers are dominated by Joe Gibbs Racing. Their Toyotas take up three of the four spots in the final round. One of those three is 2015 NASCAR Champion Kyle "Rowdy" Busch. Busch is entering Homestead battling for a championship for the fifth-straight season. As Kyle Busch looks strong, it feels as if it is only a matter of time before you can call Rowdy a two-time champion.
Busch Hoping to End Dry Spell
The 2019 season started of as a year of promise for the driver of the #18 M&M's Toyota Camry. Busch tallied four wins in the first 14 races of the year. In those first 14 races, Kyle only finished outside the top-10 one time. It was looking to be a career year for the 34-year-old driver from Las Vegas. However, after his fourth win of the season, things slowed down from his rapid pace. Busch has yet to see victory lane since the series' first of two trips to Pocono. It isn't as if Busch hasn't been competing for wins though. Busch has continued nearly the exact same pace he had early in the year for top-5 finishes though. It just seems as if the #18 team hasn't had everything fall their way since that Sunday in Pocono.
One thing evident over the years is that Kyle Busch is not easy to keep down. Despite his inability to find his way into victory lane in the second half of the season, he still finds himself with a chance at the championship. This should make the other drivers remaining in the Playoffs extremely nervous. It is only a matter of time before Busch heads to the winners circle again. It goes without saying that this weekend is the best one possible to win. Busch knows this better than anyone, as in the one practice session of the weekend he was the fastest car on the track. On Sunday, look for classic 'take no prisoners' Kyle Busch, as he looks to claim another piece of racing immortality.
Written by Conor Borus
Be sure to follow us on Youtube and Twitter.
Photo credit to NASCARMedia