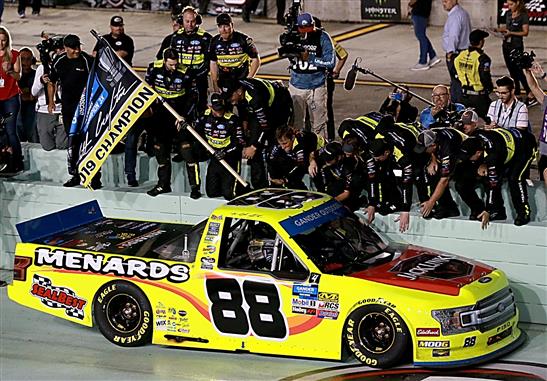 Matt Crafton Wins His Third NASCAR Truck Series Championship
Matt Crafton clinched the 2019 NASCAR Gander Outdoors Truck Series championship in Friday's race at Homestead-Miami Speedway. This championship was the third for the 43-year-old from Tulare, California, tying Jack Sprague for second-most in the series. Although Crafton finished 2nd to Austin Hill in the race, he beat all other championship contenders.
"It's an unbelievable feeling to have three," Crafton told the media. "Just the whole group behind me, Duke and Rhonda Thorson, Menard's and every one of these guys that build these trucks every week, Junior and I are just the lucky ones. I know he makes all the calls, but at the end of the day these guys build these trucks and we're fortunate enough to be able to — he makes the calls and I get to drive these things.  This thing was phenomenal tonight. Hill had a rocket ship and there at the end of the race I felt like I could have raced him harder, but at the same time I felt like I could have lost a lot of time racing him and at the end of the day it was about winning the war and not the battle."
Matt Crafton Labeled The Underdog?
Going into Friday's championship race many considered Crafton the underdog. With no wins in the last two seasons and only one in 2017, that seemed to be a fair assessment. However, Crafton desired to prove the doubters wrong and did just that. After 134 laps, the #88 Menard's Ford F-150 was ahead of title rivals Ross Chastain, Brett Moffitt, and Stewart Friesen.
"There was nothing sweeter, to be honest," Crafton said when asked about proving the doubters wrong. "It was that little jab in the side, and I don't know if I needed that, but at the end of the day, it kind of just ticked me off. She's sitting next to me so I'm just going to be really nice right now. It kind of ticked me off a little bit, to just go, I want to prove you really, really wrong tonight. I knew I was going to go in and do whatever I had to do for Duke and Rhonda and every one of these guys that worked hard. But I can say it was just that little bit of extra poking and then to be able to say, I proved you wrong, boys."
Crafton's stats for his third championship season are as follows; 0 wins, seven top 5s, 18 top 10s, three poles and 44 laps led. Crafton is the second winless-champion in NASCAR National Series competition, after Austin Dillon's 2013 Xfinity Series campaign.
What's Next For Crafton?
Now that Crafton has claimed three championships over his Truck Series career, what's next for him? Like any racer, he wants more. His new motivation is to tie Ron Hornaday, Jr. for most Truck Series championships in series history.
"Oh, absolutely," Crafton said when asked if he wants to tie Hornaday. "That's what it's all about, to be able to say that you can accomplish and win as many championships as Ron Hornaday because he's been the man in the Truck Series. You look at the Truck Series and you say, Ron Hornaday. So if we can put ourselves in that record book and have as many championships as him, it would be awesome."
Do you think Crafton can tie Hornaday by winning a fourth championship next season? The new effort will kick off at Daytona International Speedway in February.
Written by Noah Lewis
Be sure to follow us on Youtube and Twitter.
Be sure to follow the writer on Twitter.
Photo credit to TSJ101Sports.