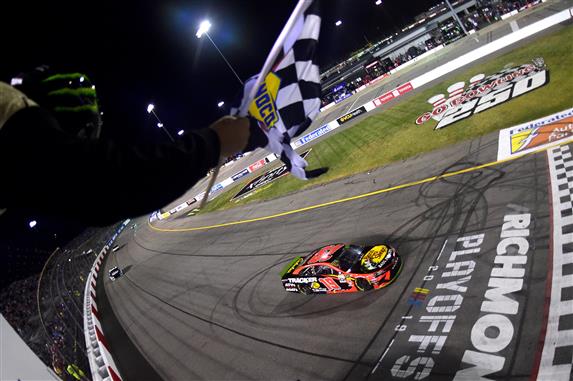 Martin Truex, Jr. Opens 2019 Playoffs with Back-to-Back Wins at Richmond
For the first time in his NASCAR Cup Series career, Martin Truex, Jr. earned back-to-back wins. After flying under the radar for much of the latter half of the Regular Season, the Joe Gibbs Racing 19 team has opened the Playoffs with victories at both Las Vegas and Richmond. Saturday night in Richmond provided some challenges for Truex however, as his race was nearly over with less than 100 laps to go. Heading into next week's elimination race at the Charlotte Roval, Truex is one of very few drivers sleeping care-free.
Some Playoff Drivers Suffer In Stage 1
While Playoff contenders such as Brad Keselowski, Kevin Harvick, and Kyle Busch started Saturday night's 400 lap show up front, some of their competitors were not so lucky. Pre-race favorites such as Joey Logano and William Byron had forgettable runs in Stage 1. With the entirety of the opening Stage's 100 laps being raced without caution, the leaders set a blistering pace and quickly began lapping the field. By lap 100, Logano and Byron would join Alex Bowman and Ryan Blaney as Playoff drivers -1 lap.
Stage 1 also had only 1 lead change, as Martin Truex, Jr. passed polesitter Brad Keselowski midway through the opening run. Truex would lap 2 of the aforementioned Playoff contenders in the closing laps of Stage 1. The 19 was fast early on, as he was looking for back-to-back Playoff wins as well as a Richmond sweep.
Non-Playoff Driver Spins Contender at Start of Stage 2
Under Stage-break pit stops, the 18 of Kyle Busch would narrowly edge Truex at the line. Restarting as the leader, Busch would have clear sailing by the time he hit turn 2. Behind Busch and Truex though, the intensity was high on this first restart, as there was 3 and 4-wide racing throughout the field. Back in the pack, Alex Bowman's 88 would make contact with Austin Dillon's 3 entering turn 1. This would send the 3 into William Byron, causing a tire rub on the 24.
By turn 3, the 3 had caught the 88 and voiced his displeasure with his bumper. Austin Dillon would send Alex Bowman spinning in 3 and 4, bringing out a caution. Luckily for Bowman, he avoided further contact, got his car pointed the right way, and continued onward.
Jubilation for Joe Gibbs After Stage 2
The 88's incident would evidently be the last caution in Stage 2, as the following 85-lap green flag run closed out the Stage. On the restart, Busch would easily clear Truex again, and set his sights on the impending Stage win. Even though lapped traffic allowed Truex to catch him late, Kyle Busch held serve out front to earn his 11th Stage win of the season. Behind him were his 3 teammates: Truex Jr., Denny Hamlin, and Erik Jones. Stage 2 went perfectly for owner Joe Gibbs, as his 4 Toyotas paced the field. However, one would later lose their Stage 2 position due to a disqualification.
Pit stops following Stage 2 would see little change up front, as Busch held his ground over Truex, Hamlin, Keselowski, and Jones. The biggest winner on this round of stops though would be Ryan Newman. The 6 team left pit road in the 6th spot, and would race as high as 3rd in the final Stage. Richmond would prove to be a big points night for Newman, as he gained several spots in the standings.
Logano Lucks Out with Timely Caution
While Busch maintained a 1-second advantage over Truex early in the 200-lap final Stage, one other Playoff driver would see a big recovery. When the caution flew for Reed Sorenson hitting the wall on lap 244, the free pass would be Joey Logano. After going a lap down in both Stages, the 22 bounced back onto the lead lap. This caution would also see the lead change in the pits, as Keselowski's crew just beat out the 18.
With Keselowski out front for the restart, he would clear 3rd-place Truex, Jr. by turn 3. 2nd-place running Busch would make a rare mistake on this restart, spinning his tires and losing positions to his teammate as well as Ryan Newman. With less than 150 laps left, Keselowski was leading Truex. That would change however on lap 282, when the 19 stalked the 2 down and passed him on the high side. Busch would also retake 2nd spot a few laps later. With 100 laps remaining, it was the 19 and 18 out front. This pair of drivers represented the last 3 Richmond victors, with Truex trying to earn back-to-back wins on the Virginia short track.
Turmoil for Race Leader Nearly Ends Night
With the final cycle of pit stops unfolding on lap 316, many slower cars on new tires were catching and passing Truex. One of those trying to get back on the lead lap was the 17 of Ricky Stenhouse, Jr. When he caught Truex in turns 3 and 4, he locked up his front wheels, went wide, and sent Truex spinning. Thankfully for Truex, he did not hit anything and nobody else hit him. In an incident that usually is a day-ending event, the 19 only lost a few spots and was able to race on. Truex's bid for back-to-back Richmond wins was still going strong after that slight hiccup.
When the race restarted for the final time with 79 laps left, Kyle Busch cleared Denny Hamlin and seemingly had the win in the bag. After restarting 3rd however, Truex was determined to get back out front. Truex worked his way by Hamlin for 2nd, and began to close in on the 18's lead.
Truex would methodically hunt down Busch and finally retook the top spot on lap 375. For the final 25 laps Truex remained unchallenged, and no cautions impeded his path to the win. Truex's margin of victory over Busch would be over 2-and-a-half seconds. For the second year in a row, a Joe Gibbs Racing Toyota went on to clinch back-to-back Richmond wins.
Significance of the Back-to-Back Wins, Richmond Sweep for Truex
In his prior 16 years of Cup Series competition, Martin Truex, Jr. had amazingly never strung together consecutive victories. By taking the opening 2 races of the Playoffs, the 19 now has back-to-back wins. Truex also completed the Richmond season sweep, as he won at the 3/4 mile venue in April. Richmond also marks the 25th career win for Truex, as well as his series-leading 6th checkered flag of 2019.
"It's great," Truex, Jr. said on the back-to-back wins. "Hopefully we can do three in a row. You always want more, you always want to win more, and especially this point in the season, every single race counts and matters. It's really important. Yeah, we'll just try to keep going. Feels awesome. I mean, I don't even know — like it's hard to put into words what it feels like, honestly, because it's just every one of these races is huge in my opinion, in my book.
"To win both Richmond races this year after being so close so many times at this racetrack and having so many heartbreakers, races we felt like we should have won and we didn't, just the way the things worked out this year, to be able to maybe not have the best car throughout both races and just battle and dig and claw and scratch our way to the lead late in the race was huge tonight.
Truex in the Thick of the Championship
Besides the season sweep and back-to-back Playoff wins, Martin Truex, Jr. and the 19 also leave Richmond with an additional 6 Playoff points. Truex has asserted himself as a favorite for Homestead, right alongside his 2 teammates.
"I'm just really proud of everybody on our team for working hard and sticking with us. It takes a lot of people to get here and do what we're doing, and I'm just really thankful to them all and really thankful to drive great race cars and have an awesome team."
Richmond is JGR's House with Back-to-Back Wins Again
While the 18 swept the Richmond races in 2018, it was the 19's turn in 2019 to take this honor. Over the past 2 year, Kyle Busch and Martin Truex, Jr. have both earned back-to-back Richmond wins. Joe Gibbs Racing now has 4-straight Richmond wins overall. Another impressive feat for Joe Gibbs Racing was their 4 cars initially taking the checkers in the first 4 positions. This would change however in post-race inspection, as the 4th-place finishing 20 of Erik Jones was disqualified for having a rear toe out of tolerance. The penalty would send Jones to dead last in 38th position. After the technicality, JGR still scored a 1-2-3 sweep for the second time this season.
Other Notables in the Top 10
After leading 202 laps versus Truex's 109 circuits paced, Kyle Busch had to settle for 2nd fiddle to the 19. "I don't think we were as good as him all night long," Busch said of Truex.
"Martin (Truex, Jr.), the car, the combination thereof, us, the combination of, just lacked a little bit. You know, like the 11 (Denny Hamlin) lacked a little bit more than us. Just weird, I don't know. We led a lot of laps. We were up front a lot. But when I was out front, he could keep the closest distance to me. That kind of worried me for a finish like that in the long run. But our M&M's guys did a great job, and we brought a fast race car here to Richmond, and I think all the JGR cars were pretty respectable there, so really awesome job by everybody at Joe Gibbs Racing and Toyota, and being able to have some really good pieces to go out there and race with."
With the most laps led and the runner-up result, Kyle Busch has clinched a spot in the Round of 12. With no worries heading into the elimination race, expect Kyle to either be a strong contender, or simply be a top-10 car. Due to his total of Playoff points, Busch is still a heavy favorite for the Championship 4 alongside his teammates. While he may not win at the Roval, some great tracks for the 18 are coming up.
Oddly Quiet Night for Hometown Hero Hamlin
At one of his statistically best racetracks, Denny Hamlin failed to lead a single lap. Although he came away with a strong 3rd place finish, the 11 was lacking to his teammates on Saturday. "Just seemed like the long run speed they really had quite a bit more and a little bit more turn, a little bit more forward drive, just everything – every little bit," Hamlin said.
"It just seemed like it was about a half a tenth a lap there on average, and the 19 (Martin Truex, Jr.) just had a really good long run car. We were kind of third best there, that's kind of where we ended up. Happy with maximizing the day that I thought I was capable of, and good effort, and we'll go to the Roval and have some fun now." While not quite locked into the next round, Hamlin does boast a 54 point cushion. Should he score points in Stage 1 on Sunday, he may clinch a spot prior to the checkers.
Best of The Rest for Brad
After starting on pole, Brad Keselowski would fade to finish 4th. As the best of the non-Toyotas, Keselowski admitted post race that the Penske Fords are lacking. "It's definitely not good news," Keselowski said. "We've got work to do. They're really strong and we're not where we need to be to be able to beat them heads-up, but we threw everything we had at them. We put down a great qualifying lap, got the first pit stall, had great pit stops and got to the lead, but just didn't have the raw speed to keep it. They've got all the secrets, so we need to find some more secrets."
Keselowski enters the Roval elimination race 4th in the standings, 55 points above the cut line. As the highest who is not locked into the Round of 12, Keselowski is breathing easy heading into elimination Sunday. However, Brad will still try to make it back-to-back wins on the Roval for Team Penske. Barring a major disaster he will move onto the next round.
Breakout Run for Newman, Roush 6 Team
In his team's best performance all season long, Ryan Newman came home 5th after Jones' DQ. This is Newman's first top 5 finish since Daytona in July, and only his second since 2017. "(Tonight was) the best team performance all-around throughout the entire weekend," Newman said. We failed at qualifying. We got the car too tight, but, overall, just a great team effort to get the Roush Performance Ford a good run. What meant to me the most probably was just being better than we were the first race. We ran ninth in the first race and qualified 30th or something like that and we came back and showed that we were learning and we'll keep learning.
"It was just a good team effort, good pit stops. The strategy wasn't a whole lot to it, just put four tires on, but had a good short-run car. One time we had a good long-run car, but we could never get both. I think that if we would have had both we could have ran with those guys, but we were at our best probably when we were just a little bit biased to a long-run car, but who would have known there were gonna be that many green flag runs." With this herculean top-5 effort, Newman vaulted himself from 13th to 9th in points. His cushion above the cut line is 14 points, so he is anything but safe at the Roval. With this level of performance though, the 6 team could make a deep Playoff run.
Larson Leads Bow-tie Brigade
On the 2-year anniversary of his latest win, Kyle Larson ended a discreet night in 6th. "If maybe I could have gotten a better restart there that last time, I could have been a spot or two better," Larson admitted. "But, we ran better than I thought I would. At the beginning of the race I was kind of falling back. But, then we made it better each stop. Actually, I had a pretty good car in the long run there at the end. So, I was happy about that.
"I haven't seen the points, but it seemed like a lot of guys had a bad night. So, I'm sure we gained a little bit on the cutoff, so that's always good." Larson's gap heading into the Roval is 25 points. While not nearly as comfortable as some, Larson has some insurance. With the 42 being up front late at the Roval last year, it will be interesting to see how he fares this time around.
Harvick is Happy with a Clinched Spot in Round of 12
With an admittedly lacking short track program, Kevin Harvick ended Richmond in 7th. With back-to-back top 10s to open the Playoffs, Harvick is the last man to clinch into the Round of 12 ahead of the Roval. Since his spot is already locked up, Harvick has turned his attention to the Roval. "It'll be a nice week at home," Harvick said. "I think it allows everybody to really go and the biggest thing is you want to go try and learn what you need to do to run fast there, so this week we'll go to the simulator and try to transfer that to the race track and see how practice goes and then we'll see how the weekend goes. You definitely still want to go there and get a race win or something that will go forward with you and also learn something for the future."
A worry-free Harvick could be dangerous for the competition at the Roval, as Harvick's road racing abilities are stout. With recent success at Sonoma, the 4 Mobil1 Ford could be up front on the Roval too. Regardless of his outcome though, Harvick is still hunting a second championship.
Bowyer Left Wanting More
Returning to a track where he regrets not being more aggressive in April, Clint Bowyer leaves Richmond in a consistent 8th position. However, that strong run still was not enough to put Bowyer above the cut line heading into the Roval. "It was solid," Bowyer said. "I was hoping for more, for sure. I was expecting a little bit more to be honest with you, but we did what we had to do. We gave ourselves a fighting chance going into Charlotte. I knew Richmond was gonna be an opportunity. We semi-capitalized on that opportunity, but looking forward to Charlotte.
"It's gonna be fun for everybody involved. This is do-or-die time. It's the Playoffs. You watch these football teams go through these playoffs and how exciting it is and it's our turn to have that nerve-racking moments and do-or-die moments for your race team and your season, but I'm looking forward to it." Bowyer's narrow deficit heading into the Charlotte Roval is 4 points. With his road racing prowess though, that gap could be erased in a single Stage. If Clint Bowyer is to make the next round, he must be on the attack yet also defend his position next week.
Suarez Leads Non-Contending Squad
As the best of the non-Playoff drivers, Daniel Suarez was happy to earn 9th in Richmond. With finishes of 11th or better in 5 of the last 6 races, Suarez is seemingly inching closer to his first career win. "I feel like it was a clean day," Suarez said. "Unfortunately, we didn't have the speed that we wish we had, but we worked very hard. We made good adjustments. The pit crew did a pretty decent job. They got better as the night went and we just had a top 10 car and finished in the top 10. We're still working extremely hard to get that first win and hopefully we can make it happen soon."
In both Playoff races so far, Daniel Suarez has been competitive and shown top 10 speed. At 17th in points, he is currently the highest ranked of the non-Playoff drivers. The Charlotte Roval may just lead the 41 to back-to-back top 10s. Stay tuned to see if Suarez's consistency can continue on for the rest of this season.
Best of the Hendrick Cars is Johnson
Besting his 3 Playoff teammates, Jimmie Johnson scored his first top 10 since Daytona in July. This also marks Johnson's best finish since crew chief Cliff Daniels took over the 48 team. If not for a late pit stop error though, Johnson could have finished even higher. "Just a solid performance," Johnson said. "Unfortunately I missed our pit box on the second-to-last pit stop, and we had to dig out of that hole. But just a solid performance, and I think we could have been fifth or sixth if I didn't miss the pit box. We worked our way back to 11th and it was a solid qualifying effort and all three stages of the race which led to a respectable finish."
Much like Suarez, Johnson has shown potential as a non-contender in both Playoff events. The 7-time champion was 11th in Las Vegas, and moved up to 10th in Richmond with the Jones DQ. After contending for the win mere feet from the finish last year, Johnson heads to the Roval now hoping for back-to-back strong performances. With a relatively-inexperienced crew chief still leading this team, strong runs like the past 2 weeks give optimism for 2020.
How to Watch the Next Race
With the first 2 races of the Round of 16 behind us, 2019's first elimination race is next. The wildcard event at the Charlotte Roval is upon us yet again. The newest, craziest, and most unpredictable track in NASCAR will be the end of 4 driver's championship aspirations. The second-annual Bank of America Roval 400 is Sunday, September 29, at 2:30 PM EST on NBC. TSJNASCAR's own Peter Stratta will be in attendance, so be sure to follow along all weekend via Twitter. The winner was decided in the final turn last year, with an all-new corner the Roval could spell even more carnage and upsets this time around.
Written by Peter Stratta
Be sure to follow us on Youtube and Twitter.
Be sure to follow the writer on Twitter.
Photo credit to NASCARMedia