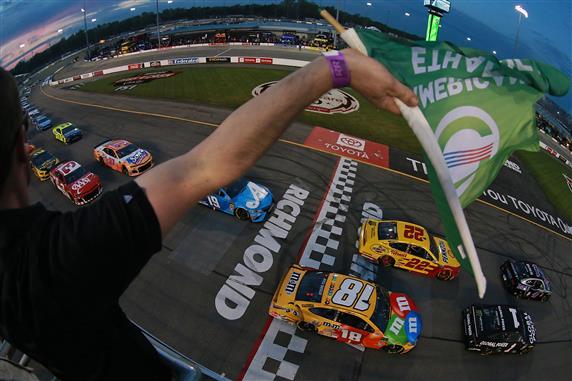 Drivers Talk About How Passing Will Be Tough At Richmond
Richmond Raceway is the setting of NASCAR's second playoff race of the season. As intensity heats up ahead of the Roval cutoff race, drivers are a bit concerned about how tough the passing may be tonight. In the spring race at Richmond, there was a total of 1,238 green flag passes with 8 lead changes.  Looking back to last season's race in September, there was a total of 1,647 green flag passes with 16 lead changes under a different rules package.
Denny Hamlin
"Looking back at the spring race here we had to start last for a qualifying deal," Hamlin said. "It took the entire race to get up to the top 5. It's amazing how much aerodynamics plays an effect on such a short track like this. It is very very tough to pass. It's not impossible but certainly, it's tough. If you get back in the pack, if you make a mistake, you will not win this race. There will be nobody with a speeding penalty come back to win this race, you can mark that down."
Brad Keselowski
"Yeah, it is hard to pass in some ways and in some ways not," Brad told me when asked about how tough it was for drivers to pass at Richmond. "If you look at this race last year I think I qualified 30th and Kyle Busch was right beside me. He got up there a little bit faster than me, I think he was up there in 100-150 laps. If you get long runs it becomes an easy track to pass at. The mechanical grip is pretty low and the aero grip kind of evens out as everybody's in traffic.
"On the long runs, I think there's a fair amount of passing but having the patience and discipline to realize that is tough for us as racecar drivers. There isn't a track you want to start in the back at, don't get me wrong, but this isn't the worst."
Other Drivers Remain Optimistic About Tonight's Passing Ability
Joey Logano was one of a few drivers to mention he was unsure and optimistic about passing in tonight's race.  \"I feel pretty good about it, I don't drive Denny's car so I'm not sure what it was like for him." Logano will need to pass a lot of cars tonight, as he starts 28th.
Tonight will tell if passing remains just as hard with this package at Richmond. Tune in at 7:30 PM EST on NBCSN for all the action in the Federated Auto Parts 400.
Written by Noah Lewis
Be sure to follow us on Youtube and Twitter.
Be sure to follow the writer on Twitter.
Photo credit to NASCARMedia.