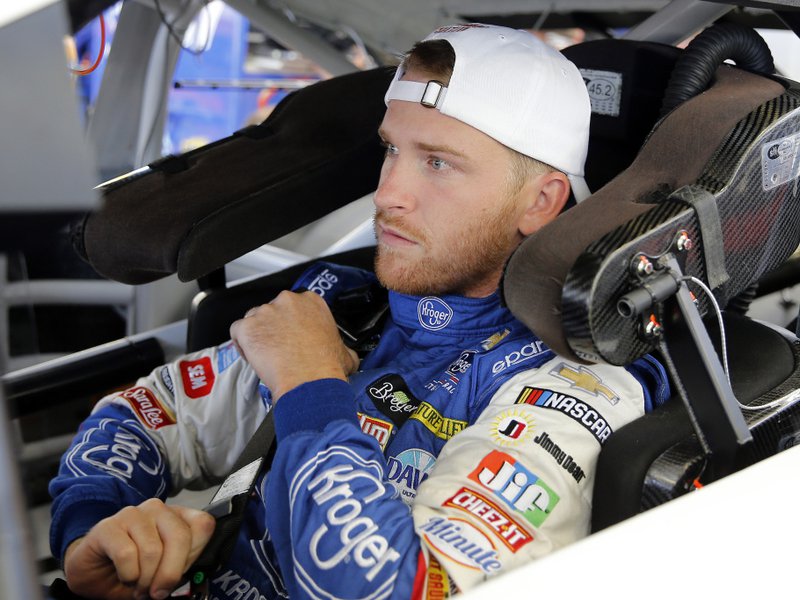 Ricky Stenhouse, Jr. Out At Roush Fenway Racing; Chris Buescher Takes Over In 2020
The NASCAR world was hit with another shocking announcement early Wednesday. Roush Fenway Racing released a statement regarding the driver of the #17 car for 2020. Currently, that driver is Ricky Stenhouse Jr., who's been with RFR for 7 seasons. During that time Stenhouse has won two Xfinity Series championships for the team. Moving forward the team has elected to bring back Chris Buescher. The Texan has a driving history with the organization since age 15 and has also won an Xfinity Series championship. This switch means there will be a new driver in the #37 Cup Series car for JTG Daugherty for the 2020 season as Buescher exits the team.
Chris Buescher On New Opportunity And Statement From JTG Daugherty:
"Recently I was notified by Roush Fenway Racing that they were electing to pick up an option the team had retained for me to drive for RFR again," Buescher released in a statement. "I'm happy to announce I will be driving the No. 17 RFR Ford Mustang in the Monster Energy NASCAR Cup Series for the team in 2020.
"Jack Roush and John Henry have emphasized that they believe in my ability to compete at a high level in their race cars; and that is the expectation. This is a bit of a homecoming for me and I am very excited to be able to return to Roush Fenway and pick up where we left off in 2015; winning the NASCAR Xfinity Series Championship."
Buescher went on to speak about how he is saddened to leave the great people at JTG Daugherty Racing.
"This news also brings sadness that my time at JTG Daugherty Racing driving the No. 37 will come to an end in 2019. I am forever grateful to Tad and Jodi Geschickter, Brad Daugherty, and Gordon Smith for giving me the opportunity to drive for them over the past three years."
JTG Daugherty team owner Tad Geschickter released a statement via social media following the news.
"We were in the final strokes of the contract when learning that Chris has gone in a different direction. We appreciate all of the efforts from Chris through the past three seasons at JTG Daugherty Racing. When the dust settles, we will begin the process of searching for our next driver to fill the No. 37 seat for the 2020 Cup Series season."
Roush Fenway Racing On Stenhouse and Buescher:
"We can't say enough about Ricky and his contributions to Roush Fenway Racing," said team co-owner Jack Roush. "We're proud to have been a part of Ricky's development from ARCA to Xfinity and ultimately the Cup Series. He has served as a great representative to our partners, while helping to accumulate numerous accolades, wins and multiple championships on the racetrack. We wish him well as he enters the next chapter of his career."
Ricky has not released a statement as of Wednesday evening, but now becomes a free agent who could potentially join JTG Daugherty next season.
"We are certainly excited to have Chris back in the fold at Roush Fenway Racing," said Roush. "He has a long history with our organization and we've always been a big fan of Chris and his racing style. We have watched his progress with great interest over the last couple of seasons and we are looking forward to having him in the No. 17 as we continue to grow our program next season."
Other Possible Candidates For The #37 In 2020
With a newly vacant seat on NASCAR's free-agent market, there are a few drivers that come to mind to take over the #37 in 2020. Other than Ricky Stenhouse, Jr., the first possibility is Ross Chastain. Chastain is currently fighting for a title in the Gander Outdoors Truck Series, but has been vocal on his search for bigger opportunities. With success in sub-par equipment in the past, Chastain may be just what JTG Daugherty needs to improve its program. Another possibility may be Daniel Hemric. Hemric announced last week that he will be let go from Richard Childress Racing following the 2019 season. The move was made so the team has room to put Xfinity Series driver Tyler Reddick in a Cup car. Hemric hinted that he's had minor talks with a few teams among different series but still has nothing set for next season.
Who do you think will be in the #37 car next season? Do you think Chris Buescher will have more success in the #17 than Ricky Stenhouse, Jr.? Continue to monitor TSJ101Sports for further updates.
Written by Noah Lewis
Be sure to follow us on Youtube and Twitter.
Be sure to follow the writer on Twitter.
Photo credit to @AutoweekUSA via Twitter.