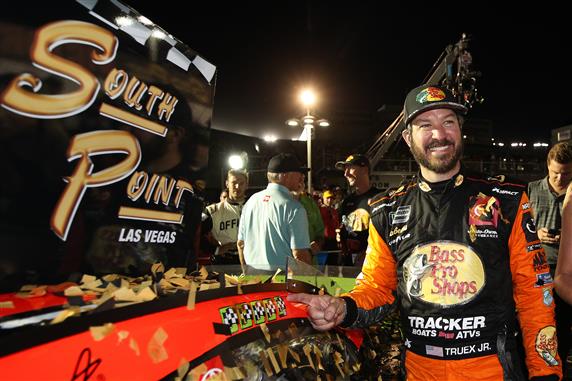 Martin Truex, Jr. Scores Playoff-Opening Victory with Las Vegas Win
For the third time in a 4-year span, Martin Truex, Jr. has won the opening race of the NASCAR Playoffs. While Truex's #19 Toyota was far from a dominant car all day long, he had speed when it counted at the end. For Truex, Sunday's win at Las Vegas is his second victory at the Sin City mile-and-a-half. With this win, Truex is solidly on to the Round of 12 in his title hunt. While it was a relatively clean day for Truex, his Playoff competitors cannot say the same. Playoff drama ran high in Vegas, with many drivers having forgettable performances that could derail title hopes.
Historic Pole Doesn't Pan Out for Bowyer
After Saturday's qualifying session, it was a 1-2-3-4 sweep for Stewart-Haas Racing, with Clint Bowyer on the pole. This was only Bowyer's 3rd ever pole, and first since 2007. Even though the 14 showed short-run speed, he did not have extended performance over longer runs. Bowyer did narrowly lead lap 1 over teammate Daniel Suarez; but that would be his only lap led all day. After lap 1, the 14 fell back and never recovered lost track position.
The man who narrowly earned one of the final 2 Playoff spots last week had a day to forget in Las Vegas. Bowyer was far from a winning contender, as he did not score any Stage points. At the end of a long night, the 14 fell far short of the Las Vegas win, and only managed to finish in 25th.
Early Setback for Busch
While moving forward in the 20th position on lap 5, the 18 of prerace favorite Kyle Busch scrubbed the outside wall in turn 2. Not long after the contact, Busch would pit for repairs. He would go down a lap early, but he rallied to stay ahead of leader Daniel Suarez and remain only 1 lap behind. Kevin Harvick would also tag the wall while running 5th, but he suffered minimal damage.
Ford Performance On Display Early
After taking the lead from Clint Bowyer on lap 2, non-Playoff contender Daniel Suarez would lead several laps. This would change when teammate Aric Almirola  briefly took over. On lap 34 though, Joey Logano blasted by Almirola for the lead. Logano had rallied from starting 22nd to leading in just 34 laps, as his Mustang was clearly bullet-fast.
After bisecting Stage 1 by pitting on lap 42, Logano would cycle back out to the lead over Almirola, with a 5-second gap. Kevin Harvick wold get by Almirola for 2nd in the closing laps of Stage 1, as Logano took the Stage win. Each of the top 4 finishers in Stage 1 were Fords, as they searched for a fourth-straight Las Vegas win.
Wild Restart to Kick off Stage 2
On Stage-break pit stops, the race lead would change hands. For the first time, Kevin Harvick would restart up front. On the restart though, Harvick was taken 3-wide with Logano on his outside and William Byron on his inside. The 4 lost some ground as the 24 led a lap then the 22 cleared for the top spot. Harvick would fall back as far as 7th on this restart. Harvick would have to regain focus and methodically march forward if he were to earn a 3rd Las Vegas win.
Another Tough Break at Vegas for Jones
On the Stage 2 restart, Erik Jones fell back while stuck in second gear. The 20 Toyota came to pit road and went to the garage to fix this issue. These extended repairs would put Jones numerous laps off pace, erasing any chance at a good finish. This marks the second straight year where the 20 team has suffered a Vegas setback. After starting on pole last year, Jones wrecked out when Kevin Harvick crashed into him. That led to an eventual elimination after Round 1. Erik Jones now enters the remaining 2 races of this round in a must-win scenario, as he ended Vegas in 36th place.
With pit stops nearing, Chase Elliott was in 2nd and slowly catching the 22's bumper. After flawless execution by his pit crew under a scheduled green flag stop though, Logano cycled out to a 2 second lead over Elliott. On lap 142, Martin Truex, Jr. would stalk down and pass Elliott for 2nd, eyeing the lead and a Stage win.
With heavy lapped traffic playing a factor, Truex caught Logano as the laps wound down for Stage 2. With 2 laps left in the Stage, Truex powered around the outside of Logano to take the lead and the Stage win.
Truex Jr. would hold the lead through pit stops and on the final Stage restart, as the 19 came to life. Lap 172 would see a battle between Truex and Chase Elliott, where the 9 would pass the 19 and clear him. While Elliott was leading, one of his teammates faced a setback.
Caution For Byron's Tire Rub Sets up Strategy
While running in 4th, William Byron lost a left rear tire and spun in turn 4. This would bring the caution out, the first non-Stage yellow at Vegas since 2018. This caution would allow several of the front running cars to take 2 tires to gain track position. Denny Hamlin, Ryan Blaney, Ryan Newman, and Daniel Suarez would inherit the top 4 spots on 2-tire strategy calls. Lining up at the front of those with 4 tires in 5th was Harvick.
Another crazy restart would see Hamlin and Blaney door-to-door for the lead. After the 12 ran wide though it was Harvick who got by in the bottom lane to take the position. Another caution would come out by the time the field hit turn 3 though, as 2 Playoff contenders faced issues.
Big Issues for Kurt Busch, Logano
Resulting from contact on the restart, Kurt Busch cut a left front tire and went straight into the turn 3 wall. The night was over for the 1 team, as both Busch brothers struck out in hopes of a Las Vegas hometown win. At the same time as Kurt's issues, Logano suffered contact from Suarez. According to Logano, Suarez "made a mistake," and "crashed me." This left the 22 Pennzoil Ford with heavy damage, after leading a race-high 105 laps. Logano would recover to finish 9th, but it was far short of the Vegas win he envisioned.
As a result of his lap 189 crash, Kurt Busch was done for the night. The Las Vegas native would leave his home track in 39th place, and below the Playoff cut line. Over the next 2 weeks, Kurt will likely need to win in order to advance on in the 2019 Playoffs.
When the race resumed it was all in Harvick's hands. Truex would work his way up to 2nd, but the 4 had a 2-second gap. Lap 209 would see Kyle Busch break the top 10 for the first time all night. Oddly enough, his brother's misfortunes would allow him to get back on the lead lap.
Race Decided after Final Pit Stops
The last round of pit stops would begin with under 40 laps to go. Harvick and Truex would come in together, with no position change among them. The race was on between the top 2, as 1 second separated them with laps ticking by. Coming down the backstretch with 20 to go, the leaders were side by side and Truex took away the top spot.
Over the course of the closing 20 laps, no final caution would fly, and Truex continued to drive away from Harvick for the win. Behind them however, a top 10 would slip away for Kyle Busch. While trying to pass Byron for 8th, Busch caught the slower 52 car of Garrett Smithley. Smithley did not give way to Busch, and the 18 drove hard into the back of him. Busch fell back, losing spots with heavy damage to his right front splitter. To make matters even worse, Busch got into the back of Joey Gase's 66 as well. In the end, Busch would come home in 19th after he was rallying late for a top 10.
Significance of the Las Vegas Win for Truex
"It was a lot of fun tonight," Truex said in victory lane. "Anytime you get a car like that you have fun. But we did have our challenges. It wasn't easy for sure; we had to go to the back that one time for a pit road deal and work our way back to the front and then our car got off, and we lost some spots on that one run and luckily, we got a caution and was able to come in and fix it. We just had to do all the little things right."
For Truex, this Vegas win is his 5th victory of 2019, an automatic berth to the Round of 12, and his 24th career checkered flag. After going winless in the Playoffs last year, Truex is 1-for-1 in the 2019 postseason. With the momentum of 2 weeks to simply chase bonus points, the 19 team could be a serious threat in the coming rounds.
Other Notables in the Top 10
Coming home in 2nd from Las Vegas was Kevin Harvick, after being passed for the win with 20 to go. "We had two solid stages and with the way that practice went for us, that was a miracle. To be in contention with a chance to win the race with 25 laps to go says a lot about the guys working on this 4 car and everybody did a great job of making something out of what wasn't very bright for us on Friday."
Harvick had the Vegas win well in hand, minus a late handling issue where Truex pounced on him. With this level of performance, the 4 team is firing on all 8 cylinders and near-perfection. Harvick and the 4 still are still strong championship contenders. Over the next 9 weeks, the sky is the limit for this team.
Brad Battles Back for Blue Collar Finish
After being mired around 20th for much of the race, Brad Keselowski and the 2 car rallied to finish 3rd in Vegas. This finish has Keselowski 5th in points, well above the Round of 16 cut line. "We had a bad start tonight but a good finish," Keselowski said. "We weren't driving very good at the start. Nothing I was doing was working and we were just kind of bleeding positions. Almost lost laps. The team worked on it really hard there and got us back to a spot where we could kind of almost steal a win. I thought for a minute we might be able to. All in all it was a good day. Not the win we were looking for but a lot of perseverance and a lot to be proud of."
With this solid start to the Playoffs, Keselowski is in good shape to continue onward. The 2 team's qualifying and fire off speed should be an area of concern, but this team is clearly capable of grinding out solid finishes. Whether or not they are able to turn a corner and gain more speed has yet to be seen.
A Sign of Things to Come for Elliott?
After leading laps, Chase Elliott was the best-finishing Chevrolet in 4th. The 9 team leaves Las Vegas 6th in the championship, with a solid foundation to build upon. "I feel like we finally got our car going pretty good the last two or three runs," Elliott said. "That was good, and a good time to do it. We just got some damage on the restart and he had to come down to pit road and fix it. We just couldn't take a chance on cutting a tire. I felt like we were closer today than we have been the past few weeks, so that was nice. Hopefully, we can have cars like that for the next nine weeks."
Chase Elliott and his Hendrick Motorsports team have historically come to life in the Playoffs. While leading laps and finishing 4th is better than how they closed out the Regular Season, they still have some work to do. One positive takeaway from Vegas is that all 3 Hendrick Playoff cars were up front contending at one point. Can Elliott or his teammates turn this performance into wins? Expect a production uptick from the 9 car, maybe that could also trickle over to their HMS teammates.
Nonchalant Night for Blaney
Although he was quietly inside the top 10 for much of the night, Ryan Blaney described his 5th-place effort as similar to Keselowski's up-and-down run. "It was a long night for sure," Blaney said. "We didn't start very good; we started really tight and didn't go anywhere and I was really worried. The guys took really big swings at it. We were on the really tight side and really loose side and a little bit of both. We couldn't take off very fast. Other guys would take off really fast. At the end of a run we were really fast up by the wall but we just lost too much ground and then I just got tight there at the end. I might have been able to run third but the top two cars were in a league of their own, especially the 19."
Leaving Playoff race 1 at 10th in points, Ryan Blaney is in a precarious position heading forward. He must perform well at each of the next 2 races, and cannot risk losing his narrow points cushion with a bad finish. Next week's race in particular might be a tough outing for Blaney, as he will take on his self-admittedly worst track at Richmond. With 2 teammates in comfortable position, Blaney and the 12 will have to rally to make it a Penske trifecta in the Round of 12.
Status-Quo for Bowman
Earning his first top 10 since Michigan last month, Alex Bowman was the second Hendrick car across the stripe in 6th place. Using the exact car he won with at Chicago, Bowman and the 88 team thought they would be up front all night and contend for a Las Vegas win. While those plans did not pan out, Bowman still heads into the next races optimistic.
"I think we ran about where we should have run. Avoiding some of the mess was definitely a good thing," Bowman said. "We just didn't fire off very good. As the race ran, we got our car much better. I think kind of the in between from day to night was the best we were. I wish we would have gotten some more stage points, but we'll take sixth."
Playoff Rookie Rebounds
Finishing just behind his teammate in 7th was Playoff rookie William Byron. The 24 recovered from their lap 182 spin to a top 10, which pleased Byron. "That was a big bummer," Byron said about his spin. "We were really fortunate that the caution came out when we spun. That was really good for us. You think about all of the things that can go wrong in a race. It's tough, you have to really manage the whole race and recover from things that happen. It seemed like every car has something that happened during this race, so you just have to recover from it."
As the lone man making his first-ever appearance in the Playoffs, one would expect anything past the Round of 16 to be a win for Byron. While the 24 is currently below the cut line, attrition over the next 2 weeks or breakout runs on their part could change that. Do not expect the 24 to face elimination without a fight, as Chad Knaus' strategy calls could put Byron in prime position to win big.
Larson Left Surprised After Strong Run
After a late pit road penalty, Kyle Larson was able to recover nicely and came all the way back to 8th. "Our car was better than I thought it would be," Larson said. "The restarts were crazy and I was just being safe. It probably cost us a little bit, but we still got a top-10 out of the day and some decent stage points. So, all-in-all, it wasn't a bad day."
Larson and the 42 team have been sneakily consistent leading into the postseason, so a top 10 outing at Vegas should not be that surprising. In 6 of the last 8 races of the Regular Season, the 42 came home in the top 10. If this level of performance can remain constant, then Larson could have a prolific run in these Playoffs. However, it's now been over 2 years since Larson's last win. A victory would truly put this 42 team on the right path.
Logano Recovers, 3 Penske Cars all in Top 10
After being turned by Suarez into the outside wall, Joey Logano went from a race-winning car to back in the pack. After some repairs, the 22 was fast enough to come home in 9th. Logano led a race-high 105 laps and won Stage 1, so overall Vegas was a good showing for the 22. But Joey's chances at a Las Vegas win went up in smoke mid-race. "We just didn't have a chance to fix it as good as it needed to be and as good as it was before that," Logano said. "I don't think we could because aero means so much here. They fixed it as good as they could to recover with a top-10. Our car was so fast and I feel like we had a chance of winning it but we just kind of got shuffled into everything."
If the 22 can retain the speed and execution evident from Vegas, then the field should beware. Logano was arguably the best car all night long, as he was in contention to win both stages and the race. A small slip up is what resulted in Logano making contact with Suarez, a simple mistake on Logano's part. Expect Logano to win in these Playoffs, as he looks to defend his 2018 championship.
Newman's Grit Won't Quit
After slugging it out all Regular-Season long to just make the Playoffs, Ryan Newman delivered a top 10 in Vegas. Newman is in the thick of the cut line battle for the Round of 12, as he currently sits 6 points out of a transfer spot. "We needed track position but most importantly we needed to get our Oscar Meyer Ford Mustang tightened up," Newman said. "The guys finally did tighten me up towards the last run. We still finished loose but we fought really hard with being loose all day long and this is not a good place to be loose. It is a challenge. I am surprised we were as loose as we were but we had a good car and made some decent points but not the day that we wanted to have."
Much of the talk coming into Las Vegas surrounding the 6 team was about their lack of speed. While Newman missed out on Stage points, he ground it out to finish strong in classic Newman fashion. He is not out of contention for possibly points-racing his way into the Round of 12, as the next 2 weeks are sure to get tight around the cut line.
How to Watch the Next Race
Playoff race 2 for the NASCAR Cup Series is the short track in Richmond, Virginia. With 6 wins at this facility, Kyle Busch should be the man to beat. Coverage of the Federated Auto Parts 400 is this Saturday, September 21st, starting at 7:30 PM EST on NBCSN, MRN, and SiriusXM NASCAR Radio Channel 90. While Kyle enters Richmond as the favorite, 400 laps will decide the winner on Saturday night.
Written by Peter Stratta
Be sure to follow us on Youtube and Twitter.
Be sure to follow the writer on Twitter.
Photo credit to NASCARMedia