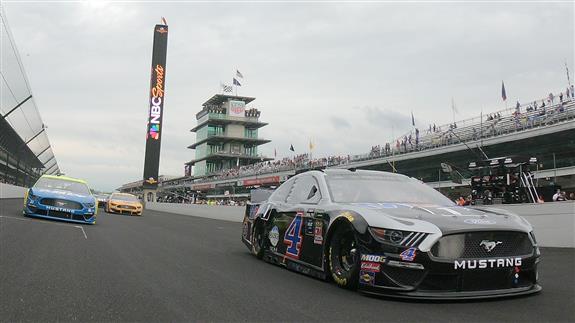 Kevin Harvick Hopes For More Success In Las Vegas
As we head into the Playoff opener this weekend in Las Vegas, the driver of the #4 seems to be finding speed at the right time. Kevin Harvick went winless in the first 19 races of 2019 with 14 finishes outside of the top-five. To compare that with the year before, Harvick had already claimed 5 wins and 14 top-fives prior to New Hampshire in 2018. Now ever since his first win in late July, Harvick seems to have gotten his season back on track. With an additional 2 wins following New Hampshire and top-tens in 6 of the last 7 races, Harvick has put his name back in the championship talk.
"I think we've definitely made some strides in getting where – closer to where we want to be,'' Harvick told the media. "I think we still have some things that we have to work on at certain styles of race tracks. But this is survive and advance and you don't necessarily have to have the fastest car."
Harvick even elaborated on how with this package you don't need the best handling car to win.
"We had the fastest car," Harvick told media after his win in Indy. "Maybe not the best handling car, but we survived and really a day like today is a lot like how you're going to have to approach every race in the Playoffs.''
Kevin Harvick's Las Vegas Stats
Kevin Harvick has made 20 starts at the Las Vegas Motor Speedway. In those starts, he's found victory lane twice and has 1 pole from earlier this season.  Along with those stats he also has 6 top-fives and 9 top-tens. His average starting position is 17.1 and his average finishing position is 14.8. Tonight he'll be looking to grab his 3rd win in Sin City. A win in Vegas would also be Harvick's second victory in Playoff race 1.
The Mobil1 4 Mustang is looking for back-to-back victories after domination from Indianapolis. Do you think Harvick will be the fastest in today's South Point 400? Or will he have to throw the dice and gamble for another Vegas win? Find out at 7 PM EST on NBCSN when he rolls off from the 2nd starting spot.
Written by Noah Lewis
Be sure to follow us on Youtube and Twitter.
Be sure to follow the writer on Twitter.
Photo credit to NASCARMedia.