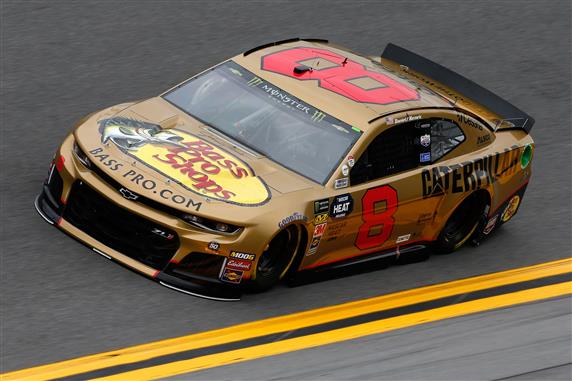 Daniel Hemric Released From 8 Car at Richard Childress Racing
Announced via a statement on Tuesday, Richard Childress Racing exercised their option to terminate Daniel Hemric's contract. This leaves the No. 8 Chevrolet Camaro team without a driver beyond 2019. All signs point to Tyler Reddick taking over this ride though. After just 1 season in the Cup Series, Daniel Hemric is left looking for a new ride.
Hemric's Rookie Year Stats
In his first campaign at NASCAR's highest level, Daniel Hemric currently leads Rookie of the Year standings. To date, Hemric has 1 top 5, 2 top 10s, 15 laps led, and an average finish of 22.7. With his current position of 25th in points, Hemric will likely be awarded Rookie of the Year honors in 9 weeks over Ryan Preece and Matt Tifft. Hemric's best finish so far has been 5th at Talladega in April.
While 2019 was Daniel Hemric's first season in the Cup Series, it was not his first year with RCR. For both 2017 and 2018, Hemric drove RCR's No. 21 Chevrolet in the Xfinity Series. In 6 career Xfinity starts, Hemric earned no wins, but also 23 top 5s, 39 top 10s, and 2 appearances in the Championship 4. If not for early mechanical issues in the 2017 Homestead finale, Hemric may have been that year's champion. His 2 championship results in Xfinity competition were 4th and then 3rd.
Prior to his Xfinity career, Hemric spent 2 full seasons in the Truck Series, including a stint with Brad Keselowski Racing in 2016. Hemric's best finish in the Xfinity Series was 2nd 4 times, he also matched that result twice in the Trucks.
Fallout From 8 Team's Opening
According to reports from Adam Stern and others, Richard Childress Racing will soon announce that Tyler Reddick will take over the 8 Cup car. Reddick, 23, is the 2018 Xfinity Series champion. He has the chance to defend that title this year, as he already has 5 wins in 2019. Reddick's 5 victories include last week's Regular Season finale at Las Vegas. With Reddick likely moving up to Cup, next year's rookie battle between Reddick and Christopher Bell may be an all-time classic. In similar fashion to Hemric a year ago, Reddick has made 2 Cup starts this year. His best result has been 9th at Kansas.
On the flip side of this announcement is the current occupant of the 8 car, Daniel Hemric. Hemric, 28, will leave RCR at the end of this season with 38 career Cup Series starts. Since the Cup Series lineup quickly taking shape for 2020, Hemric may be on the outside looking in. Could we see Daniel Hemric return to a lower series? It is possible, considering that he has yet to win a NASCAR national series race. Daniel Hemric is a very consistent driver, he can get his equipment to the finish and hardly drives over his head. Should Hemric stay in the Cup Series? Yes, but he may have to work his way back to Sunday racing. Stay tuned to see where Daniel Hemric ends up for 2020, as silly season is in full force now.
Written by Peter Stratta
Be sure to follow us on Youtube and Twitter.
Be sure to follow the writer on Twitter.
Photo credit to NASCARMedia