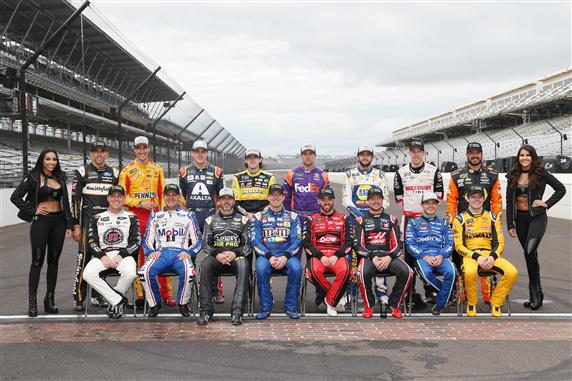 How the Playoff Standings Look Heading into the Regular Season Finale at Indianapolis
25 races into the 2019 NASCAR Cup Series season, only 2 spots remain for the 16-man Playoffs. These last 2 positions will be decided this weekend at the Regular-Season-ending Brickyard 400. After having 10 different winners lock in, the battle for the last Playoff spots are as close as ever. Who enters Indianapolis Motor Speedway on the offense, and who has to race defensively? In terms of points, 4 men are racing for the final 2 positions. However, an upset winner in the regular season finale could turn the Playoff grid on its head.
Clint Bowyer (+8)
After top 10 results in the last 2 weeks, Clint Bowyer finds himself narrowly inside the Playoffs at 15th. With just an 8-point cushion going into the Regular Season finale, Bowyer must be cautious yet also has to finish the race. The 14 team in 2019 has been plagued by bad luck in several race's midpoints. This has constantly set them further back in the finishing order. If the Kansas native can have a clean race and maintain, he will make an 8th-career Playoff appearance.
Near-Catastrophe for Bowyer in Darlington
Bowyer should feel lucky to have any cushion at this point, as the summer months have not been kind to the 14. A chance at a strong result was nearly erased late in Stage 2 at Darlington, when Bowyer and Jimmie Johnson were racing hard fender-to-fender.
"You're just holding on when that happens," said Bowyer. "I pushed it too hard the front side of that run in clean air. That was our deficit all weekend long, front turn. That's been the M.O. for us in our organization, we've been constantly fighting that. That was a lesson learned there. I pushed too hard there trying to get Stage points and it cost me. I lost 3 or 4 spots at least, then was just holding on and defending at the end there in the situation with Jimmie. He's trying to make the Playoffs and so are we, doing everything we can. You don't want to race those guys like that, he's a good friend of mine, but that's all out the window when you're on the racetrack."
The 14 Stewart-Haas Racing Mustang will likely have the most speed of the 4 bubble drivers in the Regular Season finale. With this speed they have shown consistently this year, a clean race will lead them to a top 10. Bowyer and his team just need to remain mistake-free, stay out of other's problems, and not force the issue. With a potential contract year still looming over Clint Bowyer, making the Playoffs may be do-or-die for him.
Daniel Suarez (+0)
In his first year racing for Stewart-Haas, third-year driver Daniel Suarez hopes to make his first-career Playoff showing. The 41 team has had speed at times this season, but has fought inconsistent finishes as well. Currently in the postseason on a tiebreaker, the 41 has to out-duel Newman and Johnson if Suarez is to capitalize. An attempt at all 4 SHR Fords making the Playoffs is still possible, but there was a snag for Suarez at Darlington.
While racing Ryan Newman for position, Suarez made slight contact with the 6, spinning him out. Newman made the proclamation to the 41 that "I owe him probably a little something, what goes around comes around." Expect the 6 to race the 41 extremely hard if they are around each other at any point in the Regular Season finale.
For Suarez, the idea of having no points cushion does not change his mindset for Indy. "I think that makes things a little more interesting," Suarez said. "It's going to be a lot of fun going to Indianapolis and having to go all in against Clint Bowyer, Ryan Newman, and Jimmie Johnson. Those are 3 drivers I respect a lot and they have a lot of experience too. I think we'll race extremely hard all the way to the end."
With the hit-or-miss performance of SHR this year, Suarez should have a top-10-capable car on Sunday. However, the prospect of a mad Ryan Newman having it out for the 41 may diminish his Playoff hopes. 400 miles on Sunday separate Suarez from his first appearance in the NASCAR Cup Series Playoffs. Whether this driver and team excel or crumble under the immense pressure remains to be seen.
Ryan Newman (-0)
A true workhorse in every sense who refuses to quit, Ryan Newman is far from a stranger when it comes to making the Playoffs on points. While the Roush-Fenway Racing 6 team has not shown race-winning or even top 10 speed at times this year, Newman and this team continually grind it out to solid results. Newman has yet to finish worse than 25th this year, while those around him in points have suffered major stumbles.
"What happened tonight was unfortunate," Newman said after Darlington. "We got spun, came back, but lost some points today. We got a lot of fight in us though, and we'll go into the Regular Season finale here and fight."
If Indianapolis is the status quo for Newman, expect to see him in the 10th-to-16th range all race long. Should strategy come into play, Newman could be in store for a top 10 result. If he simply out-races Suarez, he should make it in. After last week's contact however, Newman may not be as clean when it comes to racing the 41. If the 6 can stay on track and pointed forward all day, it should be a tight battle against the 41 for the 16th postseason spot.
Jimmie Johnson (-18)
Perhaps the biggest disappointment of a year for any driver in the Cup Series, Jimmie Johnson faces potentially missing the Playoffs for the first time ever. The 7-time champion enters Indianapolis 18th in the standings, 18 points below the cut line. If there is any solace for the 48, it is how they performed in the early Stages at Darlington. Johnson was a top-5 car all night long until being involved in a late incident and having nowhere to go. If the 48 team can bring another fast car to Indianapolis and stay clean over 400 miles, Johnson could be in for a Herculean recovery. At 18 points back however, Johnson must score points in both Stages, hope one or more of the drivers above him stumble, and even may still have to win at Indy.
"I had at least 15 years with a lot of luck on my side, 7 years of championships and having 2 or 3 bad ones is just part of it," Johnson said. "We're getting closer and tonight we showed it, from the way we qualified to how we ran in those stages. I was running fourth when that accident took place in turn three and I just had nowhere to go."
Johnson's Roller-Coaster Year
"We are running out of days and if we miss it, it's just going to be by a few I believe. If I look back over the first half of the season, I see a lot of races where we gave away a few points. So, it's kind of unfair to put all the pressure on one race in Indy. But it is what it is and we are going to go there to win a race. I felt like we could have been a top 3 or 4 car and really help ourselves, but it is what it is. We'll go to Indy and see what happens."
For the man who has won 7 championships under a Playoff format, missing the field of 16 seems impossible. However the 48 has not been their former selves, winning races and championships with ease. It all comes down to Indianapolis for the 7-time champion, a race that he has won on 4 previous occasions.
After Darlington, 4 drivers were high enough in points to clinch a Playoff berth 1 week early. Kyle Larson, Ryan Blaney, William Byron, and Aric Almirola will head into the Regular Season finale care-free. The 4 drivers mentioned above are in a vastly different position, as their seasons are all on the line. Tune into NBC on Sunday at 2 PM EST to see who will be the final 2 teams in the 2019 Playoffs. One thing is certain, we are in for a dramatic and tight battle for points at Indianapolis.
Written by Peter Stratta
Be sure to follow us on Youtube and Twitter.
Be sure to follow the writer on Twitter.
Photo credit to NASCARMedia