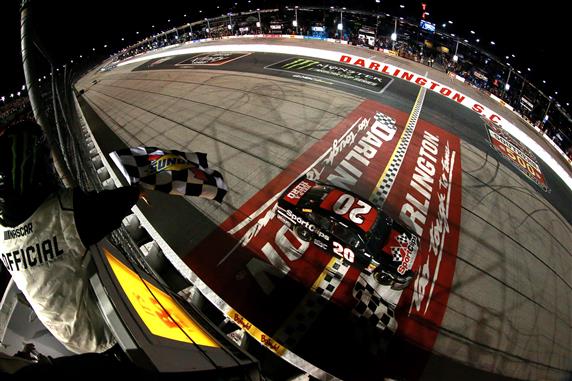 Rain-Delayed Southern 500 Leads to Second Career Win for Erik Jones
While a 4-hour rain delay pushed the Southern 500 to an early Monday finish, the on-track action was worth the long night. Over the course of the final 41 circuits, Erik Jones was driving the laps of his life. His mentor and current points-leader Kyle Busch made it anything but easy sailing for the 23-year-old however. After a late mistake by Busch though, Jones would cruise on to his first victory of 2019 as well as his second career win.
Veterans Up Front Early
Although Southern 500 history was made by William Byron becoming the youngest-ever polesitter, the 24 City Chevrolet throwback would not stay up front. On the initial start, it was Brad Keselowski who got away with the lead. The defending Darlington winner, Keselowski would hold serve. This changed on lap 20, when Kurt Busch motored his way by the 2. While one Busch brother was leading the way, another one was digging himself out of a hole. Due to an engine change, Kyle Busch started in the rear. By lap 28, the 18 would already be up to the 15th spot. This opening run would last until a competition caution on lap 35.
Despite the competition yellow, Kurt Busch retained control of the Southern 500 on the ensuing restart. He was one of several Chevrolet drivers up front in the early laps, as William Byron, Kyle Larson, and Jimmie Johnson all had strong opening stints.
2 Tires Put Elliott Up Front
As expected when the yellow flew again on lap 69, all of the leaders came in for tires. By taking just 2 tires, the 9 of Chase Elliott just edged out Kurt Busch to take over the top spot. The 9 Camaro would get the jump on the restart but not by much. Just 5 laps later, Kurt Busch retook the lead by charging low into turn 1. The 1 was demonstrating great fire-off speed and had the field beat in the opening Stage.
With the advantage of 2 tires being very short-lived, Elliott would fall back to 6th by the end of Stage 1. Ahead of him, Kurt Busch earned his 3rd Stage win of the year. In addition, Jimmie Johnson scored 9 valuable points by finishing Stage 1 in 2nd. Also by the lap-100 Stage end, Kyle Busch had rallied up to 4th.
Ganassi Looking Great in Stage 2
Under Stage break pit stops, the lead would be handed to Kyle Larson for the first time. With Darlington's fastest line being right up against the wall, many had Larson pegged as a prerace favorite. When the green fell on Stage 2, Larson rocketed away from the pack. However, he was far from sailing smoothly, as teammate Kurt Busch began to cut down the 42's lead.
Playoff-Disaster Averted By Newman
The opening run of Stage 2 would come to an abrupt end with a lap 142 caution. The catalyst for this yellow was the 41 of Daniel Suarez making slight contact with Ryan Newman, sending the 6 spinning through turn 2. With Newman and Suarez both being right on the Playoff bubble, the fact that he spun and did not hit anything was a miracle. Newman ended up losing a lap but was able to continue onward.
Kyle Busch Out Front
This caution was also significant for another reason; the lead changed hands again on pit road. Kurt Busch just edged out the 18, setting up a Busch brothers restart.
On the lap 146 restart, Kurt Busch held serve over Kyle. This lead for the elder Busch would be short-lived however. Under caution for Corey Lajoie spinning, Kyle would pass Kurt in the pits. The lap 163 restart would be the final one for Stage 2, as Kyle surged ahead. Kyle's lead would grow in excess of 4 seconds when a lap 197 yellow brought the end of Stage 2. Stage 2 at Darlington would be the 10th Stage win of 2019 for the 18, as he was in position to lock up the Regular Season championship.
The last run of Stage 2 also saw tire issues for a pair of prerace favorites. First Joey Logano cut a right rear wheel on lap 172. Thankfully the 22 would make it to the pits without issue. Then just laps later the same issue afflicted Martin Truex, Jr. This sequence of events would put both drivers 1 lap down.
With the clock ticking past midnight, the lead did not change under Stage break pit stops. Kyle Busch retained his spot, but now Erik Jones was right on his tail. For the restart, Busch accelerated away from his young teammate. For a duration of this run, Denny Hamlin made it a 1-2-3 running order for Joe Gibbs Racing.
The Big One at Darlington Shakes Up Order
A cycle of green flag pit stops would unfold at this time, but it did not affect the order of the front runners. Calamity would snare a few of them however when a big crash occurred on lap 276.
Going into turn 4, Daniel Hemric suffered a flat left rear tire. While spinning down the banking, the 8 car found the 11 of Hamlin, who was in the top 5. The 11 would clip Michael McDowell, sending the 34 hard into the wall. Also suffering damage in the melee were Jimmie Johnson, William Byron, and Kurt Busch. Luckily only Hemric and McDowell were done for the day, but a chance at a strong finish was gone for Byron and Johnson. After scoring much-needed points in both Stages, Johnson would be unable to close out his strong night. The man who has never missed a Playoff in his career is not quite in a must-win scenario for the Regular Season finale, but he must close out at Indy.
Close Racing on Last Restart
Under pit stops for this caution, the lead once again changed hands, with Larson beating out Erik Jones. Busch would fall from the lead to 4th on pit road. The race would resume for the final time with 86 laps left. Larson got the jump on the restart but Jones would not subside. A big push from the 18 allowed the 20 to briefly take the lead, but momentum allowed Larson to drive back around him. However, the 20 stayed in the fray and cleared the 42 next time by in turn 1.
Jones would lead until his final green flag pit stop on lap 320. He was able to cycle out ahead of Busch by 4 tenths, and the race for the win was on. As laps ticked away, the leaders were quickly in the thick of lapped traffic. Joey Logano would allow Busch to close in as he held up Jones for a lap, but the lead remained unchanged. While lapping cars with 3 to go, the 18 pounded the wall off of turn 2. The 18 was unable to keep pointed forward without further wall contact, as he rode the fence down the backstretch.  This allowed Jones to pull away for the victory, and Larson got by for 2nd. After leading 79 laps, the 70th annual Southern 500 would mark a second career win for Erik Jones.
Significance of Second Career Win for Jones
In a year where Erik Jones has been at the center of speculation involving the future of JGR, a win at this time is very clutch. This win, coincidentally coming in his 100th start, puts him in the Playoffs for the second time. Scoring a second career win in the Southern 500 is a rarity, especially for a driver only at 23-years-old. With this win, Jones has 3 top 10s at Darlington in just 3 starts. His worst finish at The Track Too Tough to Tame is 8th. As a result, Jones' Darlington average finish of 4.7 leads all active drivers and is 3rd-best in Darlington history. His second career win is also his first victory in a crown jewel event.
"Darlington is funny for me," said Jones. "I've never really listed it when people ask me my favorite tracks, it's never on that list. But I've always felt comfortable here, other than maybe my first start in Xfinity was a little rocky. The Cup races have been really smooth and we've had good cars. I've felt like I've really been able to work the track my way and get our cars handling the way I want them to."
Winning any race in the Cup Series is a special moment, but for Erik Jones beating Kyle Busch has added weight. Busch is the man responsible for discovering Jones' driving talent. Jones won a Truck Series championship for Busch back in 2015. The 2 of them also dueled for the Bristol night race in 2017, with the win going to Kyle. That came after Jones led 260 laps. Being just 23-years-old, Jones becomes the second-youngest winner in the Southern 500. Oddly enough, Kyle Busch is the youngest victor at Darlington, winning just days after his 23rd birthday in 2008.
Other Notables in the Top 10
4 seconds behind Jones was Kyle Larson, tying his season-best result. After Busch hit the wall, Larson was hoping for another opportunity at the win "When the 18 blew his tire I was hoping they were going to throw a caution before we got the white flag," Larson said. "Just to give me another shot, I figured we would either come off as the leader or 2nd place, so I wanted a yellow but didn't get it."
Larson is one of 4 drivers who clinched a Playoff spot on points. Along with Larson, Ryan Blaney, William Byron, and Aric Almirola are all in the postseason 1 week early.
Bittersweet Result for Busch, Regular Season Championship Clinched
After blowing a tire while chasing Jones, Kyle Busch limped it home in 3rd place. With this finish, Busch clinched the Regular Season championship. It is the second-straight year where the 18 has won this honor, earning 15 extra Playoff bonus points.
"I mean it's good to be the Regular Season Champion," Busch said. "Obviously we set out to do that here a few weeks back, we knew when the 22 passed us that it would be a difficult lead to get back, but fortunately we went back into Stage racing a bit more, trying to get more points. That helped us, and they weren't able to capitalize on Stage points. It's good to get the Regular Season Championship and those 15 bonus points again, that's what we set out to do. We've got 1 more week here with the Brickyard 400, going to try to win that one and then the race starts." The 15 point advantage will be huge for Busch, as the 18 attempts to make the Championship 4 for the 5th-straight year.
Harvick Left Wondering After Consistent Finish
Earning a position to match his car number, Kevin Harvick finished the Southern 500 in 4th place. In an uncharacteristically off weekend for the 4, Harvick was left scratching is head post race. "I don't think our lack of handle was really anything that was one spot," Harvick said. "All weekend we just struggled with the front of the car. Really they did a great job to do the things that we did tonight, to finish 4th. They made the car better all night, we just had a solid night." Harvick heads into the Regular Season finale 4th in points, with a chance to earn the 3rd spot.
After firing off strong at the initial start, defending Southern 500 winner Brad Keselowski did not repeat. The Penske 2 team ended Darlington in 5th, with a significant detriment all race long. "We just didn't have the long run speed," Keselowski said. "We took off really well, led some laps, then just couldn't keep it straight." This top 5 result is Keselowski's 4th at Darlington.
Momentum Builder for Bowyer
The highest finishing of the Playoff bubble drivers, Clint Bowyer came home 6th. With an 8-point advantage heading into the Playoff-deciding race at Indianapolis, Bowyer is optimistic. However, the 14's Darlington race nearly ended prematurely when Jimmie Johnson got loose under Bowyer late in Stage 2. This moment cost both Bowyer and Johnson a few spots and Stage points.
"You're just holding on when that happens. I pushed it too hard the front side of that run in clean air. That was our deficit all weekend long, front turn. That's been the M.O. for us in our organization, we've been constantly fighting that. That was a lesson learned there I pushed too hard there trying to get Stage points and it cost me. I lost 3 or 4 spots at least, then was just holding on and defending at the end there in the situation with Jimmie. He's trying to make the Playoffs and so are we, doing everything we can." Clint will head to Indianapolis 15th in points, just 8 markers above the cut line.
Coming back to 7th after being involved in the big crash, Kurt Busch left Darlington relieved at his team's recovery. "I though our Chevy was going to be bulletproof," said Kurt Busch. "But I just got caught up choosing the wrong lane at the wrong time, with cars wrecking everywhere ahead of me in turn 4. That damage put us behind, and we were able to dig back up to 7th, so I'm happy with where we finished, with the laps we led early too." Despite being involved in Darlington's all-time greatest finish, Kurt Busch is still winless at 'The Lady in Black.'
A Sign of Things to Come for Dibenedetto?
Scoring back-to-back top 10s for the first time in his career, Matt Dibenedetto was all smiles after Darlington. With the news that he is out of a ride for next year, he is still actively searching for any driving opportunity. "My whole life's been auditioning," said Dibenedetto. "I don't ever drive any different, I just give the team everything I have. I'm still focused on giving this team everything I got, because they invested a lot in me to give me this opportunity. I always drive the same in a racecar, whether it's a Cup car or a go kart, I've learned you give 110% every lap."
'Guido' is arguably the top driver still in free-agent status for 2020, it will be interesting to see where he ends up and when he finds another opportunity. Teams will see Dibenedetto as a hot commodity, as it appears that his first career win is coming soon.
Surprise Names in Back of Top 10
Earning just his 3rd top 10 of 2019 in 9th was Paul Menard. Darlington in particular is always a special race for Menard's team, Wood Brothers Racing, as it's one of their most successful venues. "It was an up-and-down night," said Menard. "We took big swings with balance, even with the whole race being in darkness. It wasn't like the track went through the transition we were expecting, but we fired off really tight. Fairly normal adjustment made us very loose, then we got tight again without an adjustment. We had some inconsistencies in tires but basically just freed it up all night long. Greg made a great call, got us track position, and I hung on."
Menard will head to the site of his only Cup Series victory, Indianapolis Motor Speedway, looking for a second career win. The 21 car is in a must-win scenario to make the Playoffs, currently 19th in points.
Dillon Delivers Long Awaited Strong Finish
Rounding out the top 10 from the Southern 500 was the 3 car of Austin Dillon. For Dillon, Darlington was his first top 10 since Chicago in June. Dillon was beyond relieved to finally score another strong result. "It has been a long time," Dillon said. "It felt good to come home with a top 10 there at the end, but you're always wanting more. Our car didn't take off really well all night, but man we were good on long runs, strong at the end of the run. I made some moves there at the end, hoping to keep it in the top 10, just proud of the guys. It's been hard mentally for everyone on the team, across the board. I'm glad everyone stuck with us, it was nice to turn in a good run."
Heading into the Regular Season finale, Austin Dillon and the 3 team are also facing a must-win to make the Playoffs. Dillon's summer plunge has seen him fall from 13th to 23rd in the standings, so this top 10 was a refreshing glimmer of hope. His best finish at Indianapolis is 9th, back in 2016. Dillon's only path to his 4th career Playoff appearance is to win.
How to Watch the Next Race
With 14 Playoff spots now occupied by winners or clinched on points, the Regular Season-ending Brickyard 400 has the last 2 spots at stake. NASCAR's 26th trip to the world's most famous speedway is this Sunday, September 8th, at 2 PM EST. Coverage will be on NBC, PRN, and SiriusXM NASCAR Radio Channel 90. With 2 Playoff spots up for grabs and the cut line currently being tied, drama could be sky-high in the postseason deciding race.
Written by Peter Stratta
Be sure to follow us on Youtube and Twitter.
Be sure to follow the writer on Twitter.
Photo credit to NASCARMedia