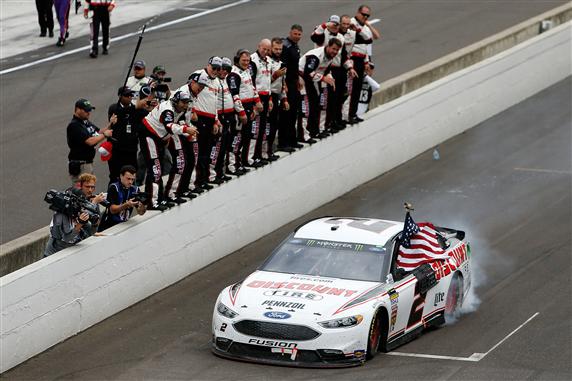 Brad Keselowski Is Looking For Two Straight Victories At Indy
Team Penske and Indianapolis Motor Speedway go together like peanut butter and jelly. In the IndyCar Series, the team is responsible for 18 Indianapolis 500 victories, including this season's race with Simon Pagenaud. Though in NASCAR it wasn't until last season's win by Brad Keselowski that the team found winning success. Now as we approach this weekend's race, Team Penske is ready to retain their crown of dominance in both series.
In Brad Keselowski's two most recent races at the Brickyard, he's scored a 2nd and 1st place finish. Now he's looking to join an elite group of Jimmie Johnson and Kyle Busch to score back-to-back wins. With 3 wins already this season, Keselowski is coming off a streak of top 10s in 5 of the last 6 races. He's also had 2 straight top 5s at Bristol and Darlington.
"It's incredible, last year I lost this race almost exactly the same way," Brad said in victory lane last year. "It feels really good to make up for it and to get Roger Penske his first Cup car win here at the Brickyard. It's an incredible feeling and I'm so happy for Team Penske." In last year's Brickyard 400 win, Keselowski only led 9 laps. This stat is an all-time low for laps led by a Brickyard 400 winner. Keselowski and the 2 Penske team hope to continue their winning ways.
Brad Keselowski's Indianapolis Stats
When looking at stats, Brad is no fluke when it comes to racing at Indy. In his 9 starts, he's claimed 1 win, 2 top 5s, and 5 top 10s. His average start is 11.8 and his average finish is also 11.1. With this year's new package making its Indianapolis debut, it may better suit Brad's driving style. NASCAR is hoping for a race where drafting will play a factor-similar to superspeedway racing, something Keselowski has done exceedingly well with. It will be interesting to see if the change will help or hurt the performance of the 2 car. In the two practice sessions this weekend, Brad was 3rd and 13th on 1-lap speeds.
Do you think Brad can find victory lane again this weekend? Will Team Penske sweep both NASCAR and Indycar races at Indianapolis for the second year in a row? Find out when the Brickyard 400 goes green at 2 PM EST on NBC.
Written by Noah Lewis
Be sure to follow us on Youtube and Twitter. 
Be sure to follow the writer on Twitter.
Photo credit to NASCARMedia.