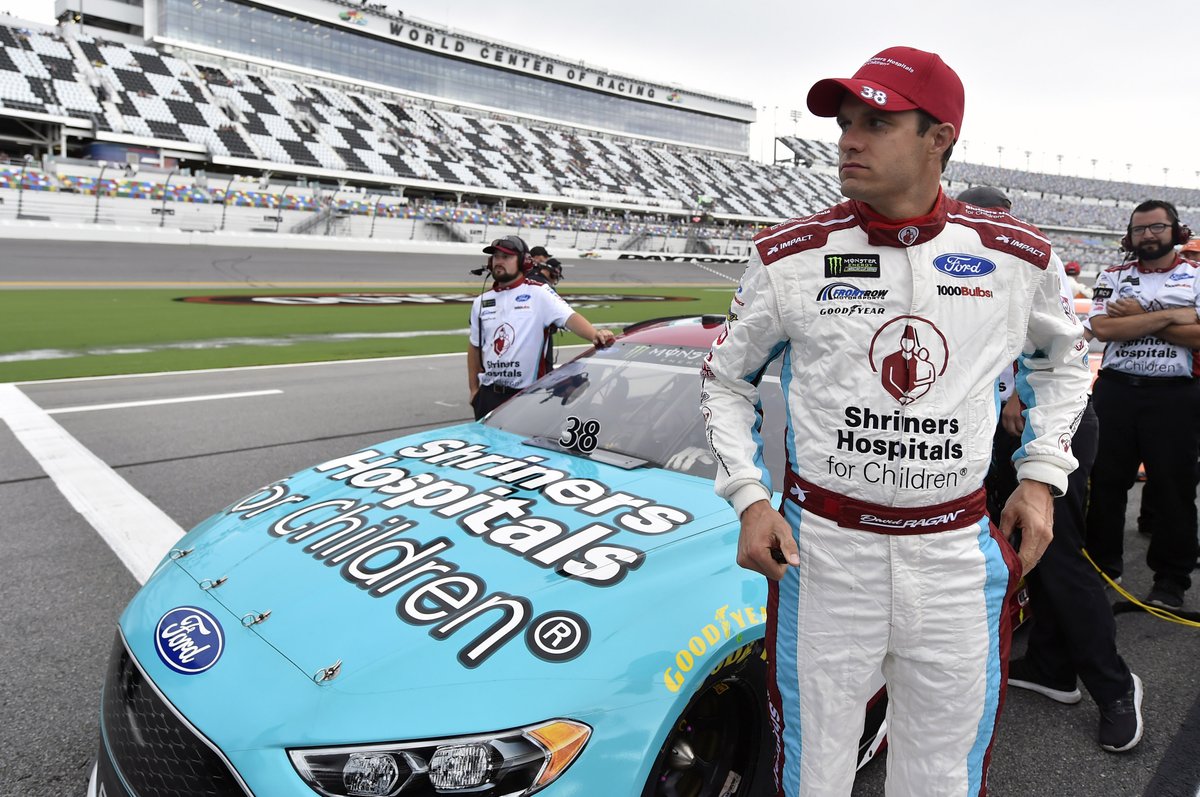 David Ragan Announces Retirement From Full-Time NASCAR Cup Series Racing
In just the latest twist of NASCAR silly season, veteran driver David Ragan made it known that 2019 will be his last season of full-time racing. Ragan's announcement comes after a career that has spanned 15 seasons, and seen him win 4 times in Cup or Xfinity competition. Ragan will be vacating the number 38 Ford Mustang at Front Row Motorsports. Ragan, 34, will continue to compete in racing on a part-time basis however. This will be at his discretion and in multiple different series. As for his reason for stepping away, Ragan wants to spend more time with his family. Ragan and Front Row released the following statements on Wednesday.
Ragan's Announcement in His Own Words
"I've prayed and heavily considered this decision," said Ragan. "But for my family, I believe this is the right thing to do. I am a husband and a father to two young girls first, and I am a driver second. To compete in what I consider the greatest series in the world, you need full dedication of your time and focus. My children are growing up quickly, and I want to concentrate my time on being the best father and husband I can be. I feel this is where God is leading my life, and therefore I'm making this decision."
"There aren't enough words to thank everyone who's helped me in my career and to all the fans who have supported me in this journey," Ragan continued. "It's not over, but I'm ready to spend more time at home."
Bob Jenkins Gives Thanks to Ragan
Simultaneous to Ragan's message, Front Row Motorsports team owner Bob Jenkins also released a statement. Ragan was responsible for bringing FRM their first win at Talladega in 2013. That day was a 1-2 finish for FRM, with David Gilliland finishing right behind Ragan. Jenkins had the following words of gratitude.
"We admire David for making what I'm sure was a very difficult decision," said Jenkins. "We also commend him for his reason. David has always put family first, and as a father, I understand what it's like to not be at that game or big event for your child. Throughout his time at Front Row Motorsports, David has always gone beyond what was asked of him- or even volunteering his time to help grow our team. Now it's time for him to give some of that back to his family and we totally support that. Our doors are always open for David and we'll miss seeing him every week."
For the remainder of his full time NASCAR career, Ragan has 13 races left. He currently sits 30th in the championship standings, with a best result of 15th at Charlotte. His 2019 stats include 4 top 20s, an average start of 22.5, and an average finish of 26th.
Career Highlights For Ragan
Ragan has made 457 Cup Series starts to date, racing for FRM in 6 of the last 8 seasons. 2015 saw Ragan pilot the Joe Gibbs Racing 18 M&M's Toyota for 9 races as substitution for the injured Kyle Busch. After Busch's return, Ragan would race the remainder of that year for Michael Waltrip Racing in the 55 Aaron's Toyota. 2016 would also have Ragan in the 23 Dr. Pepper Toyota at BK Racing. Since 2017, Ragan has been a constant in the FRM 38.
Prior to FRM, the Unadilla, Georgia native got his big break at Roush-Fenway Racing. While racing the number 6 Ford, Ragan had a heartbreaking loss at the 2011 Daytona 500 for changing lanes too early on a late restart. Ragan would see retribution in the next trip to Daytona though, scoring his first career win in the Coke Zero 400. Ragan's time at Roush also produced 2 Xfinity Series wins, both coming in 2009. David Ragan's best finish in the Cup Series championship also came at this time-13th back in 2008.
Is Ragan This Generation's Ultimate Underdog?
David Ragan will go down as one of the most high-profile underdogs in NASCAR history. His humble racing roots from north Georgia landed him a ride at powerhouse Roush-Fenway Racing, where he did win at Daytona. As a result, recent years have seen Ragan gain the respect of the garage as a talented superspeedway racer. Ragan has also been a new fixture on the Fox Sports 1 program NASCAR Race Hub as a guest driver analyst. Whether or not his television duties will continue remains to be seen. For his racing future, the extent of his part-time driving is also in limbo. He would be a great addition for any team at Daytona or Talladega, given his plate racing prowess. One thing is for certain though, the NASCAR garage will miss David Ragan's warm presence on a weekly basis.
Ragan is Close To Completing the 'All 40 Challenge'
David Ragan finds himself in a rare position for NASCAR Cup Series drivers. For the duration of his 12 years at the top level of racing, he has finished in nearly every position in a race. In fact he has just 1 finishing position he has yet to achieve-9th. Can David Ragan finish in 9th place before the season closes, completing the 'All 40 Challenge?'
What's Next For FRM?
Along with this news, FRM did confirm that they will remain a 3-car team in 2020. Their driver lineup is yet-to-be determined, as Ragan's absence creates an open seat in their 38 team. FRM's other 2 drivers Michael McDowell and rookie Matt Tifft are likely to remain with the team. Stay tuned to see which driver will inherit the 38 as silly season rolls on. With August nearly over, news of drivers and teams switching around will only ramp up as the Playoffs approach.
Written by Peter Stratta
Be sure to follow us on Youtube and Twitter.
Be sure to follow the writer on Twitter.
Photo credit to @FordPerformance via Twitter