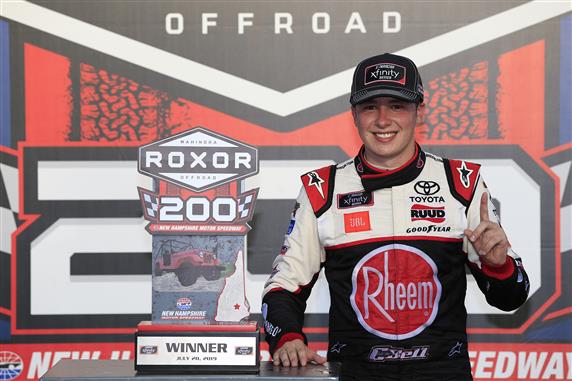 Christopher Bell Is Expected To Race For Leavine Family Racing In 2020
When thinking of the upcoming NASCAR Cup stars, the first name that comes to mind is Christopher Bell. The 24-year-old out of Norman, Oklahoma, has proven himself worthy of the next step in his career. In his 62 Xfinity Series starts for Joe Gibbs Racing, Bell has claimed 13 wins and 40 top 10s. Now as this season begins to wind down, questions have begun regarding where Bell will be next season.
Dibenedetto Reveals Departure From LFR Following 2019
On Thursday, Matt Dibenedetto, driver of the 95 for Leavine Family Racing, revealed he won't return to the team next season. In his announcement, he made it apparent that he didn't wish to leave the team but still wishes them the best moving forward.
"I got the devastating news that I will not be able to return to Leavine Family Racing next season," Matt shared on social media. "Nonetheless, I can't express how thankful I am for Bob, Sharon, Matt Diliberto and everyone at LFR and Toyota for allowing me to do exactly what I set out to do, which was showcase my talent. Although this is a difficult time for me, nothing is going to stop me from winning in the NASCAR Cup Series. I'm hopeful there is a team out there that will give me the chance to continue my dream and allow me to win for them."
Leavine Family Racing Looks To Be The Only Cup Option For Christopher Bell
As the news became official, all eyes looked toward Christopher Bell. With Levine Family Racing being a Toyota team affiliated with Joe Gibbs Racing, it would be a perfect place to put Bell while there's no room at JGR. Representatives of Erik Jones have said that they're close to signing another deal with Gibbs, which would eliminate the 20 as an option. Bell has also reported he'll be with Gibbs (or Gibbs affiliated team) in 2020 regardless of the Series. This leaves the 95 as the only real option for Bell to compete in the Cup Series.
Though things seem close to worked out, Bell told NASCAR that's not the case yet.
"It's still all up in the air," Bell told NASCAR.com. "There's a number of different cars that I could drive next year. Obviously, I could still run the Xfinity Series. I could go to the Cup Series. It's not in my hands right now. I just have to go out there and try to continue to win races. Ultimately, that's the only way I'm going to better myself."
He continued to comment on the speculation of racing at LFR.
"I don't know," Bell said. "That's tough for me to answer because right now I drive for Joe Gibbs Racing and the 95 is not a Joe Gibbs Racing car. So, we'll just have to see how it works out here in the next coming weeks."
Bell is correct, we will have to wait and see how it works out. But as of right now it seems the #95 is the top option to finally make his Cup Series debut.
Written by Noah Lewis
Be sure to follow us on Youtube and Twitter.
Be sure to follow the writer on Twitter.
Photo credit to NASCARMedia.