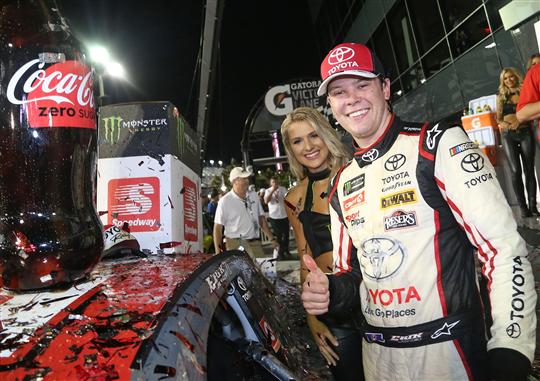 Can Erik Jones Score a Daytona Repeat Win?
A year removed from his first career win, Erik Jones has yet to win again in the NASCAR Cup Series. This weekend, he returns to the site of his first victory, Daytona International Speedway. Can the 23 year-old in the Joe Gibbs Racing 20 pull off a Daytona repeat win? The field of winners at Daytona is wide open. But the Michigan native still has his work cut out for him. Jones is far from a favorite heading into this weekend, but don't count him out just yet.
Jones' Mindset Facing a Chance at the Daytona Repeat
"I'm looking forward to getting back to Daytona," Erik Jones told NASCAR.com. "It's always cool coming back to a track where you are the defending race winner. Looking forward to the race and defending our win from last year." There is one glaring difference between now and last year's Daytona race for Jones however. At this time a year ago, the 20 team was 14th in points. They also had a large point buffer above the Playoff cut line. Now, the 20 is 17th in points 15 markers outside of the postseason. If Erik Jones is to make another Playoff push, it needs to start soon and he likely needs to win.
While Jones is currently on the outside looking in, he has been improving recently. The last 7 races have seen the 20 earn 5 top 10s, including 3 of the last 4 weeks. Jones' best finish to date this year is 3rd, which he scored at Daytona in February, Texas, and Pocono. His 3 other teammates at Joe Gibbs Racing all have multiple wins this year. In short, Erik Jones' time in victory lane may be nearing as the summer months go forward.
Jones Strong History at Daytona
While many drivers dread coming to Daytona, Erik Jones has seemingly taken well to competing on the 2.5 mile track. In 5 starts at Daytona, Jones has 3 top 10s, 2 top 5s, and an average finish of 17.6. In his follow-up appearance to the victory last July, he placed 3rd in February's Daytona 500.
Even though the Daytona summer race last season was Erik Jones' first career win, it is more remembered for the massive wrecks. Several key contenders were taken out of the race early on, eventually leading to Jones' victory. With the new rules package making its Daytona debut, expect a race similar to Talladega back in April. That race featured 3 major multi-car incidents, and with Daytona being a much narrower track the carnage could amplify. In order for Jones to win, he must position himself in the right spots to avoid the superspeedway racing chaos.
Jones Could Join Exclusive List
If Jones does survive until the end, we could see the 20 pull off a rare Daytona repeat performance. Overall, only 5 drivers have scored consecutive victories in the Coke Zero Sugar 400. Nobody has gone back-to-back in the Daytona summer race since Tony Stewart in 2005 and 2006. Fireball Roberts, AJ Foyt, Cale Yarborough, and David Pearson have all also achieved this feat. Erik Jones will have his chance at joining this elite list of drivers on Saturday night.
One thing is for certain whenever the Cup Series heads to Daytona; there will be plenty of fireworks on-track as well as off. Any stats for racing at Daytona could be rendered useless information by an upset performance. Be sure to tune into NBC this Saturday night to see who claims victory at the World Center of Racing.
Be sure to follow us on Youtube and Twitter.
Written by Peter Stratta
Be sure to follow the writer on Twitter.
Photo credit to NASCARMedia.