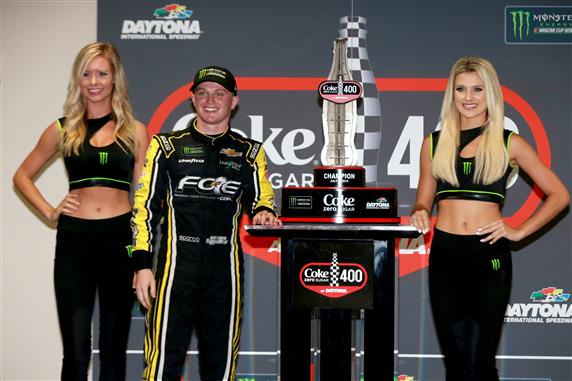 Justin Haley Earns First Career Win in Rain-Shortened Coke Zero Sugar 400 from Daytona
After a series of lightning and rain delays cut the Coke Zero Sugar 400 short by 33 laps, one driver earned an upset win. In only his 3rd career start, Justin Haley took the victory at Daytona for Spire Motorsports in the 77 Chevrolet. This race was already pushed to a Sunday afternoon show because of heavy rain on Saturday night. Weather would roll in again on Sunday just after Stage 2. To call Haley's win one of the biggest upsets in NASCAR history would be valid. Many did not even know the Indiana 20 year-old was in the race.
Manufacturer Loyalty Reigns Supreme in Stage 1
With qualifying rained out on Friday afternoon, the starting grid was set by Owner's Points. This put Joey Logano's Ford on pole, alongside Kyle Busch's Toyota. As recent years have shown on superspeedways, the 3 manufacturers all had their own cars working together. The Ford's plan worked out to near perfection, as they all pitted together without issue on lap 36. This pit sequence would see the lead switch hands from Joey Logano to Kevin Harvick.
The very next time by on lap 37, the Toyotas and Chevrolets all made their way in for fuel-only stops. A tragedy nearly struck at the head of this pack on pit entry, as Denny Hamlin went sliding while trying to slow down. While sideways, the 11 nearly took out his teammates Busch and Truex. Thankfully the 11 was able to stay out of trouble, and this pit sequence went without further issue.
By pitting a lap earlier, the train of 9 Fords had a gap on the rest of the field. Behind Harvick, Stage 1 was appearing to be swept almost entirely by blue ovals. However, a second line was forming behind Chase Elliott, and they put on a charge late in Stage 1. Elliott would only get as high as 5th however, right behind a last-lap lead change in Stage 1.
Going down the backstretch for the final time, the 22 of Logano pulled out of line behind Harvick. Ricky Stenhouse, Jr. in the 17 was there to push the 22 by the 4, and on to the Stage win. Harvick fell back to 4th in the Stage behind Stenhouse and Ryan Blaney. 7 Fords ended Stage 1 in the top 10, as the Mustangs were looking as strong as ever at Daytona.
Aggressive Block Sends the Leader Spinning
When Stage 2 started, Chase Elliott was the lone Chevrolet up front in a pack of Fords. Elliott, who was going for 2-straight superspeedway wins, was quickly overpowered by Stenhouse. The 17 was trying to win his way into the Playoffs, and saw Daytona as his best chance at a postseason spot. As usual, Stenhouse raced aggressively and took no prisoners while trying to hold the lead. His luck would run out however on lap 58.
While coming out of turn 4, Stenhouse was trying to block Kurt Busch's charge in the low line as well as Clint Bowyer in the high lane. The 17 quickly darted down low to stop the 1. However, Ricky got a little tight and floated high. Kurt did not lift, and sent the 17 around into the front stretch grass. This incident would be the second caution of the day, and gave the lead to Austin Dillon.
With the fuel window for the remainder of Stage 2 now open, the entire field chose to pit under this yellow. Dillon was able to hold position as the leader, with 38 laps left in the Stage. He would restart alongside Clint Bowyer, but Chase Elliott pushed the 3 clear to the lead.
The biggest mover in this run would be the man who brought out the last caution. After the spin from the lead sent him back to 33rd, Stenhouse Jr. was up to 7th by lap 68. He would lead the charge on the Chevy drivers up front. The 17 was far from giving up on this race. Stenhouse had a fast car that could make outrageous moves. This run by Ricky would end with a yellow for Kurt Busch spinning on lap 75.
Chevys Use Team Orders to Keep Field at Bay
When racing resumed on lap 78, several Chevrolets restarted at the head of the field. Chase Elliott laid back and let Austin Dillon and Alex Bowman fall in line ahead of him. While these 3 Chevys were up front, Brad Keselowski was leading a hard-charging line of Fords. Stenhouse would join this line and get as high as 5th, until some heavy hitters took themselves out on lap 83.
While being pushed by Harvick down the front stretch, Brad Keselowski was turned into the outside wall. This incident would collect Harvick, Daniel Suarez, Joey Logano, Daniel Hemric, and David Ragan. After being a strong contender all day long, Keselowski's race ended on lap 84. Suarez's day also came to an end here due to damage. The 41 Haas Mustang would finish dead-last. Daytona would mark the first time in Daniel Suarez's young career where he's been 40th. This crash took out several of the strong Fords, so the other manufacturers now had an advantage.
Rain Nears at End of Stage 2
With 15 laps left in Stage 2, Dillon easily cleared Bowman on the restart and held the lead. However, a huge push from Denny Hamlin would see Ricky Stenhouse briefly get up to 3rd. With 10 to go in the Stage though, the top 6 were all Chevrolets. Over the last several laps of this run, Clint Bowyer led the outside line on a charge all the way up to the lead. Bowyer and Dillon swapped the lead many times over the last 5 laps of Stage 2, with both drivers wanting to lead at the Stage break. With inclement weather in the area, the Stage 2 win may be the eventual race win.
By the last lap of Stage 2, Bowyer fell back to 5th behind the bow tie brigade of Dillon-Bowman-Byron-Elliott. With rain closing in, the race would likely prematurely end soon. However, the final Stage would start without issue.
When the final Stage began, Ryan Newman was leading the field thanks to a 2-tire pit stop. However, Newman's time out front would be brief. With a huge push from Stenhouse, Dillon pulled up to Newman's bumper and crossed him over to take back the the top spot entering turn 3. Once again, the 3 car was leading the field at Daytona, also facing a must-win scenario for the Playoffs.
Intensity Picks Up as Weather Becomes Inevitable
Rain would be visible just past turns 3 and 4, and the intensity ratcheted up a notch as the field went 3-wide for the lead. Logano would briefly take over, then Denny Hamlin with an aggressive cross over move on Paul Menard. With this fierce competition, the field was likely to end up in a big wreck, which would happen on lap 118.
Heading into turn 1, Dillon had the lead and was trying to block both lanes. Clint Bowyer had made it up to 2nd and tried looking low on the 3. When Bowyer made his move, the 3 got loose and also moved down to block. The 3 would be turned off the bumper of the 14, and an 18-car crash would ensue. Turn 1 was turned into a junkyard. Hardly anyone from the lead pack escaped unscathed. The 1 man who took over the lead would be the 1 car of Kurt Busch. With rain and lightning just miles from the track, the race was unlikely to get restarted from this point.
Questionable Call by the 1 Crew
Under caution for the big crash, Kurt Busch and crew chief Matt McCall were formulating strategy as the new leaders. They decided to come to pit road and give up the lead once they knew the race would restart. This call was to gain an advantage on fresher tires in a very-thinned-out field. When the caution came to 1 lap to go, the 1 made his way in for service. Seconds later however, lightning would strike just miles from the speedway. NASCAR would put the race on a 30-minute hold, putting Kurt back in 10th. The lead was now handed to Justin Haley, who was running 7th under the yellow but did not pit.
The 30-minute red flag would be lengthened when rain grazed the north end of the speedway in turns 3 and 4. Air titans and jet dryers quickly got the track back to racing condition, and drivers were called back to their cars. Just before re-firing the engines though, another lightning strike occurred 6.8 miles from the track. Being inside of an 8-mile radius, this prompted another 30-minute delay. This rule is common across both youth and professional sports, and is similar to a pool break. Under this delay however, more rain rolled in and quickly enveloped the entirety of Daytona International Speedway. After attempting to dry the track again, NASCAR called the race 33 laps shy of its scheduled distance.
Circumstances Lead Haley, Spire to the Win
By virtue of avoiding the huge crash and staying out when others pitted, Justin Haley and the Spire Motorsports 77 won the Coke Zero Sugar 400. In this team's first year of existence, they won on the biggest stage with a 20 year-old in his 3rd start. Haley was previously a driver in the Truck Series, winning 3 times and making the championship 4 a year ago. This year, he races for Kaulig Racing in the Xfinity Series 11 Chevrolet. On Friday night at Daytona, he was 2nd in a 1-2 finish for Kaulig behind Ross Chastain. This was Kaulig's first-ever Xfinity Series win. Haley currently sits 8th in Xfinity Series standings, well on his way to make their Playoffs.
Redemption Win for Haley
A year ago at Daytona, Justin Haley was at the center of a controversial finish. In the Xfinity race, he made a 3-wide pass below the yellow line to take the checkers first. He was disqualified from this win, and the race was awarded to 2nd-place finisher Kyle Larson. Since then, Haley has remained steadfast that he won the race, despite NASCAR's ruling. Winning a Cup race at Daytona 1 year later is a bit of retribution for the young Indiana native, as it's clearly the biggest win of his life.
Who is Spire Motorsports?
For those who do not know the team Spire Motorsports, let's give a brief backstory. Spire Sports + Entertainment is a talent management firm. They represent several drivers across many racing series, and consult many race teams with sponsorship deals. Their list of clients includes Kyle Larson, Ross Chastain, Todd Gilliland, Garrett Smithley, and Vinnie Miller. Over the off season, they bought the charter that belonged to Furniture Row Racing. Their debut was the Daytona 500 in February, with Jamie McMurray in the 40 Chevrolet. In his final career start, McMurray finished 22nd.
Since then, Spire has raced the 77 with a variety of drivers, with a best result of 28th. Justin Haley has now made 3 starts in the 77 at Talladega, Sonoma, and Daytona. Haley does not currently have any more Cup Series races scheduled for 2019. This was also the first win for crew chief Peter Sospenzo since 2003. Spire is far from a top-level competitive organization, which makes their upset victory at Daytona even more unlikely.
Other Notables in the Top 10
Behind Justin Haley, many drivers throughout the top 10 scored a career-best finish. William Byron brought home the 24 in a career-best 2nd, his first ever top 5 and 6th top 10 of 2019. Behind Byron was his teammate Jimmie Johnson, who earned his season-best result of 3rd. For both of these Hendrick cars, strong performances at Daytona helped pad their Playoff points cushion. Coming home in 4th was Ty Dillon, also with his first-ever top 5 result. All of the younger Dillon's 3 career top 10s have come at Daytona. Rounding out the top 5 was Ryan Newman, in his season-best finish.
Earning his first career top 10 in 6th place was Corey Lajoie, as he managed to avoid the carnage with the 32 car. Aric Almirola scored Stewart-Haas Racing's only top 10 in 7th, besting his 3 Ford teammates. After such a strong run at Daytona in February, Matt Dibenedetto backed it up with an 8th place result, the second top 10 of the year for the Leavine Family 95. Coming in a career-best 9th was rookie Matt Tifft for Front Row Motorsports, in only his second race at Daytona. Lastly rounding out the top 10 was Kurt Busch. If not for coming to pit road under the yellow, Kurt would have been awarded the win.
How to Watch the Next Race
With the 2019 season now halfway complete in the Monster Energy NASCAR Cup Series, the race for the Playoffs is in high gear. The next stop is Kentucky Speedway, for the Quaker State 400. Coverage will be on Saturday, July 13 at 7:30 PM EST on NBCSN, PRN, and SiriusXM NASCAR Radio Channel 90. With the new package delivering tighter racing on intermediate tracks, expect a Kentucky race unlike anything ever seen before. Along with Monday's announcement of using PJ1 in the high lanes, Kentucky could put on its best show ever.
Be sure to follow us on Youtube and Twitter.
Written by Peter Stratta
Be sure to follow the writer on Twitter.
Photo credit to NASCARMedia.