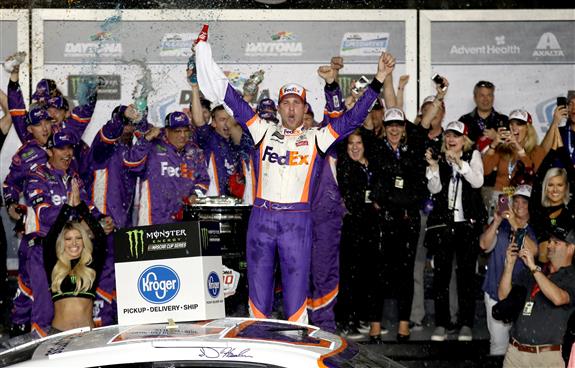 Can Hamlin Break Out The Broom With A Daytona Sweep?
Denny Hamlin is the most recent winner at Daytona, scoring his second Daytona 500 victory back in February. His first victory at the "World Center of Racing" came in the 2016 Daytona 500. Now as we're preparing to once again do battle on the high banks, Hamlin is hoping to break out the broom.
At this point in the season, Hamlin is 6th in the overall points standings. With 2 wins early, this season is already an improvement from last year's winless campaign. However as we look to recent stats, Hamlin has only finished in the top 10 twice out of the last 7 races. The recent results include 36th at Talladega, 21st at Dover, 16th at Kansas, 17th at Charlotte, 11th at Michigan, and 15th most recently at Chicago. The 2 top 10s came at Pocono with a 6th place finish, and Sonoma with a 5th place finish. It's safe to say the team is looking for a way to get their season back on track.
When asked about racing at Daytona this weekend, Hamlin commented on how it would be different.
"We had a great race earlier this year in Daytona, but this weekend will be entirely different,'' Hamlin told NASCAR.com. "Just like all the other teams, we have learned a lot about ourselves in the weeks since the Daytona 500 and we will be fighting for a repeat win. But we are ready and preparing for the challenge that is coming our way.''
Denny Hamlin's Daytona Stats
In 27 starts at the Florida track, Hamlin has claimed 2 wins. Looking further you'll also find he has 8 top 5s, 9 top 10s, and 3 DNF's. His average start is 16.8 and average finish is 17.0.
Due to thunderstorms in the area Friday, Cup Series qualifying was canceled. This puts Denny in the 6th-place starting position for Saturday night's 400 miles.  With the many unknowns of superspeedway racing, Hamlin will need skill and a little bit of luck to end up back in victory lane.
Be sure to follow us on Youtube and Twitter.
Written by Noah Lewis
Be sure to follow the writer on Twitter.
Photo credit to NASCARMedia.