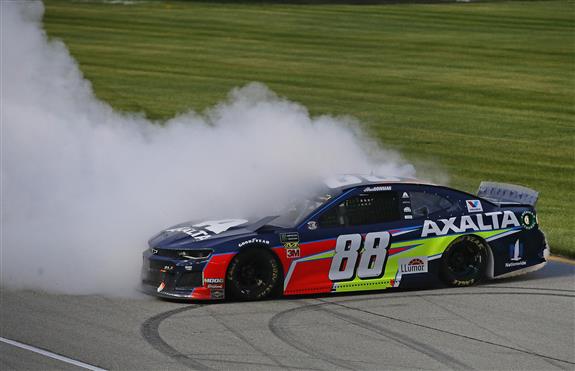 Alex Bowman Holds Off Kyle Larson for First Career Cup Series Win at Chicagoland
At the end of a long summer Illinois day, one man stood tall for the first time in victory lane. After preventing a late charge from Kyle Larson, Alex Bowman earned his first career Cup Series win. This win comes in his 134th career start, and is Hendrick Motorsports' second victory of 2019. Earlier this season, Bowman finished 2nd in 3 consecutive races, but the winless streak is no more for the Arizona native.
Chevrolet Checks Out in Qualifying
Following Saturday's Xfinity Series race at Chicagoland Speedway was Cup Series qualifying. In single car runs 1 manufacturer trumped the others, as Chevrolet put 5 cars inside the top 10. This bow tie brigade was led by polesitter Austin Dillon, who earned his 3rd pole of 2019. The flagship Chevrolet team of Hendrick Motorsports also looked stout ahead of the race. In practice and qualifying Jimmie Johnson looked like the 48 of ten years ago with lots of speed. In addition, his 3 teammates were not far behind him. Alex Bowman would qualify 8th, William Byron in 11th, and Chase Elliott in 13th. For Byron however, an engine change would force the Liberty University 24 to the rear for the start.
Short Run to Start Before the Rain Came
In response to some ominous forecasts, NASCAR moved the start time of the race up by 1 hour. When the green flag flew at just after 2 PM local time though, a massive storm cell was within 10 miles of the track. The race did get underway, and Austin Dillon led the first few laps. On lap 7, the 7-time champion Jimmie Johnson took the lead. A caution came out for rain a few laps later. In total, 12 laps would be complete before a red flag came out for the impending rain. The weather delay would last over 3 hours, but the race would resume and be completed on Sunday.
Harvick to the Head of the Field on New Tires
When racing finally restarted at 5:30 PM, there was a split decision among the leaders on whether or not to pit. While race leader Jimmie Johnson elected to stay out, Kevin Harvick would lead in a majority of the lead lap cars. Harvick would restart 9th, but his new tires quickly took him to the front. On lap 20, Harvick would take the lead away from Austin Dillon. Harvick came into Sunday's race as the favorite, despite still searching for his first win of 2019. The Jimmy Johns 4 would lead until his second pit stop of the day on lap 72.
Byron Blasts Through the Field
After starting the race in the rear, William Byron was the biggest mover early on. In the first 11-lap run, the 24 went from the rear all the way up to 21st. Much like their Hendrick teammates, the 24 was fast in Chicagoland. He would show his speed after the rain delay too. William Byron was trying to deliver crew chief Chad Knaus his first ever win at his home track, as the 7-time champion calls nearby Rockford, Illinois home.
Tire Blowouts To End Stage 1
After pit stops had cycled through, the green racing surface began to take its toll on tires. With the rubber washed away, the Goodyear tires were more susceptible to excessive wear and blowing out on the rough track. In total 4 tire blowouts would happen, and one of them brought out a Stage-ending caution. Harvick made his scheduled pit stop with 7 laps to go in the Stage while reporting a right rear tire down.
Not long after, Ryan Blaney had a similar issue. The caution flew when Clint Bowyer's right rear came apart and he spun, ending his strong run. Simultaneously to Bowyer's problem, Kyle Busch had a tire go down. The 18 had hit the wall earlier in the race, but continued forward with no damage. With Stage 1 ending under the yellow flag, the Stage win would go to Denny Hamlin. For 2 straight weeks, the Fedex 11 has won a Stage.
Harvick Holds Lead for Stage 2
When Stage 2 got underway, it was Harvick back in the lead over Johnson. However, the 24 of Byron finished Stage 1 in the top 10 and was looking for more. On new tires, Byron charged by Hamlin, Johnson, and by Harvick on lap 99. Byron would hold the lead through a short caution for fluid, but he lost heavily on the ensuing restart. In the first lap of green flag racing, the 24 went from the lead back to 11th. Unfortunately for Byron, he would spend the remainder of the race recovering lost ground from that lap 109 restart.
More Troubles for Bowyer Affect Playoff Picture
As Byron was leading, the 14 of Clint Bowyer suffered another tire issue and exited the race early. The 14 would end up finishing a dismal 37th, and would lose ground in the Playoff hunt. Bowyer entered Chicagoland 12th in the Playoff grid, 60 points ahead of the cut line. After 0 Stage points and finishing 37th, the 14 is now 16th and only +15. Bowyer's tough day took him from well inside the Playoffs to the last man in. To put it simply, the 14 needs stronger performances in the coming weeks.
While leading the way late in Stage 2, Harvick reported a tire coming apart on the 4 Mustang. The race for 2nd was on between Johnson, Chase Elliott, and Kyle Larson if the 4 had to pit. In spite of these concerns, Harvick was able to hold on to win Stage 2, his 4th Stage win of 2019. Although Harvick did win Stage 2 in a Ford, not far behind him were 6 Chevrolets. This included all 4 Hendrick cars, as HMS as a whole was having a very strong night.
Dominant Car Brings Out Early Yellow in Final Stage
When Stage 3 got underway, Kyle Larson took the lead for the first time all race long. This restart saw the pack go 4-wide at times, and contact was made between Kyle Busch and Joey Logano. This incident caused a tire to go down on the 18, forcing him to pit.  The contact was not done there, as Kevin Harvick got loose and brushed the turn 1 wall while running 3rd. This would bring out the caution just 6 laps into the final Stage. Alex Bowman would also pass Larson for the lead a few laps into this run. At the time of Harvick's wall contact, the 88 was leading the field.
Alex Bowman Pulls Away
After the restart on lap 177, Alex Bowman began to pull away and quickly gained the biggest lead of the night. By lap 200, Bowman's lead was 2 seconds and kept growing. The final pit stop cycle for everyone was triggered by Joey Logano, when he came in from 4th with 50 to go. Over the next few laps Bowman, Larson, and the rest of the leaders wold make their final stops. When the pit cycle was complete, Bowman's advantage over Larson was just over 2 seconds.
Lapped Traffic Allows Larson to Close in
Much like last year's classic finish at Chicagoland, Kyle Larson was running in 2nd late in the race. Also similar to last year, the leader got hung up in lapped traffic, which allowed the 42 to make big gains. With 25 laps to go, the man who Bowman was stuck behind was Paul Menard. Menard was fighting hard to stay on the lead lap, which let Larson close in by as much as 7 tenths per lap. With 20 to go, the top 2 were only 1.5 seconds apart.
By using the high line he is known for, Larson caught Bowman with 12 laps left. With 8 to go, Larson ducked below the 88 and took the lead away. The race was far from over though, as Bowman rallied and passed Larson back 2 laps later. At this point, Bowman amassed a lead of 6 tenths, which was enough to cruise to his first career win. At the end of the night, the Axalta 88 oddly enough led a total of 88 laps.
Other Notables in the Top 10
Behind Bowman was a hard charging Kyle Larson, scoring his best finish of the year in 2nd. For 2 straight years at Chicagoland, the 42 came home as a runner up. Further back in 3rd was Joey Logano, who was racing against Larson late but fell off. Jimmie Johnson capped off a strong weekend in 4th, his best run of 2019. Brad Keselowski ended an uncharacteristically quiet day in the top 5, as he was mired back for much of the race.
Ryan Blaney recovered from the tire issue early to finish 6th, putting all 3 Penske cars in the top 6. Erik Jones had a late rally to 7th, 1 spot shy of his Chicago result last year. After falling back to 11th on the restart, William Byron only recovered to 8th, still a strong day for the sophomore Hendrick driver. Martin Truex, Jr. was off all weekend long, but still managed a top 10 result in 9th. Lastly, polesitter Austin Dillon brought it home in 10th.
Significance of the Win for Alex Bowman
In his 134th Cup Series start, Alex Bowman brings home his first career victory. This is the first win for the Hendrick 88 since Dale Earnhardt, Jr.'s last victory at Phoenix in 2015. After the race, Bowman told NBC "I was just tired of running second, I didn't want to do that anymore." By winning at Chicagoland, Bowman has locked himself into the 2019 Playoffs, as well as achieved another feat. He has finished in every position possible in a Cup Series race from 1st to 40th.
2 weeks ago, Bowman's sponsor Nationwide Insurance announced their plans to leave the 88 following this season, so a win will hopefully help attract new sponsors to the Hendrick car. Hendrick Motorsports had similar sponsorship woes last year when Lowe's announced their departure from the 48. A new partner was found quickly in Ally Financial.
How to Watch the Next Race
Up next for the Monster Energy NASCAR Cup Series is the Independence Day classic. The Coke Zero Sugar 400 from Daytona International Speedway is always a thriller, and this year should be no different. Coverage will be on Saturday, July 6 at 7:30 PM EST on NBC, MRN, and SiriusXM NASCAR Radio Channel 90. The Playoffs have 9 spots left, can someone turn their season around by scoring an upset win at Daytona?
Be sure to follow us on Youtube and Twitter.
Written by Peter Stratta
Be sure to follow the writer on Twitter.
Photo credit to NASCARMedia.