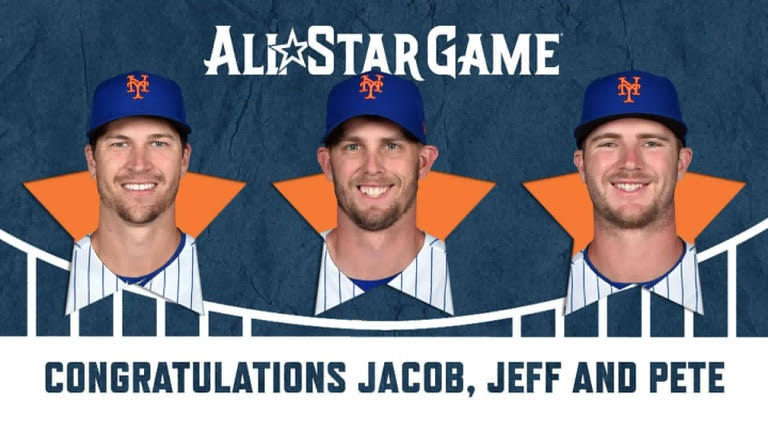 deGrom, McNeil, Alonso To Represent Mets In Cleveland
The 2019 MLB All-Star Game rosters have officially been announced. The New York Mets will have three representatives in this year's contest. Their three reps include starter Jacob deGrom, utility-man Jeff McNeil, and first baseman Pete Alonso. This is the first time the Mets have had multiple All-Stars since 2016. For Pete Alonso and Jeff McNeil, this will be their first All-Star Game. As for Jacob deGrom, this is his third career selection.
Jacob deGrom's Season
The reigning-NL Cy Young Award winner will head to the All-Star Game will some company for the first time in his career. In his previous two All-Star Games, deGrom flew solo. On the year, the Mets ace is 4-7 with a 3.32 ERA and 128 strikeouts over 103 innings. His ERA is good for 20th in all of baseball and sits 9th in the league in strikeouts (third in the NL). Over his last seven games, deGrom is 1-2 with a 2.80 ERA over 45 innings. After a few bumps in the road, deGrom is finally returning back into his Cy Young form. He most likely won't start, however, he will look to build on his previous two appearances where he had four strikeouts and gave up one run over two innings.
Jeff McNeil's Season
For a guy who hasn't even been a Major Leaguer for a full season yet, Jeff McNeil has been a spark in the Mets lineup. His .344 average currently is third in all of baseball and second in the NL. He also has 90 hits (good for 13th in the NL) and an OBP of .409 (good for third in the NL). Jeff McNeil has proved to be one of the best pure average hitters in all of baseball. He is also batting over .350 in the month of June and doesn't seem to be slowing down one bit.
Pete Alonso's Season
The Mets rookie first baseman has been nothing but special in 2019. Pete Alonso came up to the big leagues and has delivered on the hype. He is slashing .278/.371/..629 with 28 homers (second in all of baseball), 62 RBIs (tied for seventh in all of baseball), and an OPS of 1.001 (good for seventh as well in all of baseball). His season WAR also sits at 3.5. In addition, Alonso will also compete in the Home Run Derby. He is the first Mets to participate since David Wright back in 2013 (when it was held at Citi Field). The favorite for the NL Rookie of the Year can also still land a starting spot as the DH for the NL, however, Dave Roberts has yet to make that decision.
Written By Zach Nau
Follow Zach and TSJ: MLB on Twitter
Photo Credit to the Mets via Twitter
Follow TSJ on Facebook and Twitter