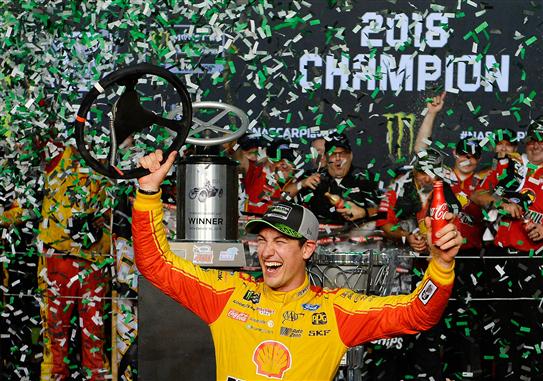 In His Third Homestead Appearance, Joey Logano Wins First NASCAR Cup Series Championship
For the 5th consecutive year, the eventual NASCAR Cup Series Champion had to win at Homestead to win the title. In 2018, that driver was Joey Logano. Making his 3rd Homestead appearance, Logano led a race-high 80 laps en route to his first title.
Best Championship 4 Ever?
After winning at Martinsville, Joey Logano knew he'd make his 3rd Homestead appearance 2 weeks before anyone else. His 3 fellow contenders were Kevin Harvick, Kyle Busch, and Martin Truex Jr. These 3 drivers made up the 'Big 3' of 2018, winning 20 of the first 35 races.  Since Logano came into Homestead with just 2 wins on the year, he was looked upon as an underdog.
These 4 drivers were statistically the best 4 drivers to make the Championship 4 since 2014. Combined, they all led the Cup Series in wins, top 5s, laps led, and average finish. In addition, each of these 4 drivers were making either their 3rd or 4th Homestead appearance in the Playoff finale. Many thought that this championship was a truly equal 4-way battle, and foresaw all 4 drivers running up front.
Drama Starts in Qualifying
The weekend's commotion began in Friday night's qualifying session. Joe Gibbs Racing driver Denny Hamlin won the pole. With the pole comes first pick of pit stalls. Hamlin did not pick the preferred number 1 pit stall, rather he gave it to teammate Kyle Busch. Busch was looking for every advantage possible to win the race and the championship. This move by Joe Gibbs Racing caused great controversy. But, this was a move that could have won them the title.
Strong Performers in Stage 1
From the pole, Hamlin would lead the first 36 laps at Homestead. Hamlin, who was racing on his birthday, was still looking for his first win of 2018. Denny would have been the 4th driver in NASCAR history to win on his birthday. Other than the Championship 4, Hamlin had one of the strongest cars at Homestead.
Martin Truex Jr was trying to take his team out on top. In the final Homestead appearance and last race for Furniture Row Racing, Truex was trying to win another championship. Truex would lead early on in Stage 1 after passing Hamlin.
Green flag pit stops midway through Stage 1 would hand the championship lead to Kevin Harvick, who started 12th. Harvick would take over the race lead from Hamlin on lap 43. The 4 Ford would hold on to win Stage 1 over Kyle Larson. In addition, Harvick held a 6.5 second lead in the championship over the 18 at the finish of Stage 1.
Stage 2 Sees New Leaders in Race and Championship
On the lap 87 restart to begin Stage 2, Kyle Larson took the overall lead from Harvick. Larson was considered to be the non-Playoff favorite to win Homestead. This was because his driving style suits running the wall here perfectly. Larson was running the high line on both ends of the track, more aggressively than anyone else. Only a slight slip by Larson saw him relinquish the lead to Joey Logano on lap 90. Logano had arguably the strongest short-run car, as he took the top spot just 4 laps into this run. Larson would eventually catch Logano again and retake the lead on lap 104.
While Larson was leading, the 4 contenders were all running right behind him in the top 5. Harvick would make his way by Logano for the title-winning position prior to green flag pit stops. The pit cycle would begin with Larson coming in for service on lap 117.
The first non-Stage break yellow flag came out for debris on lap 140. This was after Larson had retaken the lead following pit stops. This caution set up a 16-lap run to finish Stage 2. Larson was leading Harvick, Truex, Logano, and Busch. Just 3 laps after the restart, Harvick took the overall lead from Larson once again, looking to sweep both Stages. However, the last lap of Stage 2 saw Larson just edge Harvick to the line. The 42 made a big pass on the high side of turns 3 and 4.
Contenders Up Front to Start Final Stage
The caution following Stage 2 saw Joey Logano take the lead after an amazing stop from his pit crew. For the final Stage, the Championship 4 drivers would restart in the top 4 spots. This was the first time all race long where all 4 would be up front. Even though Logano's crew gained him positions, it was short lived. Harvick launched off on the restart, having the stronger short run car at this time. The next lap however, Logano would pass Harvick for the final time with 100 laps to go. Lap 167 was the final time where Harvick would be in position to win the championship.
Another caution would come out on lap 194, when Kyle Larson hit the wall hard after a flat tire. Despite leading 45 laps until this point, Larson would once again fail to win at Homestead. This caution would bring the 4 title finalists down pit road once again. Logano held serve with the lead, followed by Truex and Harvick. Even with the prime pit stall, Kyle Busch still struggled here. The 18 crew had a slow stop, sending their driver out in 4th, behind the other 3 contenders.
When the green flag came back out, Logano held the lead. Behind him, Harvick reported a balance issue with his car, while Busch also stated a lack of lateral grip. These 2 past champions were stuck in 3rd and 4th, respectively.
Split Strategies Among Top 4 for the Win
With 50 laps to go, Truex had caught Logano for the lead and the championship. After slight contact, the 78 passed the 22 on lap 219. Truex was out front until his lap 230 pit stop. Logano followed him into the pits, but beat him out by a wide margin. However, this was not a championship-position battle at the time. Kyle Busch had yet to make a pit stop, hoping for a yellow with a desperation call.
Game Changing Yellow
The caution that Kyle Busch needed to win the championship would come out on lap 248, when Daniel Suarez spun. The 19 Toyota was turned by Brad Keselowski, who went wide due to contact from David Ragan. On this caution, everybody made their final pit stop. The 18 crew finally made a great pit stop, and Kyle held the lead over his 3 competitors. With just 15 laps left in the year, the Championship 4 would restart 1-2-3-4. Behind Busch was Truex, Logano, and then Harvick.
Final Restart Sets Up Great Battle
Although he had the lead, Kyle Busch still lacked speed. The 2015 champ was not in a position to capitalize for a 2nd title. On the lap 253 restart, Busch was immediately beaten into turn 1 by Truex. Logano also quickly went to 2nd place.
Truex was pulling away, but Logano had the stronger car on the short runs. Had the caution not come out, Truex would have likely won with the best long run car. 3 laps after the last restart, Logano sailed around the outside of Truex in turns 1 and 2. In the final 10 laps, Logano built a massive lead over Truex. Not even lapped traffic helped Truex close in. By the last lap, Truex was nearly 2 seconds behind Logano. In his 3rd Homestead appearance, Joey Logano won his 1st ever NASCAR Cup Series Championship.
The top 10 finishers from Homestead included the Championship 4 drivers in the top 4. Logano was followed by Truex, Harvick, and Busch. Behind them in 5th was Brad Keselowski, then Matt Kenseth, Chase Elliott, Clint Bowyer, Aric Almirola, and Kurt Busch.
Significance of the Homestead Win for Logano
Joey Logano turned his 3rd Homestead appearance in the Championship 4 into his first Cup title. The Connecticut native's career-defining win occurred in his 10th season and 363rd start. After winning at Martinsville just 3 weeks ago, Logano previewed the importance of this win. He told me "If we win Miami, that would be bigger than the Daytona 500 at this point." To put it simply, Joey Logano had the biggest win of his career in his 3rd Homestead appearance.
This win also marks the first Homestead victory for both Logano and Team Penske. Logano now has 21 career Cup Series wins, 3 of them coming in 2018. Other than the Playoff races at Martinsville and Homestead, Logano also won at Talladega in April.
After 36 races spanning 9 months and thousands of miles, the 2018 NASCAR Cup Series season is complete. Stay tuned into TSJ101NASCAR for off season content, as we are planning to cover all NASCAR news. The 2019 Daytona 500 is just 90 days away, so enjoy the brief NASCAR hiatus.