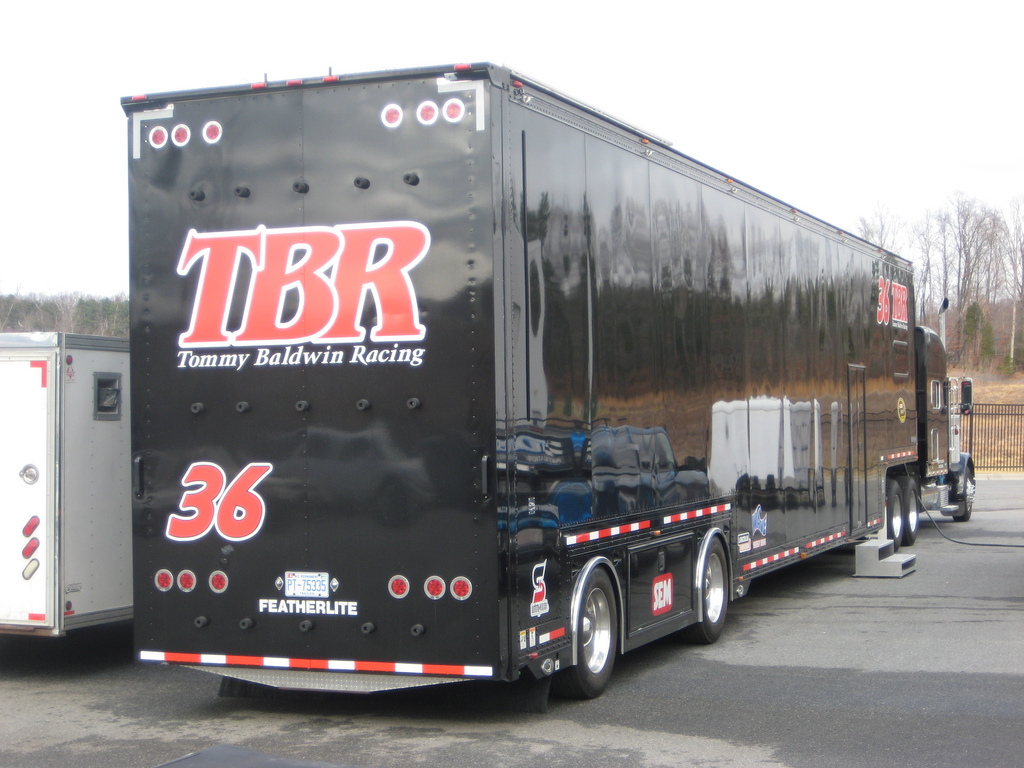 Tommy Baldwin Racing, Young Drivers at Center of This Week's Silly Season News
Ever since the checkered flag flew at Homestead, many questions have been unanswered for NASCAR's silly season. This week, a few more drivers and teams fell into place for the 2019 season. Most notably, Tommy Baldwin Racing will return to a partial schedule in the Cup Series. In addition, a few young drivers are getting big breaks in a full-time ride.
Tommy Baldwin Comes Back to Cup Series Competition
A journeyman team known for giving Ryan Blaney his first Xfinity Series ride, Tommy Baldwin racing will be in Cup races again for 2019. Nevertheless, their announcement has more questions than answers. Tommy Baldwin Jr has yet to announce a driver, manufacturer, sponsor, or car number. However, we do know that Tommy Baldwin will attempt between 5 and 7 races. Their first start will hopefully be the season-opening Daytona 500 in February.
Tommy Baldwin Racing has a truly unique history at the Daytona 500. They nearly won The Great American Race in 2012. During the infamous red flag for the Montoya-jet dryer incident, Dave Blaney was leading. He was driving the Tommy Baldwin Racing 36 car at the time, and held the top spot for over 2 hours.
Tommy Baldwin Jr said the following regarding his team's future. "We are looking forward to get back going again with TBR in the Monster Energy NASCAR Cup Series. Our goal is to work methodically and build it one piece at a time. I'm excited about these 5 to 7 races for the 2019 season, and where it takes us in the future."
When Tommy Baldwin Racing makes subsequent announcements about their 2019 plans, stay tuned to TSJ101NASCAR for updates.
Matt Tifft to a Third Front Row Motorsports Car
Also announced this week was a new Rookie of the Year contender for the 2019 Cup season. A young star from the Xfinity Series, 22 year old Matt Tifft will race the full schedule in a third car from Front Row Motorsports. The 36 car will join teammates David Ragan and Michael McDowell. FRM acquired a charter for a potential 3rd team after buying the assets of BK Racing.
Team owner Bob Jenkins spoke about FRM's expansion as well as their future outlook. "Not only are we here to stay, we're here to grow. We already have two proven veterans in our lineup, and now we'll get to add an impressive young talent and championship contender who will inject some new energy into the group. With the introduction of the Ford Mustang into the Cup Series, 2019 is shaping up to be an exciting season for us."
In 77 career starts in the Xfinity Series, Tifft has 9 top 5s, 38 top 10s, and 2 Playoff appearances. In 2017, he was 7th in the championship with Joe Gibbs Racing. For 2018 though, he moved to Richard Childress Racing and finished 6th in points. Tifft will be making his Cup Series debut at the Daytona 500, and joins Daniel Hemric and Ryan Preece in the 2019 rookie class.
Chase Briscoe Gets Full-Time Opportunity to Race for His Hero
The winner of the inaugural race on the Charlotte Roval, Chase Briscoe was named as the latest full-time racer for Stewart-Haas Racing. Briscoe, 23, will drive the 98 Mustang in the Xfinity Series for the 2019 season. He took this team to victory lane while racing part-time in September.
Being a dirt racer from Indiana, it's no surprise that Briscoe's hero is racing legend Tony Stewart. This past season, Briscoe won the Truck Series race at Stewart's Eldora Speedway. This win certainly brought the 2 even closer. In 2019, Stewart will also be one of Briscoe's team owners. Chase will join the powerhouse SHR team as a Ford development driver.
Stewart-Haas Racing may be a team to beat on Saturdays as well as on Sundays for 2019. Combined with their all-star lineup in the Cup Series, Briscoe is teaming up with Cole Custer. Custer made the Championship 4 in 2018, and finished 2nd in points. Consequently, SHR may be bringing home 2 titles in 2019 with their young talent.
What may be NASCAR's craziest silly season to-date is far from complete, as many high profile drivers are still jobless for 2019. Stay tuned to TSJ101NASCAR all off season long for all racing announcements and news.
Photo by Tommy Baldwin Racing via Flickr.