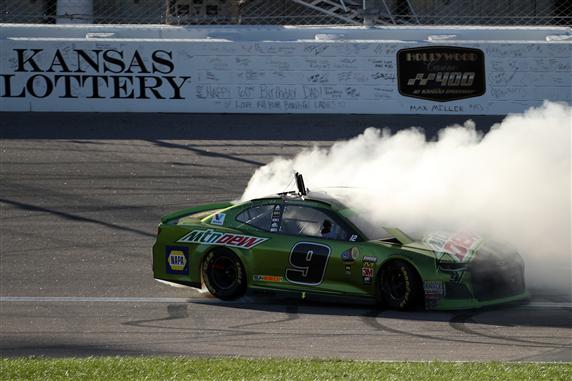 Chasing a Championship? Elliott Scores 3rd Win of Season at Kansas
Although Kevin Harvick was once again the class of the field, a pit road mistake cost him the win. After the 4 was caught speeding with 50 laps to go, Chase Elliott took the lead. The Georgia native would hold on to score his 3rd win in the last 11 races. In addition, 4 other's Playoffs would come to an end after the Round of 12 finale.
Ford Domination, Near Misses in Stage 1
After Talladega, where the Fords lead all but 8 laps, the blue oval brigade was looking for more at Kansas. Joey Logano would lead the first 40 laps from the pole, looking for his 3rd win at Kansas. The first stage was only paused by 1 caution. William Byron would blow a motor on lap 58. The oil put down by the rookie caused a lengthy cleanup. Other than that, all of Stage 1 was green flag racing. Logano would lead all but 20 of the 80 laps en route to the Stage win.
The day started off rocky for some Playoff drivers who needed strong runs. Alex Bowman nearly averted disaster on lap 4. Bowman was racing behind Daniel Suarez, who made wall contact coming out of turn 2. As a result of this, Bowman had slight damage, but was able to continue on. Bowman would also brush the wall on lap 25, but kept charging. Bowman was in a must-win situation in order to advance onward in the Playoffs.
In addition to Bowman, Kyle Larson was also in a win-or-nothing spot for Kansas. Because he hit the wall in practice on Friday, Larson started the race from the rear, in a backup car. By lap 8, Larson was up into the top 20, and he would continue to climb all day long.
The last man in the Playoffs, Martin Truex Jr and the 78 team needed strategy to pad their cushion. Crew Chief Cole Pearn would make a daring call early on, by being the first to pit on lap 38. All of the other Playoff drivers followed them in, and this would gain the 78 valuable track position.
Costly Mistakes in Stage 2
The entire distance of Stage 2 was run without any caution flags. In spite of this, there was still plenty of action on-track and in the pits. Once again, the 78 short-pitting would lure everyone else in for service on lap 119. In this cycle of pit stops, both Aric Almirola and Kurt Busch would have uncontrolled tire penalties. This sent both the 10 and the 41 Fords back in the field, but only 1 of them was safe. By virtue of his Talladega win, Almirola was already in the next round. Kurt Busch did not have this luxury, he needed to race his way into the next round. The 41 went as far back as 29th, and was outside of the top 8 in points for awhile.
After choosing to not pit with the others, Brad Keselowski stopped for fuel on lap 137. This handed the lead over to Kevin Harvick, who finished a close 2nd in Stage 1. Harvick's Stage 2 would be 1 position better, as the 4 held off a charge from Ryan Blaney.
Race Lost on Pit Road During Final Stops
For the final stage, Harvick was far and away the fastest car, leading over 75 laps after going back green. Harvick's championship-level performance would come to an abrupt end on the 4 team's last pit stop with 50 to go. Harvick would be caught speeding. The 4 would have to serve a drive through penalty. Harvick would only recover to finish 12th. This handed the lead back to Keselowski, who did not make his final stop until lap 224.
The big winner from Harvick's misfortunes would be Chase Elliott, who inherited the lead with 44 laps left. After his win 2 weeks ago at Dover, Elliott was securely into the Round of 8. However, Elliott still would have a deficit in bonus points for the next round. After holding off a late race charge from Kyle Busch, Elliott hung on to score his 3rd win of 2018.
The top 10 finishers from the Kansas elimination race were almost all Playoff contenders. Elliott, was closely followed by Kyle Busch, Kyle Larson, Erik Jones, Martin Truex Jr, Brad Keselowski, Ryan Blaney, Joey Logano, Alex Bowman, and Aric Almirola.
Playoff Hopes End for 4
The 4 drivers eliminated from the Playoffs were Blaney, Keselowski, Larson, and Bowman. This was despite the fact that all 4 of them had top 10 results at Kansas. The cut line was at one point as close as 1 point on Sunday. 9th in points Ryan Blaney would eventually end up 6 points out.
Significance of Elliott's 3rd Win
0-for-98 was the winless streak Chase Elliott had in the Cup Series until his 1st career win at Watkins Glen. Since then, Chase Elliott has scored his first 3 career wins in just 11 starts. His 2 most recent victories have come in the Playoffs. Not only is Kansas Elliott's 3rd career win, it's his first victory on a 1.5 mile track. With this momentum, Elliott has to be thought of as a favorite for the Championship 4 in Homestead.
How to Watch the Next Race
Up next for the Monster Energy NASCAR Cup Series is Martinsville's First Data 500. The Virginia short track will be the first race of the Round of 8. If a Playoff driver wins Martinsville, he will be racing for a championship in Homestead. TSJ101NASCAR will also be on hand at Martinsville all weekend long. Coverage will be next Sunday, October 28, at 2:30 PM EST on NBCSN, MRN, and SiriusXM NASCAR Radio Channel 90. 4 races remain in the NASCAR season, and Martinsville is always an entertaining and unpredictable race, so don't miss a moment!