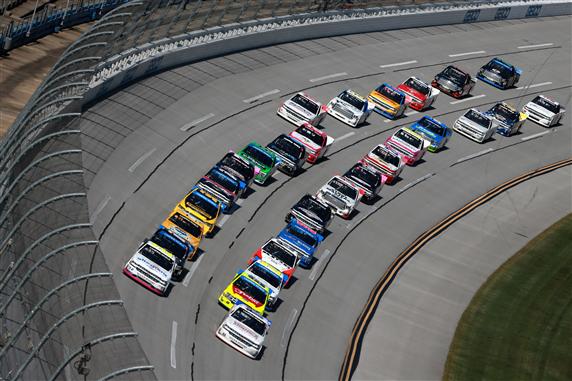 Truck Series Playoff's Round of 8 Showcased Incredible Racing with 3 Surprise Winners
For the first 3-race round of the Camping World Truck Series Playoffs, unpredictability and drama was at a high level. 3 races saw 3 different winners, as well as featured 3 exciting finishes, on 3 entirely different racetracks. In addition, the Truck Series postseason's field of 8 drivers was narrowed down by 2.
Opening Race in Canada Has Teammate Domination
The initial race in 2018's Truck Series Playoffs saw drivers head north of the border. The 6th annual Chevrolet Silverado 250 at Canadian Tire Motorsports Park would be led mostly by Toyotas. The Kyle Busch Motorsports teammates of Noah Gragson and Todd Gilliland were the class of the field. Combined, they would lead 46 of 64 laps. However, there was an important distinction between them. Gragson was racing for the Truck Series championship, while Gilliland was not.
Last Lap Drama
Coming to the white flag, Gilliland had the lead, but Gragson was chasing him down on fresher tires. By the final 2 turns, Gragson's 18 truck had closed the gap to Gilliland's 4. Much like in previous years at this road course, the race lead changed after contact in this set of corners. Gragson tried to go to the inside of Gilliland in turn 10. Due to a late braking move, Gragson wheel hopped into Gilliland, spinning them both out. Then 3rd-place-running Justin Haley would make it to the finish line in 1st, scoring his 2nd career win.
Behind Haley, the top 5 from the Canada road course included Playoff and non-Playoff drivers. John Hunter Nemechek, Brett Moffitt, Timothy Peters, and Matt Crafton were the top finishers.
Haley's win was not entirely surprising, considering his road racing background. But he was still an underdog compared to the KBM trucks. With this win, Haley locked himself into the second round of the Truck Series Playoffs. The 19 year old was also pressure-free for the wildcard race to end this round, Talladega.
Another Underdog Cashes in at Las Vegas
For the World of Westgate 200, all 8 Playoff drivers went to the familiar 1.5 mile track feeling confident. With the races in Canada and Talladega being wildcards, Vegas was a place where everyone thought they had a solid chance at winning.
After leading a race-high 40 laps, Grant Enfinger was able to hold off Johnny Sauter for his 2nd career win. While Enfinger did have a strong night, Noah Gragson had another race fall apart with 25 laps left. Gragson got penalized with a commitment line violation. This infraction lost Gragson a 2nd straight race, after he had led 33 laps.
Unlike in Canada, the top 5 in Las Vegas were all Truck Series Playoff drivers. Behind Enfinger and Sauter were Haley, Ben Rhodes, and Matt Crafton.
Ben Rhodes and Stewart Friesen would head to the Talladega elimination race under the cut line. These standings came after tough results at Canada and Las Vegas respectively.
Talladega Elimination Race Leads to Playoff Drivers Struggling
Coming into Talladega, many thought that a non-Playoff contender would play spoiler. This was likely, because the elite 8 needed to finish this cutoff race. After the Fr8Auctions 250, the field of 8 would become just 6.
New Faces Up Front
Although he started 5th, Johnny Sauter would take the lead on lap 2. Many other drivers would take turns out front at the Alabama Superspeedway. This list included Grant Enfinger, Joe Nemechek, Austin Hill, and Spencer Gallagher. The first half of the race was relatively calm by Talladega standards. However, that would all change on lap 60, as a 10 truck wreck started. Of the 10 drivers involved, 4 were Playoff contenders.
Playoff Points Shakeup
Since the big wreck involved half of the Playoff teams, the elimination race would alter here. Even though he was out of the race, Matt Crafton would still advance on in the postseason. Ben Rhodes continued on despite being in the crash, but it was to no avail. Rhodes failed to move up in the standings, and was eliminated by 4 points. The other unhappy driver after Talladega was Stewart Friesen, as he also was knocked out of postseason contention.
The race for the win came down to the final laps for a 5th straight race. Noah Gragson was leading at the white flag. However, contact turned Gragson halfway down the backstretch. This would bring out a caution, giving Timothy Peters the win in only his 4th start of 2018. This also marked Peters' 3rd win at Talladega, a Truck Series record.
After an off week, the Truck Series Playoffs returns this weekend at Martinsville. The Round of 6 will kick off on Saturday with the Texas Roadhouse 200. TSJ101NASCAR will be on hand at this short track race. If the winner is one of the 6 still in the Playoffs, he will be racing for the title in Miami. Stay tuned to TSJ101NASCAR for the remainder of the NASCAR season for all of your Playoff coverage.