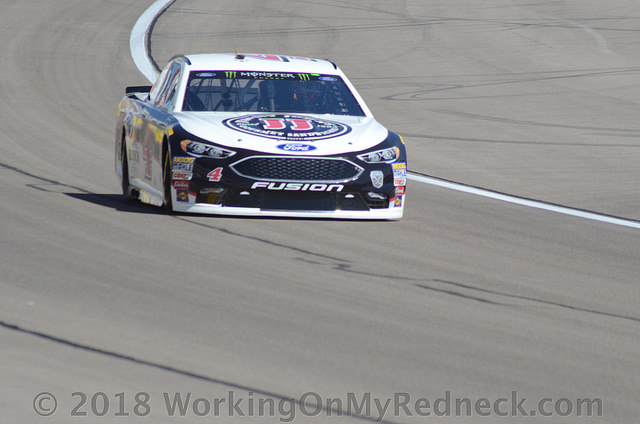 Kevin Harvick Puts on Dominating Drive in Dover for His 4th Win of the 2018 Season
From the first practice session at Dover International Speedway on Friday, Kevin Harvick looked unbeatable. After being top-6 in all 3 practices and qualifying 2nd, Harvick sought to have a productive Sunday at the Monster Mile. After leading a race-high 201 laps, it was Harvick who was able to get his 4th win of 2018 at Dover.
Early Race Action
Prior to the initial green flag on Sunday, 3 drivers would be forced to start the race in the rear of the field. Alex Bowman and polesitter Kyle Larson failed inspection multiple times, which also saw their car chiefs ejected. Austin Dillon also had an illegal splitter.
Unlike recent weeks in the Cup Series, Dover had many cautions throughout the duration of the race. The first yellow flag came out on lap 3, when Michael McDowell spun in turn 4. He was tagged in the right rear by Bubba Wallace. The remainder of Stage 1 was filled with intense racing for the lead, as Harvick, Martin Truex Jr., and Brad Keselowski were all strong front-runners early on. Stage 1 ended up going to Harvick, as he led 35 of the 120 laps.
Stage 1 was a fuel mileage race for many drivers, as a caution at lap 22 split the pit strategy. Denny Hamlin ended up running out of fuel with 2 to go in the first stage, as he limped across the line.
Stage 2 saw Keselowski beat Harvick out of the pits on lap 152, and lead several laps. However, Harvick got around the Penske 2 car on lap 160, and held on to win Stage 2.
Quest for a 4th win Goes Up in Smoke for Busch
Kyle Busch, who was looking for his series-best 4th win of 2018, had a persistent vibration all race long. Since the drop of the initial green flag, Busch was reporting a problem in his engine. The problem finally ended his day on lap 270. Busch slowed on the racetrack while running in the top 5, and brought his car to the garage. A caution for fluid on the track soon followed. Busch's quest for a 4th win will have to wait another week.
After the lap 272 yellow, Ricky Stenhouse, Jr. and Jamie McMurray did not pit while the other leaders did. They cycled to the lead, and Stenhouse held serve out front. Car number 17 spent 24 laps out front before Clint Bowyer muscled his way to the lead.
Mother Nature Briefly Delays Race, Gives False Hope for Some
After Bowyer took the lead, a caution for rain came out with 85 laps left at Dover. The rain was a constant threat on both Saturday and Sunday, but luckily NASCAR was able to dry the track. When the rain yellow came out, Bowyer was leading, looking for his 2nd win in 6 races. After a delay lasting 41 minutes, the race resumed with Bowyer and Harvick leading the charge.
Bowyer held off his teammate on the restart, but Harvick took the lead back on lap 338. Harvick never looked back from here, as he took the checkers ahead of Bowyer by 7.45 seconds. The remainder of the top 10 was Daniel Suarez, Truex Jr., Kurt Busch, Keselowski, Hamlin, Ryan Blaney, Jimmie Johnson, and Kyle Larson.
This win marks Harvick's record 4th win of 2018, his 2nd at Dover, and 41st overall. This was the first time Stewart-Haas racing was able to have 3 cars finish in the top 5, with Bowyer (2nd) and Kurt Busch (5th) not far behind Harvick.
How to Watch the Next Race
The next stop for the Monster Energy NASCAR Cup Series will be Kansas Speedway, for the KC Masterpiece 400. Kansas will mark the one-third point of the 2018 NASCAR season. Coverage will be next Saturday night, May 11 at 6 PM EST on Fox Sports 1, MRN, and SiriusXM NASCAR Radio Channel 90.