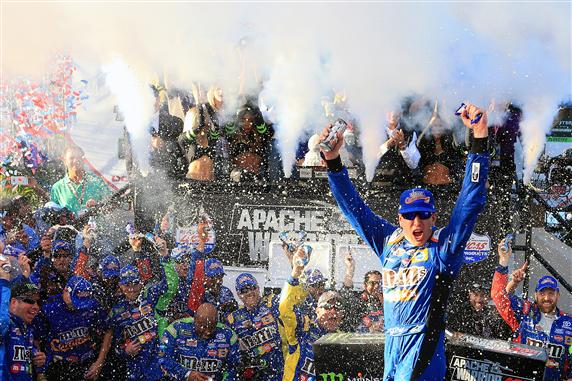 Can Kyle Busch Claim His Fourth Win of the Season in Dover?
There have been many big stories during the first half of the 2018 NASCAR season.  It all started with Austin Dillon winning the DAYTONA 500 in the #3 car.  Then the tables turned and Kevin Harvick went on a winning streak of three races in a row.  Though the Fords have shown a lot of speed throughout this season so far, recently the talk has been about on particular Toyota.  Who's that you ask?  None other than Kyle Busch.
Kyle immediately found success in just the third race of the season at Las Vegas Motor Speedway.  In fact, Kyle has only had three races where he finished outside of the top 3, the most recent coming last weekend at Talladega.  Kyle is looking to top Harvick with a win at Dover this weekend, making him the winningest driver of the season thus far.  The team should have a lot of confidence going to a track they've run so well at in the past.
Kyle Busch's Stats at the "Monster Mile".
Kyle Busch has a lot of experience when it comes to racing at the Monster Mile.  He's currently ranked second among active drivers in the number of top fives he's claimed.  The only driver above him is the seven-time champion, Jimmie Johnson, who's had a lot of success at the Deleware track.  Kyle is also the most recent winner at Dover, giving him an extra push of momentum for this weekend's race.
Though Kyle has had a lot of success at Dover, he's had his fair share of bad luck.  He's DNF'd out of 6 races at the Monster Mile, which is twice as many as he's won.  His most recent DNF came in 2016 when he was involved in "the big one" where a number of cars piled into a wreck.  Since that race, he's finished in the top ten 2 times out of the 3 races.
In total Kyle has 3 wins, 12 top-fives, and 16 top-tens.  With statistics like that its hard not to picture the 18 claiming its fourth victory of the season.
Do you think Kyle can tame Miles the Monster in Dover this weekend?  Let me know by commenting on this article, or tweeting me @Noah_Lewis1.