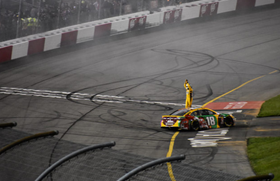 Kyle Busch Gets Richmond Win, Third Consecutive, After Starting 32nd
Outside of this year's Daytona 500, Kyle Busch has had an initial streak of consistency that rivals any in recent memory. In 9 races, Busch has 8 top 10s, 3 wins, and 7 finishes of 3rd or better. Getting a Richmond win would prove difficult for Busch though. Despite starting the Toyota Owners 400 at Richmond Raceway in 32nd, he was able to work his way up to the front, and win his third consecutive race.
Early Stages Prove Unusually Calm for Short Track Racing
During the race's first two stages on Saturday night, there were only 2 cautions-the stage breaks. There was an evident lack of contact or wrecks early on. Regardless, the track conditions were able to provide good, clean, hard-nosed racing. 4 different drivers took their turns leading laps during this time. Polesitter Martin Truex Jr. was out front early, but Joey Logano was able to win both stages.
Logano winning both stages was a sure confidence boost for the Penske 22 team, as their most recent win came in this event a season ago. That win was the notorious encumbered win that removed Logano from the Playoffs. He would not win again in 2017, and thus missed the Playoffs.
The stages being 100-lap green flag runs brought tire conservation and pit strategy to the forefront. Lap times from the start to the end of both stages had a significant drop off, as the leaders were trying to stretch out their tire's lifespan.
The first caution for contact occurred on lap 355, when Ryan Blaney, on new tires, spun in turn 4, collecting Ricky Stenhouse Jr. and Cole Whitt. Blaney's wreck continues a recent streak of dismal results, as last week at Bristol saw the 12 car wrecked from the lead coming to the Stage 1 break.
The remainder of the race would be the polar opposite of the first 2 stages, as 3 more cautions would divide up the last 38 laps.
Teammates' Tempers Tangle
Lap 353 saw Jamie McMurray hit the wall off of turn 2 while racing for the free pass. Under the caution on lap 355, McMurray showed his displeasure to teammate Kyle Larson by running him up the track. This was a moment of confusion for many, as it appeared that Kurt Busch, not Larson, was the one who forced McMurray into the wall.
Late Race Letdown For Team 78
Martin Truex Jr. came into Richmond with redemption on his mind. He lost last fall's Richmond race after a controversial caution came out as he was coming to the white flag. On the overtime restart, he was wrecked from the lead, and Kyle Larson went on to the win.
This time around, the 78 team appeared  to have the perfect weekend in store. Starting on pole, the 78 would lead a race-high 121 laps. However, a lengthy pit stop under caution on lap 390 saw his chance at a Richmond win come to an end. The car was not fully jacked up on the left side, and he came off of pit road in 11th. Truex would hold on over the last few laps to finish a dismal 14th.
Overtime Finish Saw Some Drivers Overcome
Lap 397 saw the night's sixth and final caution period fly for debris in turn 3. This would set up an overtime restart, with many hungry drivers looking to pounce. After Truex's misfortunes, Kyle Busch regained the lead and would hold on to win. Behind him though, Chase Elliott and Jimmie Johnson were able to rally to finish 2nd and 6th, respectively. This was Busch's 46th career win, and Elliott's 8th career runner-up finish.
A New Side of Kyle Busch?
As is typical with any of driver number 18's wins, Kyle Busch did a victory burnout, and then bowed with the checkered flag after the Richmond win. After that however, Busch then proceeded to go into the grandstands to celebrate with the fans. When asked about this, Busch said "I saw a lot of yellow at the fence line, a lot of 18 stuff, so I decided to go up there, and give some fans and kids some high fives."
This race marked the 10-year anniversary of Kyle Busch infamously wrecking Dale Earnhardt Jr. at Richmond, where he needed security to get past fans while exiting the track. Could this be a new norm for Kyle Busch, where he has more visible fan interaction and more fan respect?
How to Watch the Next Race
Saturday night marked the 46th Cup Series win for Busch, his 3rd consecutive in 2018, and his 5th at Richmond. Busch will be looking for 4 wins in a row next week  at Talladega Superspeedway. The Geico 500 will be live on Sunday, April 29th at 2 PM EST on Fox, MRN, and SiriusXM NASCAR Radio.