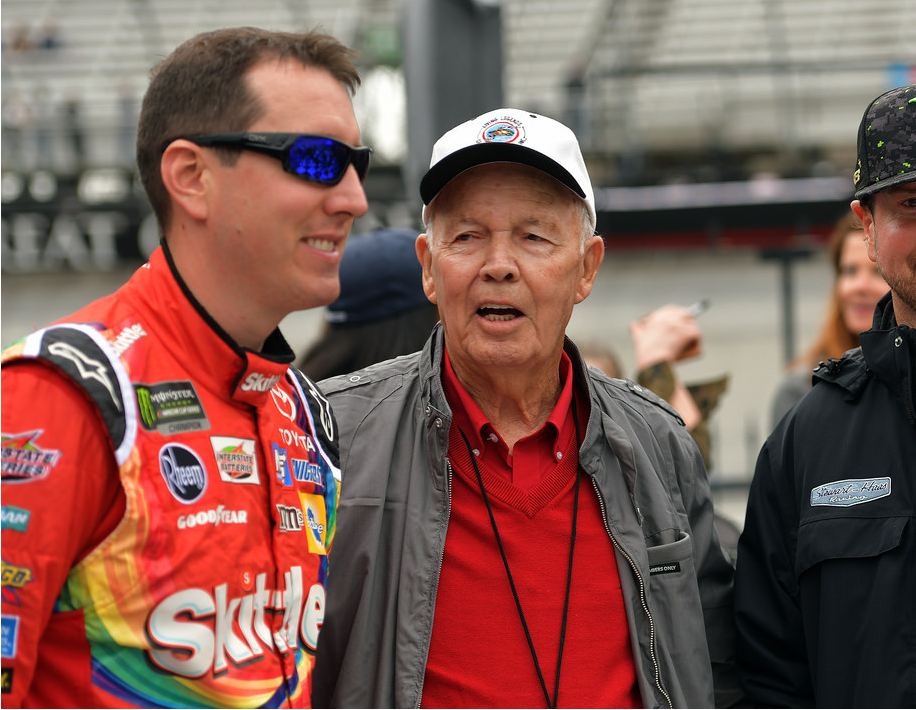 Kyle Busch Continues Impressive Streak with Second-Consecutive Bristol Win
After a 21-hour rain delay, the Monster Energy NASCAR Cup Series Food City 500 finished on a Monday afternoon for the second year in a row. After a late pass on Kyle Larson, Kyle Busch was able to win his second-straight race. This Monday Bristol win was far from lacking in excitement though, as the famed 'old Bristol' racing line had seemingly returned.
Sunday Race Review
Although the forecast was less than optimal, just over 200 laps of the Food City 500 were run on Sunday. Several cautions broke up this run, including the end of Stage 1 on lap 125. The race was delayed briefly by rain twice on Sunday, then the 21-hour red flag came out on lap 204. Polesitter Kyle Busch, Ryan Blaney, Kyle Larson, and Brad Keselowski all led several laps on Sunday.
Carnage Came Early For Favorites
Many drivers had their hopes for a Bristol win go up in smoke early on during the race on Sunday. Lap 5 saw the first major incident, where Michael McDowell spun, collecting Chase Elliott, Martin Truex Jr., and many others. Lap 118 saw another major crash, as leader Ryan Blaney had his day come to an abrupt end. Blaney was trying to avoid a wreck ahead of him on the high line, but Ray Black Jr. came up the track right into the 12 car. This crash gave the Stage 1 victory to Brad Keselowski, who was running 2nd behind Blaney at the time.
During the race on Sunday, the beating and banging that Bristol is known happened early and often. NASCAR put traction compound in the corner's bottom racing line prior to the weekend, and reapplied it after the rain. This brought multiple usable grooves for the drivers, which is a rarity at Bristol.
Weather Plays factor, Delays Race 21 Hours to Monday
The lengthened rain delay occurred shortly into Stage 2. The race finally resumed on Monday, just after 1 PM EST. The leader during the rain delay was Kyle Larson, who would go on to lead 200 laps. Stage 2 would eventually go to Brad Keselowski, who made a late-stage move around Larson.
Larson would show his strength throughout the race's final stage, as he had a dominating lead and nailed each restart. Lap 325 saw his day nearly end though, as he spun off of Ryan Newman. Larson kept it off the wall, only lost 1 position, and was back up front by lap 439.
The final caution for the day came out on lap 471, when Brad Keselowski hit the wall. The final restart saw Larson and Ricky Stenhouse Jr battle hard for the win, with Larson holding off the 17. With 6 laps remaining, Kyle Busch was able to work his way up to Larson, and made his way by with a bump and run. Busch would hold on for his 45th career win, and 7th Bristol win.
Bristol's top 10 finishers saw many drivers with their season-best result. Kyle Busch, Kyle Larson, Jimmie Johnson, Ricky Stenhouse Jr., Alex Bowman, Aric Almirola, Kevin Harvick, Clint Bowyer, Joey Logano, and Ryan Newman were the top 10.
How to Watch the Next Race
8 races are now complete in the 2018 Monster Energy NASCAR Cup Series season. Busch now joins Kevin Harvick as the only multi-time winners this year, with Harvick's 3 wins to match Busch's 2. The next race for the Cup Series will be the Toyota Owners 400 from Richmond Raceway. Coverage will be on Fox at 6:30 PM EST on Saturday, April 21.