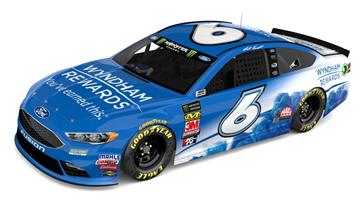 Former Cup Series Champion Matt Kenseth Will Return to Roush Fenway in Homecoming Effort
When Matt Kenseth announced last fall that he did not have a ride for the 2018 season, nobody could have imagined him returning to his original team. Kenseth will return to the team where he won the 2003 Cup Series championship 3 weeks from now at Kansas Speedway.
Prior Career Highlights for Kenseth
By any measure, Matt Kenseth is one of the most successful drivers in NASCAR since his rookie year in 2000. Kenseth, 46, from Cambridge, Wisconsin, has 39 career Cup Series wins. These include 2 Daytona 500s, a Southern 500, and a Coca-Cola 600. From 2000 until 2013, Kenseth was behind the wheel of the 17 Ford for Roush Fenway Racing. His 13 year initial stint at Roush saw Kenseth win 26 races, the 2003 championship, and make the Playoffs in all but 1 season.
New Team, New Success for Kenseth
In 2013, Kenseth replaced the outgoing Joey Logano in the Joe Gibbs Racing number 20 Toyota. 2013 was a year unlike any other for Kenseth, as he had a career-high 7 wins en route to a runner-up finish in the championship. Kenseth was a consistent winner at JGR, winning in each of the last 3 seasons. His most recent win with JGR came in Phoenix last November, the second-to-last race of the year. At the time, many thought that Homestead would be Kenseth's final career start.
Kenseth's Sendoff..Or was it?
In a move that stirred up some controversy among fans, Joe Gibbs Racing elected against renewing Kenseth's contract after 2017. Instead, Rookie-of-the-Year Erik Jones would replace Kenseth in the 20 car. Especially considering Kenseth's drive and determination to win last season, this was a very unpopular move in the NASCAR world.
Through 9 races so far in 2018, Jones has equaled Kenseth's stats from this time last year, with 4 top-10 finishes. As of now, Jones is 13th in the Playoff standings, so he is currently in postseason contention.
Why Kenseth, Why now for Roush?
Since Kenseth's departure from Roush in 2013, the team has been trending downwards in terms of results. Last season's 2 wins by Ricky Stenhouse Jr. were Roush's first victories since 2014. While Stenhouse has shown flashes of brilliance in the 17 car, teammate Trevor Bayne has been lackluster in the 6 car.
Wednesday morning at the NASCAR Hall of Fame, Roush Fenway Racing announced that Kenseth will return to their team. This will be on a part-time schedule. He will be behind the wheel of the 6 car, beginning May 12 at Kansas Speedway. Kenseth is also bringing on board a new sponsor, with Wyndham Rewards. It appears that Kenseth is being brought in to Roush in order to help assess the struggles of the 6 team, who is currently 26th in points.
Having a veteran driver come in to help a struggling team is far from a rare occurrence in NASCAR. Fellow former Roush driver Mark Martin comes to mind, as he went to both Hendrick Motorsports and Michael Waltrip Racing for similar purposes.
Expectations for Kenseth
Matt Kenseth is definitely a proven winner, as seen in Phoenix last fall. However, Roush Fenway and the 6 car are nowhere near capable of a victory at this point. The season-best finish for Bayne and the 6 was 12th at Texas. Bayne's last top 10 result was last fall at Martinsville. In addition, Kenseth has not been in a car since last November. With these dismal stats in mind, Kenseth should be able to run top-25 in the 6 car, if he lasts all 400 miles at Kansas. As of now, Kenseth only has a ride secured for Kansas. However, Kenseth will return to the 6 car as well for the non-points event All-Star Race.
Kenseth's return to Roush is certainly a refreshing sight for veteran NASCAR fans and newcomers alike. Much of the preseason focus was on the new wave of young talent. However, veteran drivers have been asserting themselves as serious title threats in 2018. Seeing yet another veteran driver come in to challenge the young talent will surely be a treat for all fans at Kansas Speedway on May 12th.