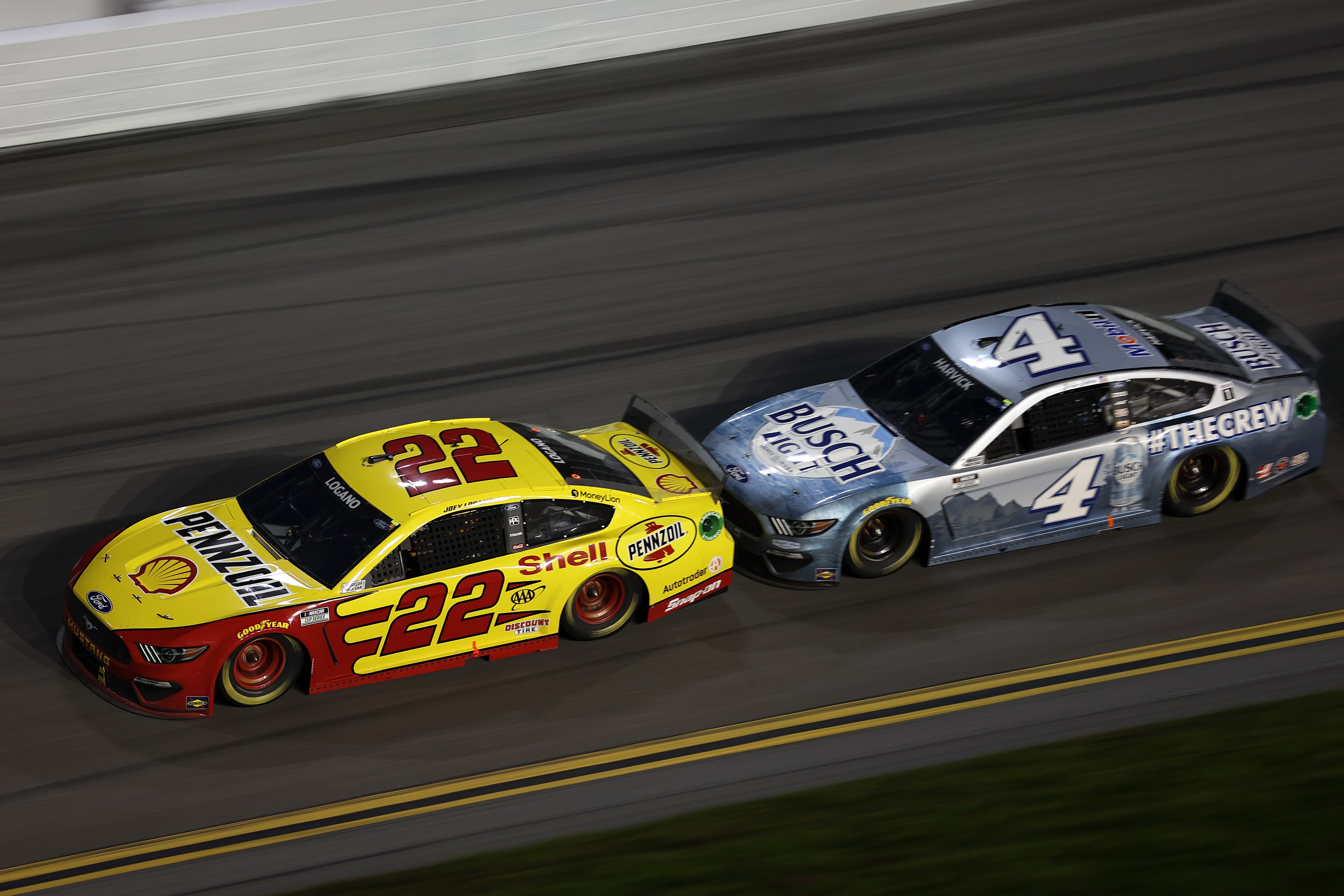 Six Members of Blue Oval Ford Brigade in 2021 Cup Playoff Field
CHARLOTTE, N.C. – For the 2021 NASCAR Cup Series Playoffs, six of the 16 contenders come from the Ford camp. Whether the Mustangs come from Team Penske, Stewart-Haas, or Front Row Motorsports, they all eye a deep postseason run. Which Ford driver has the easiest path ahead over the next 10 weeks? Conversely, who has to dig in starting at Darlington?
Kevin Harvick
2014 champion Kevin Harvick has had a 2021 to forget. The Ford team that won nine times a season ago is 0-for-26 this year. Harvick also enters the Playoffs as the 16th seed. With such a points deficit to start the 10-week chase for the championship, Harvick must be on the offensive from race one at Darlington.
"I feel good about our team," Harvick said. "I think our team has done a great job with the circumstances we've been presented with; and I think the last four or five weeks our cars have run a lot better. We've still got some work to do with some things on the balance side of the car to start these races. But in the end, our team has done a great job and those numbers could have been a lot better if it weren't for three or four ill-timed accidents at the end of a few of the races."
"You obviously want to win, but some years just don't go exactly how you want them to go. I think those are the years that you've got to dig down and do the things that our guys have done this year. You gotta be in it to win it and we've given ourselves a chance and see where it all falls in the end."
The winner of two of the three Darlington races last year, Harvick will start ninth on Sunday. If the 4 is to rebound from being the last seed, they must score points across stages and have a strong race finish. No race in the Round of 16 is necessarily must-win for Harvick. However, he must run inside the top five or ten.
Aric Almirola
New Hampshire winner Aric Almirola enters the Playoffs as the 14th seed. Responsible for Stewart-Haas Racing's lone regular season win, the No. 10 Ford must also dig out of a hole from the start. Similar to Harvick, Almirola needs breakout runs in order to gain enough points to move out of the bottom four in the standings. Despite his current position, Almirola is confident in for the upcoming weeks.
"I've talked about it a lot in the last couple of weeks, but I would say the 750 package," Almirola said. "Our short track program is really strong right now. I feel like going into this first round of the Playoffs that sets up well for us. So I would say we've got to play to our strengths and I would say that the 750 package is certainly where we're excelling right now."
The next three races across Darlington, Richmond, and Bristol are very do-or-die for the 10 team. At these three tracks in the spring, Almirola had a best finish of sixth. The No. 10 Ford will start eighth for the Southern 500.
Michael McDowell
Daytona 500 champion Michael McDowell enters his first-ever Playoffs as the 13th seed. As the ultimate underdog representing Front Row Motorsports, McDowell and the No. 34 Ford are almost playing with house money. McDowell certainly wishes to make the Round of 12. Results, execution, and luck however have not been there in recent weeks for the 34.
"The last handful of races have not been fun," McDowell said. "It hasn't been from a lack of performance. We've actually had speed. You go to the Indy road course, running in the top seven there and hit the curb and finish in the thirties. You look at Michigan, where we ran in the top 12 or 13 all day and get tore up on that last restart and finished 20th. It hasn't been fun the last four or five weeks. Daytona, a DNF with an engine failure, so the reset is nice."
Can the 34 Team Rebound?
"It's nice to reset the points. It's nice to be able to start 15th this weekend at Darlington and just kind of hit that reset. You can't always control the ebbs and flows of racing. You look at those first five races and were crushing it, not just with the win but top 10, top 10, top 10, and then you hit this funk that we got into now where DNF, a crash, just things not always in your control. So it is nice to hit that reset button and have a fresh outlook going to Darlington, and that's how motorsports is."
"The momentum can swing at any point. We have to have the momentum swing our way the next three weeks and we know that. We wish we were heading into the Playoffs with a lot of momentum and not a DNF and all the things that we have, but the reality is that's where we're at and we can start fresh this weekend."
McDowell starts 15th in Darlington, hoping to get these Playoffs started on a positive note. McDowell's last top 10 was COTA in May, so he certainly wants to turn his season around in the Round of 16.
Brad Keselowski
The first representative from Team Penske, Brad Keselowski is 2021's number 10 seed. The 2012 Cup champion only has one win to date this season, coming at Talladega in April. In a lame duck situation behind the wheel of the No. 2 Ford, how does Keselowski think he stacks up against his competition this year?
"I have no idea," Keselowski said. "I've entered this Playoff deal before having won two races entering it just like Blaney has and been knocked out in the second round. I've entered it having won five races and gotten knocked out in the third round. Entered it before having zero speed and not feeling very good about it and made it all the way to the final four, so no one really knows. I've got five or six years experience doing it and I don't know. So with that in mind, you try not to think about it, to be quite honest. I try to just go out there and make the most out of what I have and not allow any of those connotations to either build overconfidence or to pull me down."
At such a precipice in terms of Playoff bonus points, Brad Keselowski starts 16th, last of the contenders, for Darlington. The 2 must simply survive week one of these Playoffs, as races two and three are at some of Keselowski's best tracks. The 2 may not be a top-level championship threat, but his experience can never be counted out.
Joey Logano
Amazingly, Joey Logano only has one victory in 2021, all the way back at Bristol Dirt. The 2018 champion enters 2021's Playoffs as the ninth seed, hoping for a second-straight Championship 4 run. The Penske 22 team recently had a major personnel shakeup though, as longtime spotter TJ Majors got swapped out for Logano's close friend Coleman Pressley. How does Logano think the new eyes in the sky will affect his Playoffs?
"Paul [Wolfe, crew chief] and I were able to work together last year as well, so we have some experience together there," Logano said. "Coleman Pressley and myself have been the best of friends since we were kids racing against each other. So the connection we have there away from the racetrack and on the racetrack actually came pretty seamless over the last couple of weeks. I feel like we've been able to go over the races, go over restarts, go over choose rules, all that stuff and we went to probably two of the hardest racetracks to spot right off the bat at Michigan and Daytona. It was kind of getting thrown to the wolves there, but I felt like we were able to adapt fairly quickly. So that change I think has gone smooth and is going to make our team stronger."
Logano will take the green flag at Darlington from 11th. The Track Too Tough to Tame has not been the kindest to the 22 team in recent years, as Logano only has seven Darlington top-10s in 15 starts. Logano has written the playbook on making the Championship 4 round recently by winning at clutch times. Can 2021 be as kind to the 22 as past seasons?
Ryan Blaney
The winner of the last two races, Ryan Blaney is tied for the number two seed. By virtue of winning the last two weeks, the No. 12 Ford has vaulted up from the eighth seed to second. With three wins overall on the year, is this Blaney's best chance yet for the Cup?
"I think it's been nice to finish out the regular season strong," Blaney said. "Especially with two wins back-to-back right before the start of the Playoffs and get a lot of Playoff points and be seeded second. That's something I haven't really had in my other Playoff attempts is really a lot of bonus points. Not a lot to really have in your back pocket in case you have a bad race or just kind of an extra cushion."
"So that stuff is nice to have, that's for sure. It really does help you out, but really the focus is the same, just trying to do our job the best we can, trying to perform just like we've been performing the past couple months here and you just try to keep that up. It's definitely a better position to be in on our side than where we have been in years past and you just hope to utilize it."
Is Blaney the new Closer?
One thing is common across all three of Ryan Blaney's victories this season. The 12 has taken the lead late and 'stolen' the win. Blaney will certainly not be lacking track position at Darlington, as the 12 starts from the pole. Can Blaney keep his recent run of momentum alive in the Round of 16? This round saw Blaney eliminated last year, ideally 2021 has a higher ceiling for the 12.
2021 in the NASCAR Cup Series has largely been defined by the resurgence of Hendrick Motorsports. In addition, Joe Gibbs' Toyotas have not been far behind the Chevrolets. Where does that leave the Ford contingency? The six aforementioned Fords have collected seven victories across the regular season, with Ryan Blaney earning the last two wins. Fords have been very hit-or-miss on a weekly basis with speed. Can one of the above drivers get consistent enough to make a run at Phoenix? Ford has six out of the 16 chances at taking home the Bill France Cup for 2021.
Written by Peter Stratta
Be sure to follow us on Twitter
Be sure to follow the writer on Twitter
Photo by James Gilbert/Getty Images for NASCAR