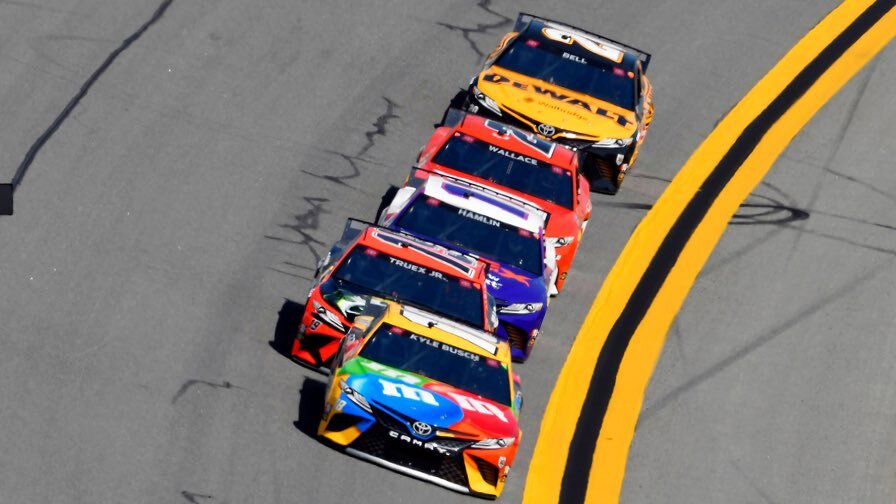 How Will Joe Gibbs Racing, Toyota Fare in the 2021 Playoffs?
CHARLOTTE, N.C. – Once again, the fab four from Joe Gibbs Racing have all made the NASCAR Cup Series Playoffs. These four Camrys are all of the representation that Toyota has for 2021's Playoff field, with four great shots at the championship. Whether Bell, Hamlin, Busch, or Truex, Toyota truly does have four strong horses for the next 10 weeks. How do each of these drivers feel ahead of race one of the Playoffs this weekend at Darlington?
Christopher Bell
Daytona Road Course winner Christopher Bell is the 13th seed for his first-ever Playoffs. Locked in after week two all the way back in February, Bell's No. 20 Toyota has been very up-and-down since. Through 26 races, Bell has four top-fives and 10 top-10s. Bell's summer was highlighted by two second-place finishes in a three week stretch. Two of the past three races however have seen Bell outside of the top 30 due to crashes. With such an inconsistent regular season, how does Bell feel heading into the Round of 16?
"We are at a deficit in the points," Bell said. "We were able to win one race early on in the year, but that was really it. From that point on, we haven't been able to get any more bonus points. As far as the Playoffs go, round one is going to be really, really good for us. We've got Darlington, which we were extremely fast on early on in the season, Bristol, Richmond. That's the first round. All three of those racetracks are really good for us."
"Darlington was really good for us at the beginning of the year, we were running inside the top five until I got a flat tire at the end. Richmond, I've won several Xfinity races there and we had a top five that day, and then Bristol is a great racetrack for us and for Joe Gibbs Racing as a company. I really think all three of them could be potential wins."
Bell will start 13th on Sunday for the Southern 500. Stage points and strong results across all three races in the Round of 16 will determine the 20's fate in warding off elimination. Bell certainly has the speed to move on, but he does lack in Playoff experience.
Denny Hamlin
Denny Hamlin and the Fedex No. 11 Toyota team have seemingly done everything but close out a full race in 2021. Ranked as the seventh seed, Hamlin led the regular season championship for a majority of the opening 26 weeks. However, having zero wins ultimately did make his seeding plummet to mid-pack. Despite going 0-for-26 so far in 2021, the Round of 16 goes to arguably Hamlin's three best racetracks. How confident does Hamlin feel about this championship battle even without any wins?
"It's so different because as I mentioned, over the last two years every race day is exciting for me," Hamlin said. "I feel like I can win every single week. We're always one of the top two or three favorites every week, so Vegas believes in us. We know what we're capable of, and I'm excited."
At one of his favorite racetracks to kick off the Playoffs, Denny Hamlin starts second for the Southern 500. Hamlin is on the short list of favorites for Sunday's win, as he will also run this weekend's Xfinity Series race for added track time. Just like the past two years, Hamlin is eyeing another Championship 4 run. Can consistency alone put the 11 into Phoenix? Not likely, but Hamlin will have shots to win over the coming weeks.
Kyle Busch
The summer of 2021 has been quietly great for Kyle Busch and the No. 18 Toyota. Over the past several weeks, Busch has rallied from 10th in points all the way up to fourth, which is also his Playoff seeding. With experience of winning two championships, Kyle Busch cannot be counted out of this Playoff chase. If anyone is going to stand between Hendrick Motorsports and the championship, it may just be the 18.
A Return to Normalcy of Sorts for the 18
"This year kind of felt like a more normal regular season," Busch said. "Although it still wasn't as good as we would have hoped it would have been. Years past we've come in as the number one seed or number two seed, you know right there or close to the top. This year we're fourth, but we're a bit behind in some of the point tally that we needed. So that's why we look toward this first round as kind of needing to continue accumulating those Playoff points."
"Last year we came in with nothing. We were just knowing that if we didn't do everything right and with the speed in our cars that we were going to be eliminated in the Round of 12. We knew that going in, and that's what happened. Eventually we threw a few Hail Marys to try and see if we couldn't get through, but even those didn't stick. This year I feel like we've got a way better chance of getting through the Round of 12. Then it's the Round of 8 that gets super super competitive and strong. You gotta really be on top of your game, finishing up front every week."
Busch Learning From Jimmie Johnson
"Years ago, we all kind of looked at how Jimmie Johnson was successful and what he was able to do, how he was able to elevate his game towards the end of the year. Everybody was like 'how do you do that?' I think they kind of had the Playoff mantra ahead of time, in how you go about this and how you do this and the mindset and skill that it took to be able to elevate your game. I think the race team did that as well too. So we've learned from that over the years, and better acclimated ourselves to that strategy."
"But there's only so much you can do, if you've got fast cars, that makes your job a whole lot easier every weekend. If you're only going to be having cars that are 10th-place worthy, then that's definitely not going to get the job done and you're not going to be a championship threat. Speed in racecars is the number one forefront."
Rules to Live By in the Playoffs
"I think one of the biggest ones is don't beat yourself," Busch explained. "Speeding penalties obviously, leaving lug nuts off, just dumb stuff, don't beat yourself. Those are just things to kind of live by. Not really trying to put yourself in a bad spot. Look, every spot is important, especially if you're trying to point yourself through the rounds if you don't have a chance of winning. If you're running fifth but you got fourth and third right in front of you at say Bristol, you want to pass those guys but not creating enemies in the way of going about that. You don't wan to set yourself up for a future hard time at the next race with that guy."
"You're just trying to do what you can, be as clean as you can. We all want the Playoff points, we want Stage victories, race victories, all that stuff to accumulate and get our total higher so we have an easier time starting the next round."
Kyle Busch will start 12th at Darlington, in his pursuit for a third career championship. While the South Carolina venue may not be Busch's strongest track, Richmond and Bristol are certainly two that the 18 can easily win. Out of any Toyota, and possibly anyone outside of Hendrick, Busch may have the best odds at the 2021 championship.
Martin Truex, Jr.
Tied for the second seed, Martin Truex, Jr. leads all of Toyota with three victories. However, the latest of those three wins was Darlington in May. Since then, the summer has been very trying for Truex. The 14 races since the 19 has won have yielded only five top-10s. After winning three of the opening 12 races, can Truex and his Toyota team return to that early season form?
"Confidence is high," Truex said. "Obviously we have some good tracks coming up for us, and we look forward to hopefully taking advantage of that and getting off to a good start."
Intensity Always Going Up in the Playoffs
"I think as soon as the Playoffs start, intensity is going to rise. I feel like throughout each round, each race, one-through-three of each round, it rises. You start to have guys who are feeling desperate, as you go more guys are behind. You see certain guys kind of step up and take more risks. It's no different than a race; as a race goes on, each restart towards the end seems to get more intense. It's the same way throughout the Playoffs, the further you get the more is on the line. The last few opportunities, they get more important as you go, and the intensity continues to ramp up."
Martin Truex, Jr. will take Sunday's green flag from 10th at Darlington. All the way back in May, MTJ put on a clinic at The Track Too Tough to Tame, sweeping all Stages and leading 85% of all laps. With a Round of 12 spot now on the line, can Truex have a similar Darlington run? The 19 is on a short list of heavy favorites for the victory on Sunday.
Chevrolet has been the manufacturer to beat all season long in the NASCAR Cup Series. However, Toyota has not been far behind the bowties, as the four above drivers represent six victories across the regular season. Between the veteran experience of Hamlin, Truex, and Busch as well as the young energy of Bell, Toyota has a great chance at taking home the 2021 Bill France Cup. These next 10 weeks should be a great back-and-forth battle between Toyota and Chevrolet.
Written by Peter Stratta
Be sure to follow us on Twitter
Be sure to follow the writer on Twitter
Photo by Toyota Racing via Twitter