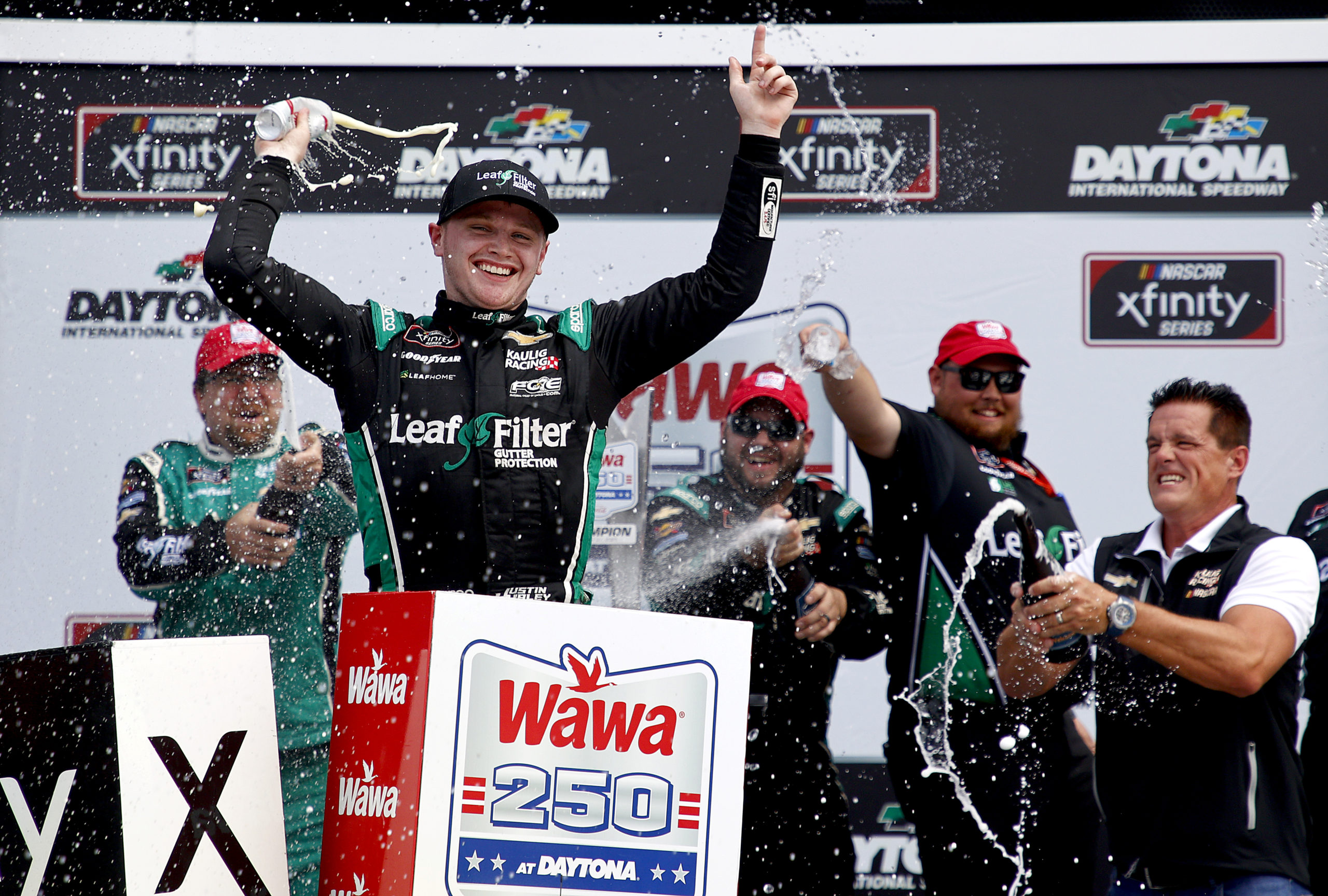 Justin Haley Earns Daytona Win in Huge Day for Kaulig
DAYTONA BEACH, Fla. – Daytona led to a new winner this season in Xfinity competition, as Justin Haley picked up another superspeedway win. The race was a banner effort for all of Kaulig Racing though. Between Haley, Jeb Burton, and AJ Allmendinger, the three-car team swept both Stages and finished 1-2-4 in the race. Their Chevrolets were three-abreast coming to the checkers, capping off another perfectly executed teammate day for Matt Kaulig's organization.
Rain Pushes Night Race to Saturday
Originally scheduled for Friday night under the lights, Mother Nature had other plans for Xfinity. After only 19 laps, persistent rain postponed the finish of the Wawa 250 to Saturday afternoon. The opening laps were a constant back-and-forth battle between polesitter AJ Allmendinger and Noah Gragson.
Stage 1 would end prematurely under caution due to a crash at the front of the field. Myatt Snider gave Austin Cindric too big of a push through the trioval, sending the 22 hard into the outside wall. This gave the Stage win to Justin Haley, who had just moments earlier gotten by the 16 of Allmendinger. Teammate Jeb Burton made Stage 1 a 1-2-3 Kaulig racing sweep.
After starting Stage 2 back in the pack, Allmendinger found the lead again by lap 45. A trio of JR Motorsports cars tried to wrestle the lead away from Kaulig, but were unsuccessful. Jeb Burton led the 16 and 11 across the stripe for another Stage win.
The final Stage saw both Noah Gragson and Christopher Bell take turns leading, but the story of the day was teammate cooperation. Once the Kaulig Chevrolets found each other, there was little anyone else could do. Allmendinger got by the 54 of Bell with three laps left, and led at the white flag. The last corners coming to the checkers saw all three Kaulig cars go three-wide for the win. Justin Haley had enough momentum from Daniel Hemric to put the 11 back in victory lane.
Haley's Winning Reaction
"It's just not been the best season," Haley admitted after the win. "It's been really hard on this No. 11 Leaf Filter Gutter Protection team all year. We've had a lot of bad luck. I was trying to formulate a plan there, and obviously team orders, we saw that today, they were so good. Hats off to Kaulig Racing, I think we got the teammate thing down. It's just so special to win here at Daytona. I won here twice at Daytona, and neither time did I get to see anyone in the frontstretch, so thank you guys for finally being here! I love you."
Haley's final margin of victory over Allmendinger was a mere 0.023 seconds. This is Haley's fourth career Xfinity Series win, second at Daytona, and first of 2021. Haley is now the sixth different Xfinity Series Playoff-eligible winner in 2021.
Top 10 Results from Daytona
Although Haley, Allmendinger, and Burton were three-wide coming to the finish, Burton lost a spot late to Justin Allgaier. After being involved in the Stage 1-ending crash, Daniel Hemric also battled back to finish fifth. Christopher Bell, Noah Gragson, Myatt Snider, Harrison Burton, and Riley Herbst rounded out the top 10.
Playoff Updates after Daytona
Daytona did see some shakeup in the 2021 Xfinity Series Playoff grid. First and foremost, Justin Haley is the sixth driver to win his way into postseason contention. In addition, both Daniel Hemric and Harrison Burton have also clinched a spot on points.
Three races remain in the Xfinity Series regular season, with four Playoff spots up for grabs. Riley Herbst holds the final position, 68 points ahead of Michael Annett.
What's Next for Xfinity
The next stop for the Xfinity Series is Darlington Raceway, for the Sport Clips/VFW Help a Hero 200. Coverage begins Saturday, September 4 at 3:30 p.m. ET on NBCSN, MRN, and SiriusXM NASCAR Radio Channel 90. Denny Hamlin will be in this race, going for his sixth Xfinity win at the track too tough to tame. He will surely be a favorite, but can anyone else stop the 54's charge?
Written by Peter Stratta
Be sure to follow us on Twitter
Be sure to follow the writer on Twitter
Photo by Jared C. Tilton/Getty Images for NASCAR